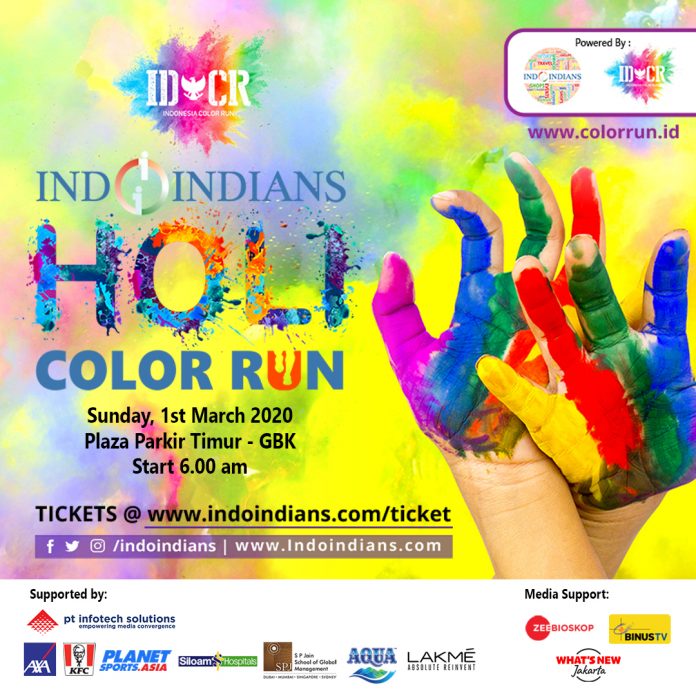 Indoindians Weekly Newsletter online here >>
Namaste Friends,
Last Day to buy Tickets & Race pack is Saturday, 22nd Feb. HURRY!!! IDCR Indoindians Holi Color Run – 5K of pure FUN! Get Festival Pack here>>
The countdown has begun. Just 9 days to go for the for 5K IDCR Indoindians Holi Color Run on Sunday, 1st March 2020, at GBK Senayan.
Hurry Hurry… get your race packs and offline tickets at:
Venue: WISH COFFEE Rawamangun, Jl. Rawamangun Muka Timur No.39, Jakarta Timur, Jakarta 13220
Date & Time: till Saturday, 22nd Feb from 13.00hrs -16.00hrs
Contact Person & Appointments by WA only
MELA : +62 858 10920590
REY : +62 813 1888 9921
NISYA : +62 813 83164696
*Don't forget to bring your proof of transfer and e-ticket as received in email.
Lots of interesting articles on Holi in this newsletter
– skin and haircare for Holi
– celebrating the colors
– Thandai & Gujiya recipe
– Interior decoration for Holi
and much more.
Warm regards,
Indoindians Team
Indoindians Weekly Newsletter online here >>