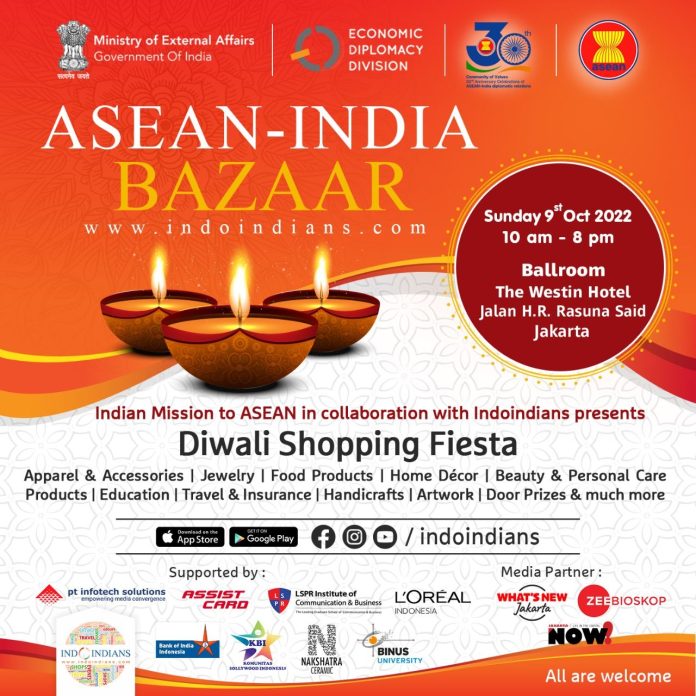 Indoindians Weekly Newsletter: See you this Sunday, 9th Oct at the ASEAN-India Diwali Bazaar & Painting Exhibition, Hotel Westin, Jakarta
Namaste Friends,
Its just 3 days to the ASEAN-India Diwali 🪔 Bazaar & Art 🎨 Exhibition – Sunday, 9th Oct, 10:00 am to 8:00 pm Ballroom Hotel Westin, Jakarta
A wonderful shopping fiesta to get ready for DIWALI – the festival of lights 🪔 🪔 🪔 A family shopping day. Lots of entertainment too.
Chance to win many attractive door prizes with every Bazaar entry ticket.
Tickets available at the door for Rp 60,000/person.
Children below 10yrs have FREE entry
All are welcome 🙏
Wishing you all a very happy Dussehra, which also means beginning preparation for Diwali.
This year, Thursday 13th October is Karwa Chauth. So in this newsletter:
Art Exhibition 9th Oct 2022 at The Westin, Jakarta
Participating Vendors at ASEAN-India Diwali Bazaar
Dusshera / Vijaydashmi Festival
Gandhi Jayanti: Celebrating a legacy of inspiration
Karwa Chauth Festival: Make It Special
Karwa Chauth – Story, Vidhi and Tips
Mehndi or Henna Traditional Tattoo
IndoindiansList: Indian Makeup, Henna Artists, and Saree Drapers in Jakarta
Looking forward to meeting this Sunday, 9th Oct at the Bazaar!
Warm regards,
Indoindians Team
WA +6282210008272
Indoindians Weekly Newsletter: See you this Sunday, 9th Oct at the ASEAN-India Diwali Bazaar & Painting Exhibition, Hotel Westin, Jakarta