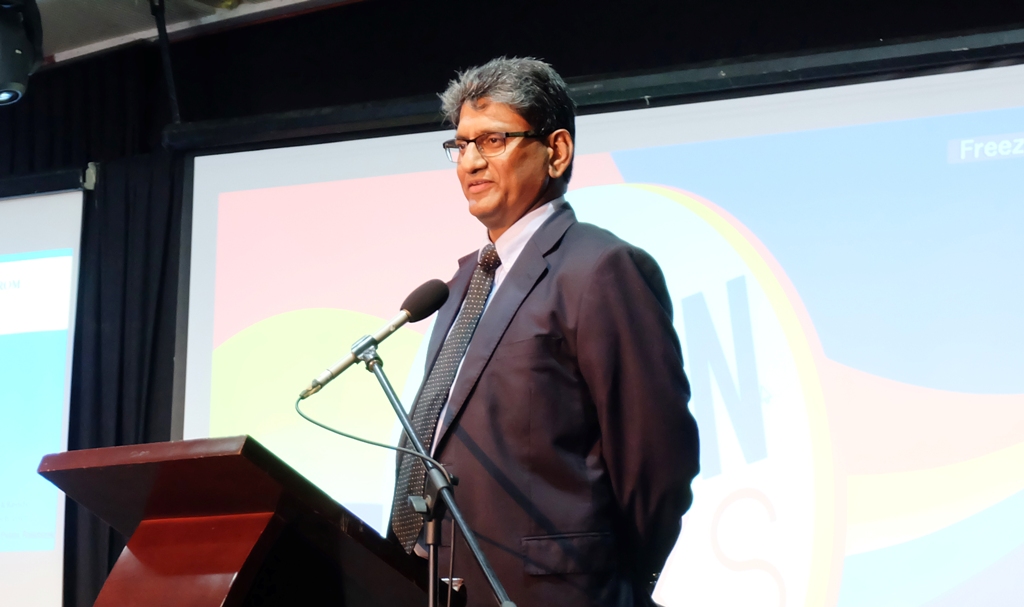 Recently we had an opportunity to do an online interview with H.E. Mr. Suresh Reddy, Indian Ambassador to ASEAN. It was really interesting to learn of his journey to be the Ambassador of India to ASEAN, as he was actually the one who recommended the establishment of the independent Mission to ASEAN.
Read more about this career journey and the strong relationship between India and ASEAN countries.
Career journey
Ambassador Reddy started his diplomatic career on 1991 when he joined the Indian Foreign Service. Since then, he has travelled to over 40 countries and has been posted in 6 countries.
"I started my career in Cairo, where I learned Arabic, a wonderful language which enabled me to understand better the cultures and people of that region. After Cairo, I was posted in Muscat and Abu Dhabi where I developed a healthy respect for the NRI community, and began to appreciate and admire their tenacity, entrepreneurship and success achieved under challenging circumstances," said Ambassador Reddy. From Abu Dhabi, he moved to Islamabad where he got to witness an important period in Pakistan's history which was full of political turmoil and uncertainties regarding the evolving relationship between India and Pakistan.
Back in India, Ambassador Reddy also served in the Ministry of External Affairs in different capacities, including Head of Office of Minister of State for External Affairs, Dy. Chief of Protocol and also as the Desk Officer for Bangladesh. "Later I again served as Director of the Division dealing with many of our neighbouring countries including Bangladesh, Myanmar, Sri Lanka and Maldives. On promotion, I established and headed the Multilateral Economic Relations-ASEAN Division."
As Head of the Division, Ambassador Reddy had recommended that they should establish an independent Mission to ASEAN. Now, he is implementing his own recommendation. "I guess it is not often you get to make policy and actually implement it also!" said Ambassador Reddy who assumed charge as Ambassador to ASEAN in January 2015.
Before serving as the Ambassador to ASEAN, in 2011-2014 Ambassador Reddy served as the Ambassador to Iraq. During his duty, Ambassador Reddy has been given the credit of swinging about the Indo-Iraqi links and became the India's crisis manager in Iraq. About this sensitive and crucial position, Ambassador Reddy has his own story.
"We (India and Iraq) have been genuine partners in supporting the socio economic growth of our respective regions over the years. With the support received from the leadership of Iraq and India and the people at large, we were able to revive and strengthen this historical relationship. When the ISIS problem arose I was requested to travel to Iraq at short notice to handle the situation. I was required to address all issues relating to safety and welfare of Indian nationals including their evacuation and rescue of Indian hostages kidnapped by ISIS," he shared. "It was perhaps the most challenging assignment of my career, which had direct and immediate implications on several human lives. I am grateful that I and my colleagues could rise to the occasion and get several of those held hostages released. We also evacuated over 8000 Indians including many directly from the war zones. I must give full credit to my Iraqi staff and the officers and staff who were deployed in Iraq for making it possible."
Regardless of how risky his task was, "that posting teaches you to not take your life for granted. You are living virtually under house arrest all the time and cease to take safety of life and property for granted. But then, the innate desire to make a difference and opportunities granted to contribute to one's nation are reasons enough to keep you motivated!"
Strengthening relationship between India and ASEAN countries
The Indian Mission to ASEAN was opened as a result of expansion of India's relations with the countries of the ASEAN to upgrade the relationship into a strategic partnership. As an Ambassador of India to ASEAN, Ambassador Reddy is responsible for promoting and strengthening relations with the host country and to support their citizens living in that country. "Being the Ambassador to ASEAN, we are working towards supporting the creation of a larger community extending from South Asia to Asean, with focus on the 3Cs: Commerce, Culture and Connectivity."
Ambassador Reddy shared the Mission's strategies to achieve the purpose. "In the field of Commerce, we are working towards strengthening the bilateral economic and commercial linkages. We already have the ASEAN-India Free Trade Agreement in Goods, Services & Investments in place. On the Cultural front, India and the ASEAN member states share a unique relationship built on civilizational linkages, shared history and culture. Politically, the Mission is engaged in implementing the Act East Policy of India which has ASEAN at its fulcrum. Lastly, on Connectivity, the Mission is actively pursuing stronger people-to-people connectivity as well as strengthening the physical, maritime, and digital connectivity," he explained.
With experiences in both multilateral and bilateral institutions, Ambassador Reddy said that it has its own challenges. "As a multilateral Ambassador I have to follow a regional approach to issues and see them from regional perspective, including the sensitivities of each country. Besides, the ARF, EAS and some other ASEAN fora, also discuss international issues of concern and arrive at a consensus. In this scenario piloting Indian interests becomes quite a challenge but also makes it that much more exciting."
Having been in Indonesia for the past two years, Ambassador Reddy thinks that Indonesia is quite different than middle-eastern countries he has served before. "Indonesia has a richer/diverse culture which beckons everybody to see it from close quarters. It practices moderate Islam and respects diversity through its policy of Pancasila as given in its Constitution," he explained. "The Indonesian people are very warm and welcome everyone with open hearts. Hence it is not surprising that I also feel very much at home in Indonesia," he closed the interview.
Personal info:
Full Name: Suresh Reddy
Date of birth: 13th March 1969
Education: MA Sociology
Family: Married to Sneha, two daughters Tanvi & Tvishaa