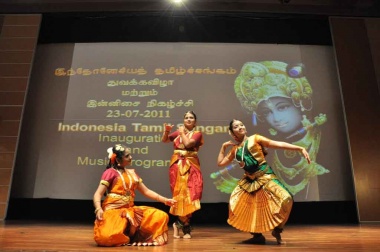 Indonesia Tamil Sangam (ITS) is a non-profit, social & cultural organisation dedicated for the welfare of the Tamil Speaking community living in Indonesia.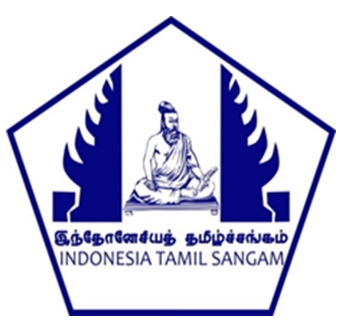 Tamil language is basically from the south eastern province of India (Tamil Nadu).  However, Tamil is spoken in many Asian Countries like India, Singapore, Malaysia, Srilanka and Tamils are living in many other Countries.  Hence ITS works for the welfare of the entire Tamil speaking community living in Indonesia.
ITS was established as a Legal entity in Indonesia during Year 2011 and has completed 5 years.  ITS has about 400 Tamil Family Members who actively participate in the activities of the Sangam
ITS works towards the following Mission :
To unite and build a community forum for Tamils living in Indonesia, and to work for their betterment.
To uplift the educational, economic and social status of migrant Tamils living in Indonesia.
To promote closer understanding among the expatriate Tamil community and the migrant Tamils living in Indonesia.
To uphold the values of ancient Tamil Language, arts and culture by way of conducting events.
The Objectives of ITS are
To cultivate, promote and foster the exchange, sharing and understanding between the Tamil/Indian culture and the Indonesian culture.
To establish Tamil schools, Tamil libraries, study groups and classes to promote and preserve Tamil education.
To organize cultural activities in the fields of art, music, drama, sports, recreation and the like.
To actively promote, encourage and facilitate the youth of Tamil community to learn Tamil language and the deep roots of the rich Tamil culture.
To celebrate Tamil festivals so that the youth of Tamil community can participate and continue these traditions over succeeding generations.
To achieve the above objectives, ITS has started the below activities:
ITS conducts free Tamil Language classes once a week at JNICC.
ITS has established  a Tamil Library at JNICC
ITS conducts cultural  programs to enhance interest in culture among the community.
One of the Signature Events of ITS is "SANGAMAM"  which is a Carnival of Food, Culture, Arts and many more attractions of Tamil.  This is conducted in the month of April every year to commemorate the Tamil New Year Celebration.  Home made speciality  Food are offered in various food stalls; Tamil Folk arts like Kargattam, Villupattu, Oilyattam, Kaavidi etc are performed by the Local talents ; traditional games like Uriyadi, Pambaram etc are also performed to show to the current generation of children regarding the Tamil Tradition.  More than 1,000 people participate in this spectacular event of ITS.
ITS has conducted several cultural programs in Tamil like – Music Concerts, Drama, Talk Shows, Folk Music by bringing  Clebrity Artists from India.  ITS also releases Tamil Movies in Theaters in Jakarta & Medan for the benefit of Tamils since the Tamil Movies are not released by the Distributors in Indonesia
ITS has also conducted several programs with the support of India Club (National Club for Indians living in Indonesia), JINCC & Indian Embassy.  Indoindians has been a major supporter to ITS as Media Partner for all the events.
ITS also arranges programs joining with other Indian Cultural Associations of Indonesia
Contact person: Mr. Ramesh Ramachandran
Tel : +62 811864387
email indonesiatamilosai@gmail.com