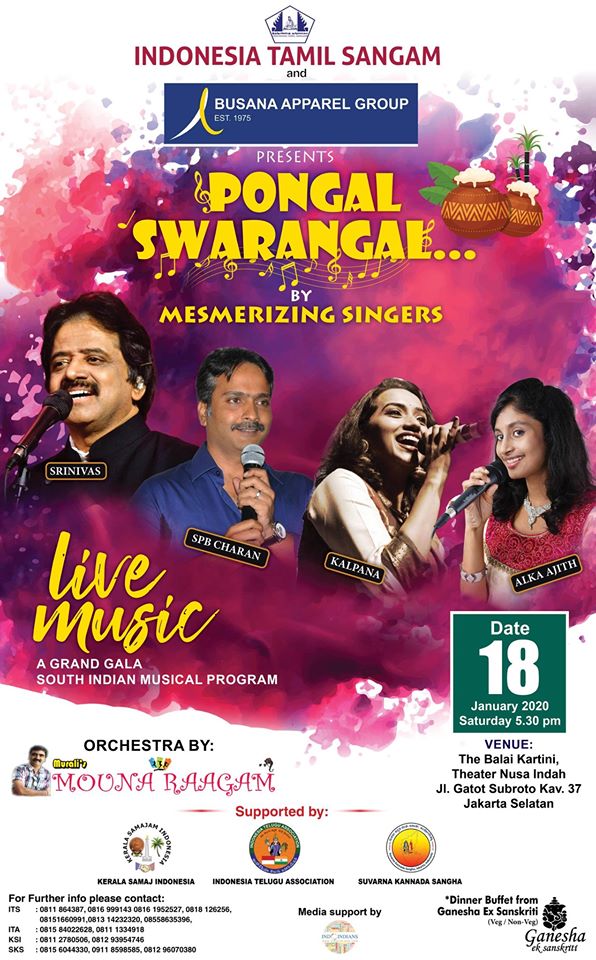 Indonesia Tamil Sangam proudly presents a South Indian musical show  on 18th January, 2020.
We invite you for our pongal event – "Pongal Swarangal" a live  musical show to be performed by  the mesmerizing singers – Srinivas, SPB Charan, Kalpana & Alka Ajith along with complete orchestra of Mouna Ragam Murali, on Saturday, 18th January, 2020.
This will be a grand gala South Indian musical show at the prestigious auditorium – Nusa Indah theater in Balai Kartini and i.t.s is proud to present this mega event at this prestigious venue for the very first time.
For invitations & for more details, please contact one of the committee members of Indonesia Tamil Sangam / Kerala Samaj Indonesia / Indonesia Telugu Association / Suvarna Kannada Sangha
We also would like to inform there will be another show in Medan city at the convention hall, hotel Danau Toba international on 19th January, 2020. this is the very first event i.t.s is presenting in Medan city.
We request you all to attend this mega event and support us.  please do not miss the rare opportunity of live performance of such celebrity singers & music band
Thank you.
Indonesia Tamil Sangam