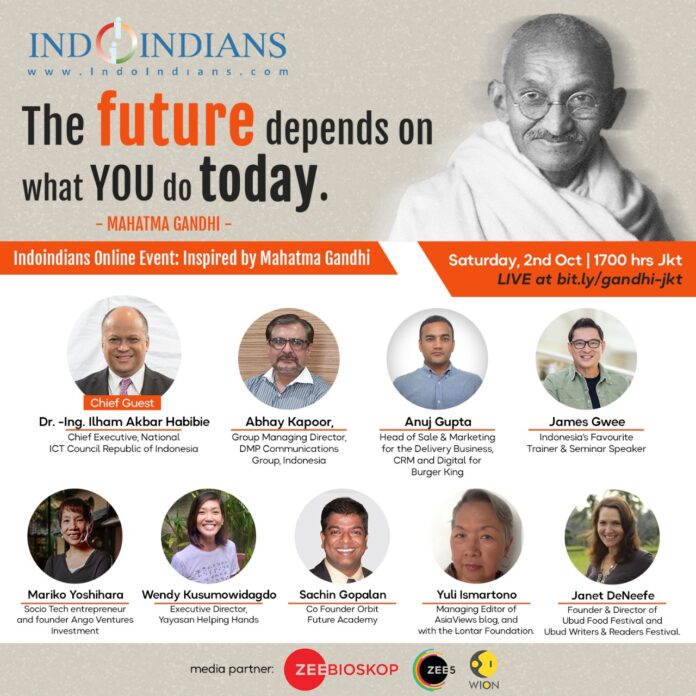 What comes to mind when we speak of Mahatma Gandhi are only valuable lessons that he left behind as his legacy. This day evokes emotions of non-violence, justice, honesty, peace, kindness and so much more that is just as relevant in today's time and age.
Stories have the power to change lives and connect individuals. Join our panelists as they share the quotes by Gandhiji that continue to inspire. Celebrating a legacy of inspiration on Gandhi Jayanti, the birth anniversary of Mahatma Gandhi.
Gandhi has shown us how to live by setting an example. He was an ordinary man with an extraordinary will to live his life according to the principles of truth and nonviolence.
Opening Remarks by Chief Guest: Dr. -Ing. Ilham Akbar Habibie, MBA, Chief Executive, National ICT Council, Republic of Indonesia.
On the Panel:
Abhay Kapoor, Group Managing Director, DMP Communications Group, Indonesia
Anuj Gupta, Head of Sale & Marketing for the Delivery Business, CRM and Digital for Burger King
James Gwee, Indonesia's Favourite Trainer & Seminar Speaker
Janet DeNeefe, Founder & Director of Ubud Food Festival and Ubud Writers & Readers Festival.
Mariko Yoshihara, Socio Tech entrepreneur and Founder Ango Ventures Investment
Wendy Kusumowidagdo – Executive Director, Yayasan Helping Hands
Sachin Gopalan, Co Founder Orbit Future Academy
Yuli Ismartono, Managing Editor of AsiaViews blog, and with the Lontar Foundation.
Poonam Sagar, Facilitator