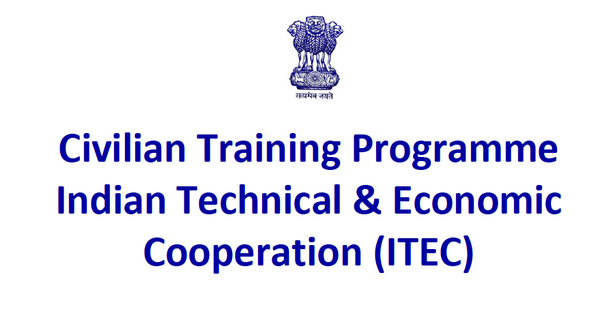 INDIAN TECHNICAL AND ECONOMIC COOPERATION (ITEC) PROGRAMME
The Indian Technical and Economic Cooperation (ITEC) Programme was instituted by a decision of the Indian Cabinet on 15 September 1964 as a bilateral programme of assistance of the Government of India. The decision regarding setting up the ITEC programme was predicated on the underlying belief that "it was necessary to establish relations of mutual concern and inter-dependence based not only on commonly held ideals and aspirations, but also on solid economic foundations. Technical and economic cooperation was considered to be one of the essential functions of an integrated and imaginative foreign policy."
Training or capacity building is one of the major activities under ITEC. The professionals and people from developing countries are offered unique training courses in different centres of excellence in India which empower them with not just professional skills, but prepare them for an increasingly globalized world.
Around 12000 scholarships are being offered to ITEC/SCAAP partner countries to attend the various training courses in India.The premiere institutions of India offers more than 300 short-term, medium-term and long-term courses during the year. The training programme is demand-driven and subjects selected are of interest to developing countries for their working professionals. The wide and diverse spectrum of skills and disciplines offered ranges from IT to rural development, parliamentary practices to entrepreneurship, marine to aeronautical engineering and so on. An encouraging trend of senior level participants from within and outside Government joining ITEC courses has been noticed which indicates the efficacy of the courses for capacity building, empowerment and upgrading of skills. At the specific request of partner countries, special courses on specific topics are also organized under the ITEC.
Browse the available courses by first selecting streams and then corresponding institutes, by clicking here >>
These scholarships provide excellent options for short duration executive education as well as long term courses at premier institutions in India, including boarding, lodging and airfare. As an Indonesian passport holder, check out this opportunity for learning today.

Please note that these scholarships are NOT for Indian passport holders.