JABODETABEK Audition of Bollywood Voice 2016 Report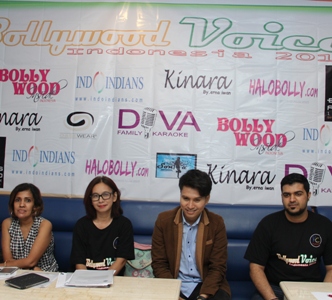 The JABODETABEK audition for Bollywood Voice 2016 has successfully held on Saturday (20/2) at Diva Karaoke Kota Harapan Indah, Bekasi. There were approximately 50 participants auditioned in this round.
According to Ms. Ina as event coordinator, Bollywood Voice 2016 is packed in a series of road show in several cities in Indonesia. The audition is aimed to search for finalists that will compete in grand final on November 2016.
The first audition was held in Cirebon and followed by JABODETABEK audition. After JABODETABEK audition, the audition will be held in Madiun, Malang, Medan, Banjarmasin, and Pekanbaru respectively. The competition aims to search Indonesian new talents in entertainment industry, specifically for Bollywood music.
Compared to the other similar events, Ina said that Bollywood Voice 2016 is not limited to singing competition in malls. It has long term programs that allow the winners to record their own Indian songs album.
At the end, there will be total 42 participants from each city that are going to compete in Grand Final round. The prize for first winner is a tour trip to India, the second winner will receive holiday package to Malaysia while the third will have a chance to go for a trip to Singapore.
Syifa Batubara Won the Final Round for JABODETABEK Audition
20 participants from JABODETABEK audition round competed in final round on Sunday (21/2) at Pluit Village, Jakarta. From the final round, the judges have decided six participants who will show their vocal talents on Grand Final in November 2016.
The first winner of JABODETABEK final round is Syifa Batubara from Jakarta. Her unique voice has sent her to the Grand Final round.
The second to sixth winner is Lilis, Fadil, Selky Gupta, Sefrobi, and Asrinaldi respectively. These six winners from JABODETABEK will compete with other finalists from other cities to win the 1st Winner of Bollywood Voice 2016.
Congratulations for all the grand finalists!