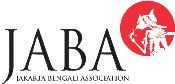 Jakarta Bengali Association (JABA), representing Indian expatriates primarily from Bengal, is essentially a platform for upholding and nurturing the rich Bengali tradition, custom and culture amongst its members and families as well as to spread the same in a multi-lingual, multi-cultural environment in Indonesia. Started 34 years ago by few enthusiastic families, the organization today, is a vibrant one with an active calendar of events ranging from social, religious and cultural ones to charitable and sporting events.
 Being away from home and our relatives, the Indian community in Indonesia is a closely knit one primarily due to the size of it's critical mass which is not too big. It is like one large family, celebrating all festivals together in one hand and being next to each other in times of need, on the other hand rendering the much needed support.
It has approximately 75 families as members. Our forthcoming events for this year include Durga Pujo, Lakshmi Pujo & Saraswati Pujo celebrations, Bengali Film Festival, Annual Picnic, Rabindra Jayanti celebrations etc.
We also have a website that you might like to visit to know more about JABA which is http://www.jakartabengaliassociation.com
Jaideep Bhattacharjee
Chief Co-ordinator
Jakarta Bengali Association