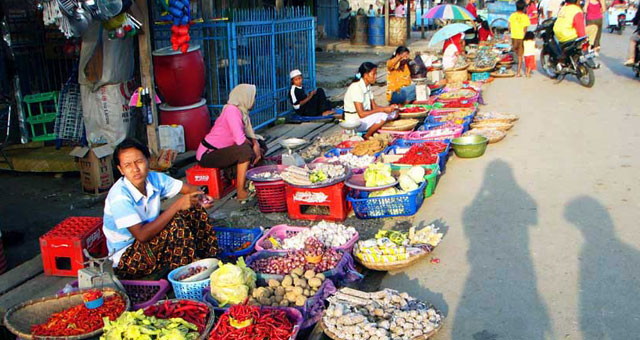 Although Jakarta is a modern metropolis with luxurious air-conditioned shopping malls and clean well-stocked supermarkets the city also has many traditional markets that are an integral part of its character. Many Indonesian housewives still prefer to buy produce at the local market as generations of women in their families have done before them. Jakarta also has markets specializing in items such as gold, gemstones, ceramics, textiles, flowers and birds.
Markets of all sizes can be found throughout the city and the Indonesian name for market, pasar, has found its way into many Jakarta place names (Pasar Minggu, Pasar Senen, Pasar Rebo, Pasar Jumat, Pasar Baru, Pasar Rumput, etc.). Jakartas market authority, PD Pasar Jaya, is in charge of managing the formal markets usually housed in large, two or three story buildings. Items sold at traditional markets include fruit, vegetables, meat, poultry and fish, bean curd (tahu) and soybean cake (tempe), spices, dry goods and household items. There may also be kiosks and stalls selling gold jewelry, textiles, clothing, stationery, toys, electronic goods, plastic goods, household appliances, cosmetics, medicine and jamu (traditional herbal medicine).
For a detailed description of the wonderful variety of Indonesian produce that can be found in local markets please refer to the book A Jakarta Market published by and available from the American Womens Association (Phone: 718 1877). This illustrated guide book can also prove useful when you are wondering what kind of fruit or food it is that you have noticed while shopping at your regular supermarket.
Some expatriates ask their cooks to buy local fruits and vegetables at the markets in order to take advantage of lower prices. Its a fascinating cultural experience to wander through a traditional market and experience for yourself the colorful sights, smells and sounds. Prices are always negotiable, however as a foreigner you would find that the asking price would be higher and you would have to bargain skillfully to get a good price.
If you visit a local market it is appropriate to dress modestly but comfortably as it is sure to be hot and crowded. Wear a minimum of jewelry and take good care of your purse. It is best to shop early in the morning when the produce is fresh.
A general market that is easily accessible for most expatriates is Pasar Mayestik, on Jalan Kyai Maja, Kebayoran Baru. The name Mayestik comes from the former ˜Majestic cinema that was located here. The market building is currently undergoing a major reconstruction and the general market is now in a cramped temporary building. At Pasar Mayestik there are many tailors and stalls selling textiles and sewing supplies, as well as stationery supplies and household goods. Many larger shops selling fabrics, electrical appliances and household goods surround the market.
Another market specializing in textiles is Pasar Tanah Abang on Jalan H. Fachrudin, Tanah Abang. This famous market" the largest garment shopping center in southeast Asia" sells to both retail and wholesale customers and offers cheap prices for fabrics, batik, clothing and sewing supplies. The stalls are closely packed and the area is notorious for pickpockets, so take extra care. Part of the Tanah Abang market was destroyed by fire several years ago and many traders moved to the south west of the city to Pasar Cipulir on Jalan Ciledug Raya, Kebayoran Lama. Similar goods with cheap prices can be found here.
Many textiles are also available at Pasar Baru (New Market), Jalan Pasar Baru, Central Jakarta, and in particular furnishing fabrics and curtains, as well as carpets, sporting goods and musical instruments. Pasar Baru is the center for Jakartas Indian community and a wide variety of Indian foods and spices is sold here.
Pasar Pagi (the name means Morning Market) on Jalan Mangga Dua, Kota, is crowded with kiosks selling fake designer handbags, clothes, shoes, watches, CDs, VCDs and DVDs.
Pasar Glodok, at the corner of Jalan Gajah Mada and Jalan Pancoran, Glodok, is a large complex specializing in electronic goods and appliances. Nearby on Jalan Kemenangan is the Chinese wet market called Pasar Kemenangan, which has a fascinating array of Chinese cooking ingredients such as sharks fins, birds nests, live eels, snakes and frogs, Chinese medicine and local jamu,incense sticks and other paraphernalia used in worship at the Buddhist temples.
Further north near the harbor is Pasar Ikan (Fish Market) at Jalan Pasar Ikan, Sunda Kelapa. As its name implies this is a wholesale fish and seafood market, butit operates only very early in the morning. Surrounding kiosks sell nautical equipment, tools, rope, seashells and curios.
There was previously a large and wellknown ceramics market, Pasar Keramik, at Rawasari, Central Jakarta, however many of the sellers had to relocate due to road developments. Some of the kiosks have reopened beside Jalan Jend. Ahmad Yani, also known as Jalan Bypass, and others moved to Jalan Percetakan Negara. The sellers offer a range of mostly imported ceramics, pottery and chinaware as well as some other household items.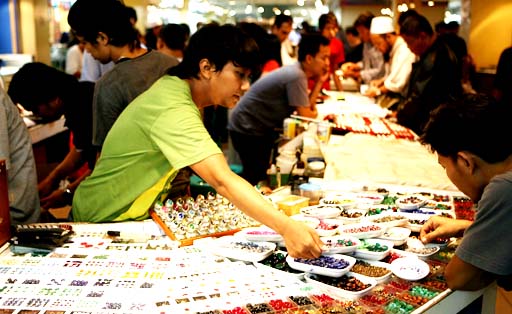 Another specialist market is the gemstone or rock market, Pasar Rawa Bening or Jakarta Gems Center in Jatinegara, East Jakarta. Hundreds of stalls are housed in this three-storey airconditioned building making it one of the largest and most comprehensive markets for gems and precious stones in Southeast Asia. Precious and semiprecious gems and attractive stones are displayed for sale in rough form or cut and polished. You can design your own jewelry and have the gems set in gold or silver. If you are not an expert gemologist it would be a good idea to ring a friend who speaks Indonesian and has some knowledge of gems to make sure that you are not paying high prices for fake gems. Ceremonial daggers called keris can also be found in this market as well as a range of mystical and religious paraphernalia.
In central Jakarta Pasar Cikini is a wellknown market located on Jalan pegangsaan, Menteng, just across from Cikini train station. It offers good quality fruits and vegetables and other foodstuffs and also specializes in rattan baskets. Pasar Cikini has many gold shops in a separate building adjacent to the general market. There is also a flower market (Pasar Kembang) nearby on Jalan Cikini Kramat, offering loose flowers and floral arrangements as well as florists equipment and baskets.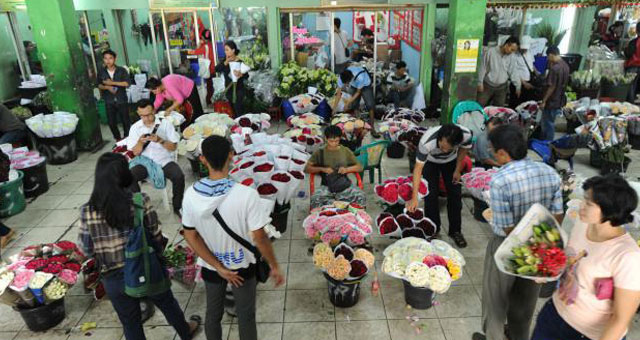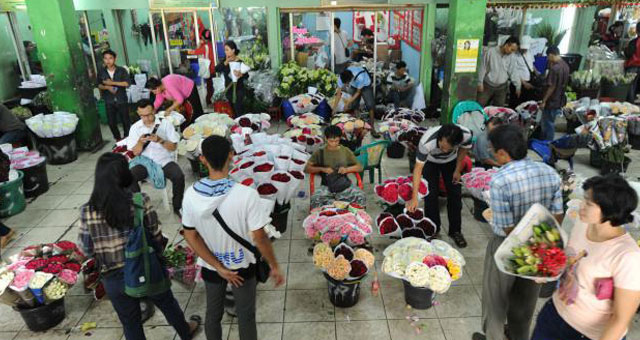 Pasar Bunga Rawa Belong in Jalan Palmerah, West Jakarta is a flower and ornamental plant promotion and marketing center. The best time to visit is very early in the morning, before 7 a.m. when there is a huge selection of fresh lowers and plants to choose from. You can also find fertilizer, pesticides and a arge range of gardening equipment.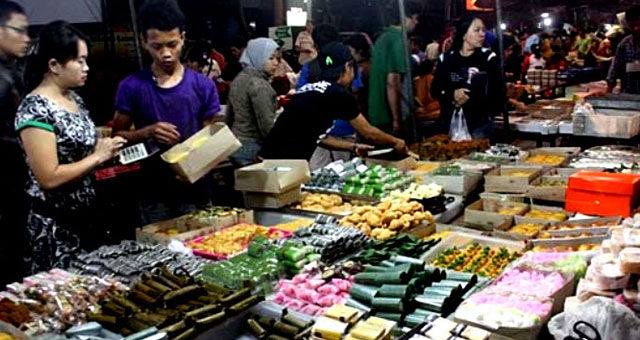 Another market that requires an early morning visit is the cake market or Bursa Kue Subuh in Senen, Central Jakarta next to the Senen bus station, which operates at night and up to 8 a.m. Your early morning rising will be rewarded by the sight of a colorful array of all kinds of local traditional cakes as well as more western style cookies and pastries. At this hour the delicacies will be fresh and ready for consumption. Not far from Blok M in Kebayoran Baru is Jalan Barito where there are stalls selling fruit and fruit baskets, and further along is the bird market where you can see birds for sale, bird cages and bird seed and even small animals such as rabbits, guinea pigs and monkeys. Quite often endangered species are offered for sale illegally and you are strongly advised not to purchase any of these animals.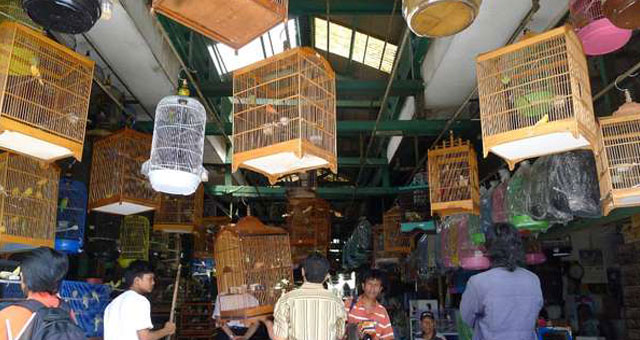 A similar bird market (Pasar Burung) can be found at Jalan Pramuka Raya, East Jakarta. This is probably the largest wholesale and retail bird market in Asia with both local and imported birds being offered for sale.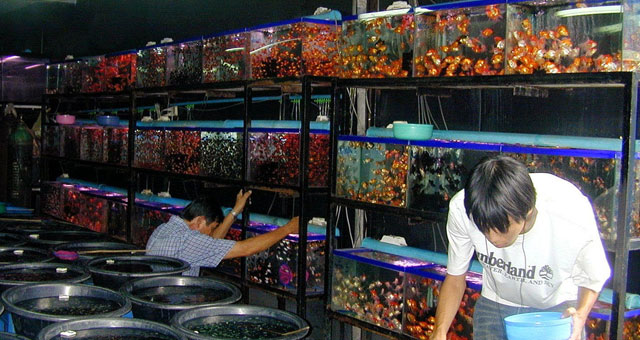 If your hobby is ornamental fish you will enjoy Pasar Ikan Hias (Ornamental Fish Market) on Jalan Sumenep in Menteng where you can find freshwater and marine fish, fish food and all sorts of aquarium equipment. This market is especially busy on weekends.
All of these markets certainly offer a glimpse of Indonesian daily life and you will find that a visit to a market with a friend, your family or a group organized by one of the local clubs will be an entertaining and interesting experience.
Provided by: Colliers International