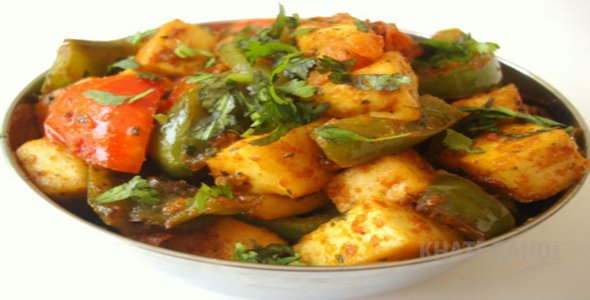 JHATPAT SHAHI ALOO
By: PS
Serves: Four
Time Required: 15 minutes + pressure cooking time
Ingredients:
12-16 baby potatoes
5-8 tbsp oil
2 medium onions<
2.5-cm piece of ginger
1/2 tsp kalonji seeds
1-2 green chillies, slit lengthwise
1/2 tsp red chilli powder
pinch of turmeric powder
salt to taste
100 g khoya
1/2 tsp garam masala powder
1/2 cup warm water
For the garnish:
1 tbsp kishmish
1 tbsp cashewnuts, chopped
1 tbsp fresh cream, optional
2 tbsp coriander leaves, finely chopped
Directions:
PARBOIL the baby potatoes and peel them.
Heat the oil in a non-stick kadai and fry the potatoes till light golden in colour.
Drain and set aside.
Make a paste of the onions and ginger.
In the remaining oil, add the following in this order to release their flavours:
The kalonji seeds,
green chillies,
red chilli powder,
turmeric powder and
the onion-ginger paste
Fry till the oil starts separating. Add salt to taste, stir and add the khoya.
Fry on low heat till the mixture turns light brown in colour.
Add the garam masala powder.
Add the potatoes, toss them well and add the water.
Cook for two to three minutes till a thick gravy is formed.
Pour into a serving platter. Garnish with the kishmish, cashewnuts, fresh cream (if using) and coriander leaves.
Serve hot with parathas.