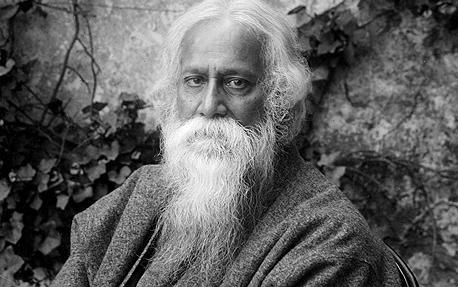 9th May 2015 this year happens to coincide with 25th Baishakh 1422 of the Bengali calendar which is the 154th Birth anniversary of Tagore. From this day is observed Kabi-Paksha (the Poet's fortnight) and Bengal, nay, different parts of the world are inundated with ecstatic music and other recitals in various functions during this fortnight. On this occasion, the following dispatch during this fortnight will be found appropriate, hopefully.
Rajat Das Gupta
1) Ask not when which song
For whom I meant to belong,
Lying on the wayside dust for him
Who, worth an honor it will deem.
Have you heard my message?
To your heart it had a passage?
I know not your name,
Yet, you are the very aim
Of my meditative treasure
That goes to you without measure.
(Rabindranath Tagore)
[Thus the Poet dedicated his book 'Mahua', nay, the entire boundless treasure of his aesthetic creation, to mankind.]
A Rabindrasangeet (= Tagore's song)
      He nutan dakha dik arbar
Janmero prathama subhakshan
……………………………….
[Note: There has been a boom of celebration of birthday parties of young and adults alike in the Western style even in our country with the trite song 'Happy birthday to you …..etc.' preceded by the ritual of cutting/eating of delicious birthday cakes to be followed by sumptuous dishes and, of course, the incumbents are flooded with costly gifts from their guests. Thus, the birthday parties do provide plenty of enjoyment. However, it may be interesting to compare this ethos with that which pervades the whole of Bengal during the Kabi Paksha (Poet's fortnight) which starts on the 25th day of Baisakh (this month in the Bengali calendar synchronizes with the mid April to mid May period), the birthday of the Poet, when the entire clime here is inundated with Tagore's songs/recitals etc. in various functions taking us deep into the perception of Creation's mystery, which we badly miss in our said birthday rituals which, one may feel, are in utter mediocrity once one has experienced the ecstasy and philosophical height in Kabi Paksha. Out of many other recitals relevant to the profundity of 'birthday' the following song is sure to be heard on this occasion ] 
O Ever New, may Thee reappear
Through Life's holy primal hour;
With the mist torn
Like Sun be Thy manifestation.
From the midst of inane
Thy victory be over its bane.
Let be hailed by Thy glow
And my heart's trumpet blow;
Music of Life's marvel
Infinity's eternal wonder to reveal;
The clarion call to the Ever New be sent
At the advent
Of Baisakh the twenty fifth
For its un-blighting gift.
* * * * * * * * * * * * * * * * *
My 1st dispatch of the Kabi Paksha (= Poet's fortnight)- sent on 8th May 2015 Rajat Das Gupta [E-mail: dasguptarajat@hotmail.com ]
Adopted from the book of Tagore translation 'THE ECLIPSED SUN' by Rajat Das Gupta,: Publishers: Cyberwit.com, ALLAHABAD – 211011 (U.P.) INDIA
Phone:   +(91) 9415091004  +(91) (532) 2552257
Website: www.cyberwit.net  E-mail   info@cyberwit.net Overseas buyers may log on Amazon.com