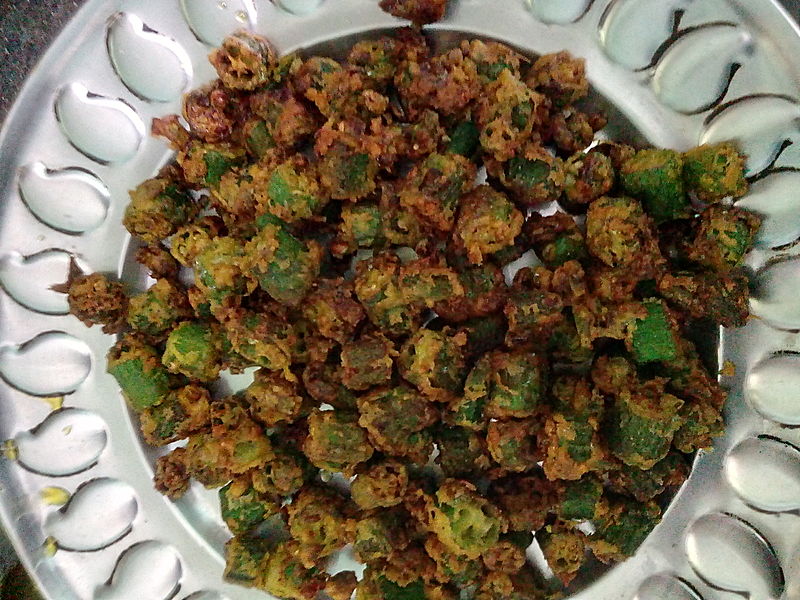 Serves: 3
Time required : 15 minutes
Ingredients:
2 lb(s) Bhindi/okra
salt to taste
1 tsp Chili powder
1 tsp Garam masala
1 tsp Amchur
1/2 tsp Chaat masala
3 tbsp Besan
Oil for frying
Ginger, julienned (optional) for garnish
2 Green chillies, slit (optional) for garnish
Directions:
Snip the bhindis/okra at both ends and slice lengthwise into four slices.
Place all sliced bhindis in a flat dish and sprinkle salt, chilli powder, garam masala powder, amchur powder and chaat masala over them. Mix well to coat the bhindi slices evenly.
Sprinkle the gramflour/besan over the bhindi and mix lightly till evenly coated. Divide the bhindi into two portions.
Heat oil in a kadai till it is very hot and ready to fry. There should be enough oil to shallow fry the bhindis properly.
Fry one portion of the coated bhindi slices, separating each lightly with a fork.Keep turning frequently until crisp, golden and done. Do not allow slices to stick to each other.
Remove from oil when both sides are crisp and brown in colour. Drain any excess oil on kitchen towels.Repeat with the second batch.
Serve hot because the okra becomes leathery when cold. You could garnish this dish with julienned ginger and slit green chillies. And squeeze some lemon juice for added taste.