Dr. K.C. Mehta is a Director and Chief Knee surgeon at Chandra Knee Clinic, Ahmedabad having vast experience in the field of knee surgery. The doctor is a super specialist who exclusively deals with knee problems only for more than last 10 years.
Dr KC Mehta was in Jakarta recently and presented an informative session on Knee Problems and Cure, which was highly appreciated by the audience. He gave a very clear presentation and was also available for questions and answers.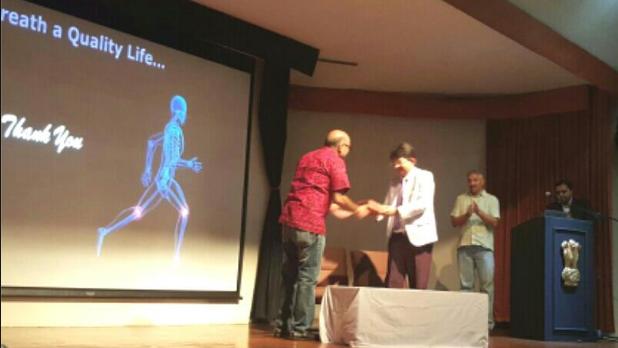 He has worked at "London Knee Clinic" in London, which is a world renowned terminal referral center for all types of knee surgeries and is well trained in the field of knee surgery and has performed various types of conventional and advances knee surgeries.
Dr Mehta has successfully operated on thousands of cases with this technique and has got excellent audited outcomes in his evidence based practice. The known complicates of knee replacement like infection, symptomatic deep vein thrombosis are less than even international standards.
Most patients treated by Dr Mehta have not required assistance of physiotherapist, and this is being published in internationally Indexed Journals of Orthopedics.
He has presented the outcomes of his way of doing knee replacements in International conferences and symposia in various countries like US, UK, Japan and ASEAN meetings.
Dr. Mehta has successfully operated on patients as senior as 94 years old patient with knee replacement.
The Chandra Knee Foundation organizes International Knee meet every year for aspiring & senior knee surgeons.
Dr. Mehta has worked at the UK at Walton Hospital, Fazakerely hospital, Glan- Clwyd Hospital, Countess of Chester Hospital, Royal Chester Infirmary, Queens Hospital in London and London knee Clinic.
Dr. Mehta has attended and participated in national and international meetings, conferences and symposia in India, UK, Switzerland, Austria, Greece, Spain, Thailand and Nepal. Dr. Mehta did his M.S (Orthopaedics) from B.J. medical college and New Civil hospital, Ahmedabad.
Dr. Mehta has pioneered and mastered way of knee replacement with silent features mentioned in our special technique.


Dr KC Mehta's article Replace Your Arthritic Knee –> http://www.apollolife.com/HealthTopics/Arthritis/ReplaceYourArthriticKnee.aspx