'You name any vegetable or fruit and I can make chutney with it', said Lakshmi Rao at our house last night, clad in a beautiful silk sari. She has adapted her passion for pickles and chutneys with the local produce available from Kanyakumari to Kashmir over the years to the great delight of her family and friends.
At the dinner table, I offered her some store bought ginger pickle and asked her about her version. With warm generosity she shared the following chutney recipes. Do try and send in your comments and feedback.
Red Chillies Chutney

Ingredients:
10-15 big red chillies with stems
1 ball of seedless tamarind
Salt to taste
1 tsp turmeric
Ingredients for tempering:
4 tbsp oil
Hing
½ tsp Mustard seeds
Preparation:
Wash and pat dry chillies and remove stems.
Grind all the above ingredients without any water and place in a bowl.
Heat the oil in a wok and add the Hing and mustard seeds till they sputter.
Let the tempering cool and then add to the chillies paste.
Check salt
Always serve with a bowl of yogurt to balance the heat.
Ginger Chutney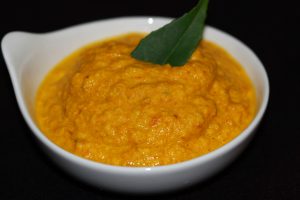 Ingredients:
1 large piece of sliced ginger
¼ cup of brown sugar
2 tbsp Channa dal
1 tbsp Urad dal
5 dry whole red chillies
½ tsp mustard seeds
1 tsp tamarind paste
½ tsp Methi seeds
1 tsp oil
Pinch of Hing
Preparation:
Dry roast the daals, mustard seeds, red chilies, methi seeds individually till fragrant in a heavy bottom pan and mix in a bowl.
Heat oil in a wok, add hing and mustard seeds till they sputter.
Wait till the mixture becomes lukewarm. Then add to all dry roasted ingredients,
add salt and grind in the mixer along with ginger, brown sugar, tamarind paste and water if required, to a thick paste.
Gunpowder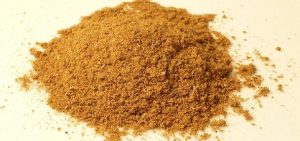 Ingredients:
4 tbsp Chana daal
4 tbsp skinless Urad daal
4 tbsp skinless moong daal
2 tbsp sesame seeds
5 dry red chillies
Salt to taste
1 tsp sugar
hing
1 tbsp oil
Preparation:
Individually dry roast the daals and sesame seeds in a wok till fragrant.
Heat the oil in a deep pan on medium flame. Add hing and chilles roast on a very low flame.
Turn off fire. Add all the roasted daals and sesame seeds. Add the salt.
Use a coffee grinder or food processor to grind the above roasted ingredients to a coarse powder
Remove into a suitable serving bowl.
Serve with Idlis, Dosas or simply sprinkle it on plain boiled rice and drizzle with ghee. This chutney can be stored in an air-tight container for at least a week.
This is brought to you by:
Poonam Sagar