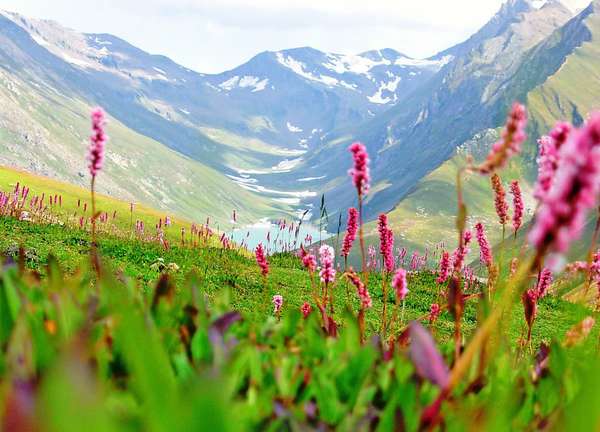 Naskah: PROMILA PARUTHI
Foto; PRAKASH ISRANI
India adalah sebuah negeri yang sama tuanya dengan waktu, indah dan eksotis. Di daerah Garhwal Himalaya di negara bagian Uttaranchal, India, bau wangi berbagai jenis bunga yang tumbuh di pegunungan yang tinggi itu seolah olah membawa kita ke dunia lain. Sungai-sungai dengan airnya yang jernih yang mengalir di dasar lembah dan kicauan burung-burung menambah asyiknya suasana yang surgawi itu.
Inilah Lembah Bunga sebagaimana dikenal oleh masyarakat setempat selarna ratusan tahun — tetapi baru diperkenalkan kepada dunia pada tahun 1931 oleh Frank Smyth, seorang warga negara lnggris dalam bukunya "The Valley of Flowers". Terbitnya buku tersebut pada pada tahun 1937 telah membuat daerah tersebut sangat terkenal. Bahkan daerah yang bernama Lembah Bhyndar, tempat bermainnya para bidadari, juga dirubah namanya menjadi Lembah Bunga (Valley of Flowers).
Valley of Flowers terletak antara puncak-puncak gunung dan sebagian diantaranya tertutup salju. Beberapa buah air terjun dan mata-mata air menjadi batas pemisah antara bunga-bunga yang terdiri dari berbagai jenis dan warna tersebut…. kuning, pink, merah dan putih. Flora di lembah ini juga terdiri dari beragam jenis tanaman, termasuk tanaman obat.
Lembah Bunga tidak selamanya berbunga. Pada musim dingin (Nopember-Mei), selimut salju yang tebal dan putih bersih menutupi seluruh lanskapnya. Dan dengan datangnya musim semi, Lembah Bunga memperoleh nafas baru. Bunga-bunganya bermacam-macam dan tak terhitung banyaknya. Pada musim hujan (Juni) lembah ini pun diguyur hujan lebat dimana warna merah dan pink mendorninasi suasana, tetapi tanpa mcngurangi keindahan warna-warna lain seperti kuning, jingga dan putih. Pada bulan-bulan Juli sampai Agustus leinbah ini benar-benar penuh dengan bunga dari berbagai jenis dan warna. Pada bulan September Valley of Flowers berubah warna menjadi coklat dcngan suasana yang tenang dan damai.
Sementara lembah ini sangat disenangi oleh para pencinta alam, Departemen Kehutanan Negara Bagian Uttaranchal telah mengidentifikasi dua lembah lainnya yang tak kalah indahnya yang juga tcrletak di Himalaya. Kedua lembah ini kaya dengan flora dan fauna liar… menunggu untuk dijelajahi. Kedua lembah baru tersebut adalah Lembah Chenew dan Lembah Kheero yang berdekatan dengan Lembab Bunga. Keduanya terletak di kaki puncak gunung Neelkanth yang terkenal itu dan termasuk kedalam wilayah Hutan Lindung dari Nanda Devi Forest Division.
Penulis adalah seorang penulis freelance.
Source : India Perspective