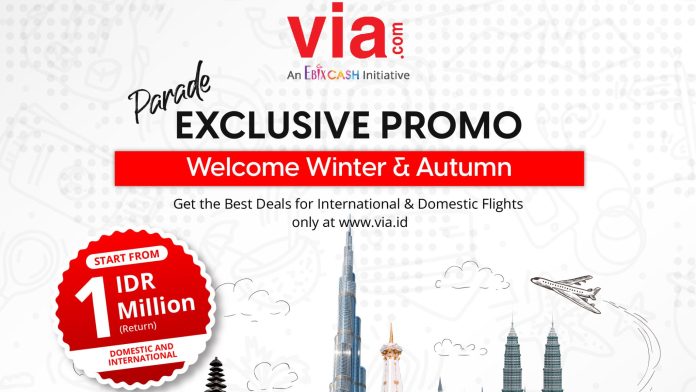 Via.com is a comprehensive and well-known e-commerce and online travel agent company in Asia. Founded in India in 2006, this company offers convenience, quality, and cost efficiency. In 2008, the Ebix Group acquired Via.com, and now the company is part of the Ebix Group. Entering Indonesia in 2011, Via.com can also be found in several other countries such as India, Singapore, Philippines, Thailand, Hong Kong, Saudi Arabia, Oman, and the UAE. Via.com has been present in Indonesia since 2011 to promote Indonesian tourism by providing innovative products and services. The presence of Via.com has at least facilitated ease of access to various travel needs for travelers.
Facing global competition, especially in the pandemic and post-pandemic era, Via.com consistently innovates, delivers comprehensive services, and maintains the trust of its customers. Via.com has brought a new dimension to the global demand for practical, comprehensive travel products, such as flights, trains, hotels, and holiday packages. Yes, Via.com is a one-stop travel solution for you.
Furthermore, during the pandemic, Via.com often provided Repatriation Flight services for flights between Jakarta and India, as well as India and Jakarta. The program was successfully implemented thanks to the excellent cooperation between Via.com, India Club Jakarta, the Embassy of India in Jakarta, and the Embassy of Indonesia in India.
Via.com has received numerous awards, including the Top Performing Agent award for 2022-2023 from Qatar Airways last March. Throughout 2022 to 2023, the tourism and aviation industry seemed to be experiencing a breath of fresh air. During the tourism resurgence in 2022, Via.com Indonesia achieved impressive milestones. Among them, 95% of customer/partner requests (especially via email) were successfully handled by Via.com, and there were new, more practical payment methods.
A traveler named Ira gave her testimony about Via.com's products and services, "I highly recommend this (via.com). There are often cheap flights promotions. I've been to Turkey and for domestic flights there, I used via.com, and there was a reschedule by the airline. As a customer, I was immediately contacted by via.com and assisted. Via.com is easy to contact and their response is fast."
Currently, Via.com Indonesia is of the sponsor of the ASEAN-INDIA DIWALI BAZAAR event to be held at the Ballroom of The Westin Hotel, Jakarta, on Sunday (10/22). If you're looking for flight promotions, now is the right moment because Via.com is also holding an "Exclusive Promo Parade for Autumn and Winter Season" with IndiGo, Malaysia Airlines, Singapore Airlines, Emirates, ETIHAD, TransNusa, and Garuda Indonesia. Special flight fares are available for various route options, starting from IDR 1 million. Get the promotion now, visit www.via.id to check flight schedules and book your seat.
If you encounter any difficulties, you can contact our Customer Service Team via live chat at via.id portal or call 021-29-800-800 or email cs@via.com.