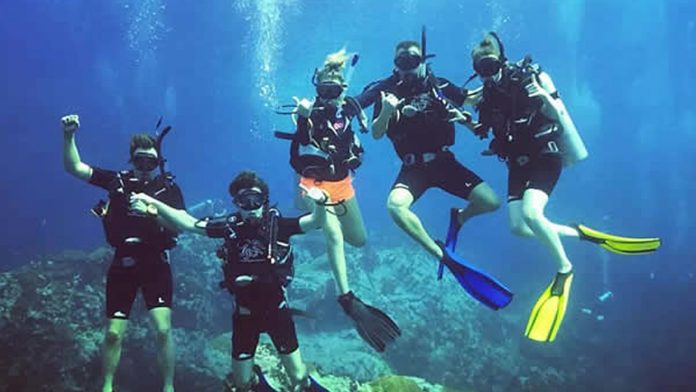 Diving is a great activity if you are travelling to Indonesia. Indonesia has ample destinations for diving. Raja Ampat, Bunaken and Kakaban are just several diving areas that are popular in Indonesia. One way to enjoy all of these holiday destinations is to acquire a diving license.
Here are several places to get your diving license in Jakarta:
Flying Fish Jakarta
Flying Fish is a diving school in Jakarta that is located at Mt. Haryono Street, South Jakarta. By following this diving course here, you will get all the courses from the theory class, practicing at the pool to diving straight into the ocean. For fans of diving, Flying Fish not only offers diving courses but also hold meetings frequently in order to tighten relations and to provide space for passionate divers to know more about diving. Moreover, they have both national and international certifications for diving.
Address: RT.1/RW.1, Cikoko, Pancoran, South Jakarta City, Jakarta
Phone: +62-2129517658
Website: http://www.flyingfishjakarta.com/
Jakarta Ocean Dive
Andrew Lioe, a PADI and SSI Instructor has a big dream about scuba diving in Indonesia. Their business mission is to fill your holiday with fun, excitement and unforgettable memories; without cutting on quality and safety and while protecting our marine environment. Courses at Jakarta Ocean Dive are based on two leading training agencies in the world, PADI & SSI. Courses are not only limited to open water diver, but also advanced open water diver, rescue diver, recreational Sidemount Diver and Buoyancy clinic.
Address: Jl. Pademangan 1 Raya No. 1, Jakarta Utara
Phone: +62-81282872106
WA: +62-818720196
Email: info@jakartaoceandive.com
Website: http://jakartaoceandive.wixsite.com/jodi
Master selam
Master Selam is another diving school with instructors based off international diving curriculum, PADI. Their diving lessons varies, from those who are just beginners and want to earn a diving license to those who want to be a professional diver or instructor. Other than provide internationally-approved instructors in Indonesia, they are also well equipped with dive gear, in which they become known as one of the best suppliers of dive gear in Jakarta.
Address: Jl. Bangka Raya No.39A, Mampang Prapatan, Jakarta Selatan
Phone: +62-217199045
Websiter: www.masterselam.com
Aquanots
Aquanot's motto "Your diving partner" is a way of Aquanot to become a trusted diving needs provider for diving enthusiasts. In this effort, they offer diving equipment, diving tour and diving course for anyone who is interested in diving. Divers can therefore get a one-stop shop and diving course without getting difficulty of finding diving equipment.
Address: ITC Permata Hijau 1st Floor Blok D18 no. 1-2, Jl. Letjen. Supeno, Kebayoran Lama, Jakarta Selatan, DKI Jakarta 12210, Indonesia
Office Phone :+62-88210086836/+62-2153663873
Phone/Whatsapp: +62-8176440789
E-Mail: info@aquanots.com
Website: http://www.aquanots.com/
Bubbles Dive Center
Bubbles Dive Center is a PADI dive center that offers both diving courses as well as diving trips throughout Indonesia. Another feature that Bubbles has is its 7-meter diving pool for divers to practice on. Those in training will feel and understand the sensation of descending into the sea. In this controlled environment, you will be able to practice your buoyancy or even underwater photography.
Address: Jl. Guru Mughni No.18, Karet Kuningan, Setiabudi, Jakarta Selatan
Phone: +62-2152922233
Fax: +62-2152922233
E-Mail: bubblesdivecenter@gmail.com
Website: http://bubblesdc.com/
Odydive
With over 20 years of experience in the diving industry, Odydive prides itself on the dive management team that consists of PADI 5 stars instructors. For that reason, clients will be able to enjoy underwater exploration and scuba diving adventures while also experience the highest standards for diver training, safety and customer service based on PADI standard dive center.
Address: Jl. Panarukan No. 15, Jakarta Pusat
Phone: +62-213921226.
WA: +62-88214307787.
Email: divebox@odydive.com
Website: www.odydive.com
Guerrilla Dive Indonesia
Guerilla Adventure was previously a community of people with different abilities on in outdoor activities such as mountaineering, climbing and photography. After some time passed, the Guerilla Adventure becomes more focused on scuba diving activities and was renamed 'Guerilla Dive Indonesia' . Currently, it offers customers the options of dive shop, dive school and dive course activities. It has even been registered with SSI (Scuba Schools International) and established their base at Sepa Island, Pari Island and Panun Paradise Island-Misool Raja Ampat.
Address: Jl. Pangeran Antasari No.12, Cilandak Barat, Jakarta Selatan
Phone: +62-217504381 / +62-83811969288/ +62-217504381
Email: info@guerillaindonesia.com
Website: www.guerillaindonesia.com
Sea Pearl Dive Center
The Sea Pearl's Dive Shop and Center is truly a one-stop-for-all in Jakarta, Indonesia. Services offered ranges from ScubaPro brand dealer to organizing diving holidays. Their diving school is also particularly established, for it has both PADI and SSI training facilities, with a private training pool for clients to practice on their diving skills. If you want a more realistic experience then you can ask them to arrange you a scuba diving trip.
Address: Susilo 3 no 3. Jakarta, Indonesia
E-Mail: seapearlsc@yahoo.com
Phone: +62-2156967954/ +62-81316150172
Which diving school have you tried? Tell us your experience in the comments section below!