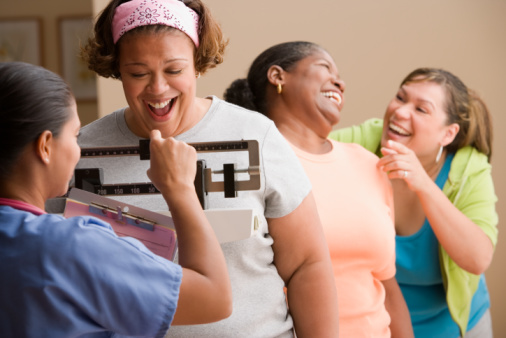 Most of us desire to improve our looks immediately without trying to hassle with another weight-loss diet that could take us months to get to our ideal weight. Whether you are top-heavy, or carrying a little extra padding around your waist or hips, you do not have to feel frumpy anymore.Rule no 1: Accentuate your positives!
When searching for clothes, look for sari blouses or tops that enhance your facial features and chest area (but not in a trashy way). Choose flattering colours for your skin tone and accessories (jewellery and hair accessories) that direct a viewer's attention away from those features that you are self-conscious about.
Rule no 2: Conceal the negatives!
Avoid clothes that draw attention to what you feel are your negative features. For instance, avoid clothing that is too tight — that will overemphasis your features such as tight jeans or lycra tops, light coloured pants / skirts, especially if you favour dark tops. A general rule to follow is the rule that your tops should not be darker than your bottoms. Especially if you are well endowed in the hip area.
Another good rule is, at the very least, you should match colours of tops and bottoms. If not, draw attention to the upper waist area by wearing dark coloured (not necessarily black) pants / skirts and vibrant coloured tops, with or without prints.
Rule no 3: Come out of hiding!
Get rid of those clothes that make you feel the most frumpy! Eliminate restricting sari blouses, and baggy pants and T-shirts from your wardrobe! These things tend to draw attention to your physical shape and only serve to make you feel more self-conscious. A more open collared top, maybe a V-neck or a crew neck. Tops that reveal a little shoulder, can make you feel 10 times better.
It opens up the area around your face, so that even without makeup, you can feel sexy. If you must have something concealing your neck, try a scarf. Scarves have a tendency to draw attention away from those negative spots and allow others to focus on your beautiful smile. In fact, the shorter the scarf (just slightly bigger than a handkerchief), the foxier you will look and feel. Try sheer / print scarves…very soft and feminine.
Rule no 4: If it makes you feel frumpy…don't wear it!
If you feel self-conscious, you can't feel comfortable and much less, sexy. First of all — find a style you are comfortable with. If you wear salwar kameez (which one admits are very comfortable), forget fabrics with writing, etc., on them. Find fabrics with solid colours or with complimentary patterns on them. The kameez should be long enough to cover those 'trouble spots'.
When choosing a style, they should not be constricting or too clingy. There should still be room to breathe, although not too baggy.
Rule no 5: Take your time and take a friend
When shopping, take the time to try on clothes before you leave the store. Take a friend along who can be objective in helping you find clothes to compliment your shape. If 'sexy' or 'foxy' is what you're looking for, why not bring your spouse along? Put on a little fashion show in the changing booth area for your significant other. Who said shopping should not be fun for your other half.
An understanding and loving partner will be supportive and may aid you in finding outfits (party clothes, lingerie) that you feel comfortable in and that you both find sexy. Once again…be honest with yourself. If it makes you feel frumpy, don't buy it! Don't waste your valuable fashion money, and valuable closet space on clothes that you wear once and then never again. Take your time.
Keep in mind, no matter what your size, clothing should be functional, yet comfortable. Your clothes should compliment you. Don't be afraid to experiment a little…a print here, a little bright colour there…Pastels look good on just about anyone. They give your shape a softer look, regardless of your size. You don't have to look frumpy anymore! Wear clothes that make you feel comfortable, but accentuate your positives and conceal your negatives.