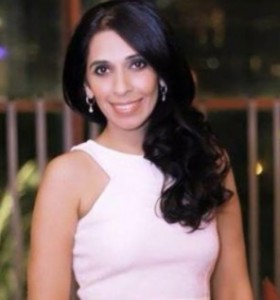 MAKEUP:
From very early on, Mansha always knew she wanted to be part of the Beauty & Fashion Industry. This spurred her to attend professional trainings and workshops as well as work with superior artists in the field to learn the necessary skills.
At the age of 17, she joined the Martha Tilaar Beauty School where she learnt skincare and basic makeup skills. She then went on to work as a cosmetic consultant at the Changi Airport Duty Free store for about 2 years. However, it was only a few years later when she realized she wanted to become a professional makeup artist. At the age of 23, during a holiday to London she happened to visit the MAC store (during this time, MAC wasn't close to as popular as it is today) and she was immediately hooked! She purchased ALL their lipsticks as well as her first very own makeup kit, which BTW she still has uses today and I must say is in excellent condition.

She then began watching YouTube makeup tutorials, which she says has been a massive help for her, as she would watch videos and practice on herself. Her favorite videos are by: Rishab Khanna, Ojas Rajani, Vipul Bhagat and of course Bollywood's top makeup artist, Mickey Contractor. Soon enough, she became confident with her makeup skills and experimented on her cousins, friends and pretty much everyone who would sit long enough. Seeing how happy they were with their results motivated her to really become serious about her career in makeup. She went on to do a full makeup course at the Martha Tilaar Beauty School where she learnt professional makeup application for different occasions: modeling, parties, simple day look, Halloween and even Dangdut! In 2012, Mansha was lucky enough to have the opportunity to work with Indian celebrity makeup artist, Rishab Khanna during a 1- week intensive bridal makeup course in Mumbai. After the course, Mansha was selected to assist him on Telugu actress, Meera Chopra's makeup. Hence, it is safe to say that her efforts have snowballed into some amazing and enriching experiences.
In Jakarta, Mansha's first professional attempt was on Miss India Indonesia contestant, Bhavna Tolani. Her experience with Bhavna was definitely a highlight as Bhavna won the pageant! After this, she went on to do makeup for weddings, parties and special events.

Mansha's signature looks include the smoky eye and nude lips (just like Deepika Padukones stunning look in Bajirao Mastani she says!). She is also fond of the red lips and the winged kaajal.
Makeup Products Mansha Recommends:
Primer
STILA (has ALL colors)
Foundation
MAC Face & Body or YSL (both are great – they give a
flawless finish and cover well while still giving a natural look)
Concealer
Duo Corrector from MAC (this was introduced to MAC by
Bollywood Celebrity Makeup Artist Mickey Contractor)
Note: Not everyone needs concealer – it depends on how much
coverage you need.
Eye shadow
MAC or Urban Decay
Eyeliner
Inglot number 77 – this is a gel linger that comes with a brush.
It is the darkest black you will find! Or Urban Decay 247 Perversion
Mascara
Benefit or Maybeline
Eyebrow pencil
Anastasia if you want it to be long lasting and Bobby Brown
nude pallet for a more casual look
Note: Make sure you use a clear gel after doing your eyebrows
– it will work to set, define, and hold your eyebrows in place
all day.
Breathing Rate
Less than 5 breathes/mt
Blush
MAC
Lipstick
MAC, Anastasia or OCC
Contouring
LA Girl liquid form
Powder
Studio Sculpt from MAC or Kryloan Loose Powder
Makeup fix spray
Urban Decay or MAC
When I asked Mansha what makes her stand out compared to other makeup artists, she said her willingness to share her makeup secrets and tips! True enough, Mansha was kind enough to share lots of makeup secrets and tips that she has learnt in her many years in the business! Here goes:
Less is more! Don't wear too much makeup – always remember that makeup
is about the ability to enhance what you've got!
Always outline your lips using a lip pencil, use a shade that is similar to your
natural lip color. This will make your lips look better and last longer. Make
sure your lip pencil is perfectly sharpened. The MAC lip pencils are great!
Always apply lip balm before lipstick so that your lips are moist.
To ensure your lipstick stays on, apply lipstick and then dab it with tissue,
repeat this step, then apply loose powder and finally lipstick again – but this time don't dab it with tissue.
Never step out of the house without applying kaajal – it immediately makes you appear fresh and awake!
Make sure your foundation matches your skin tone so that it blends well. Mansha says as foundation is a beauty staple, she cannot stress enough the
importance of getting the right foundation that is most compatible with your
skin type to get the best results!
Always use liquid foundation, they provide excellent coverage of lines,
wrinkles and pores. They also create a layer of protection to help retain
moisture in the skin. Liquid foundation is highly recommended for those who
are going for the dewy look!
Always mix your foundation with a bit of moisturizer and set it with loose
powder. This will make your skin appear nice and smooth.
Always use makeup fix spray to seal the deal! This will keep your makeup
looking just-applied for up to 16 hours.
Never rub your skin, always dab it with tissue.
The Indian skin suits colors like earth bronze, gold, brown and even dark
shades of green and blue – always keep this in mind!
Mansha also shares with us steps on how to get our lips right for a SELFIE POUT!
Brush lips with salt using a tooth brush
Apply balm and let it settle
Apply very minimal foundation
Outline lips using a lip pencil
Apply lipstick
Apply lip gloss, but only on the center of the lips
Outline your lips again using the lip pencil
Apply highlight powder in the middle of the upper lip
I asked Mansha to try a simple and subtle smoky look on me, I was extremely happy with the way my makeup looked – it wasn't too heavy or too light. Mansha definitely nailed it! Have a look: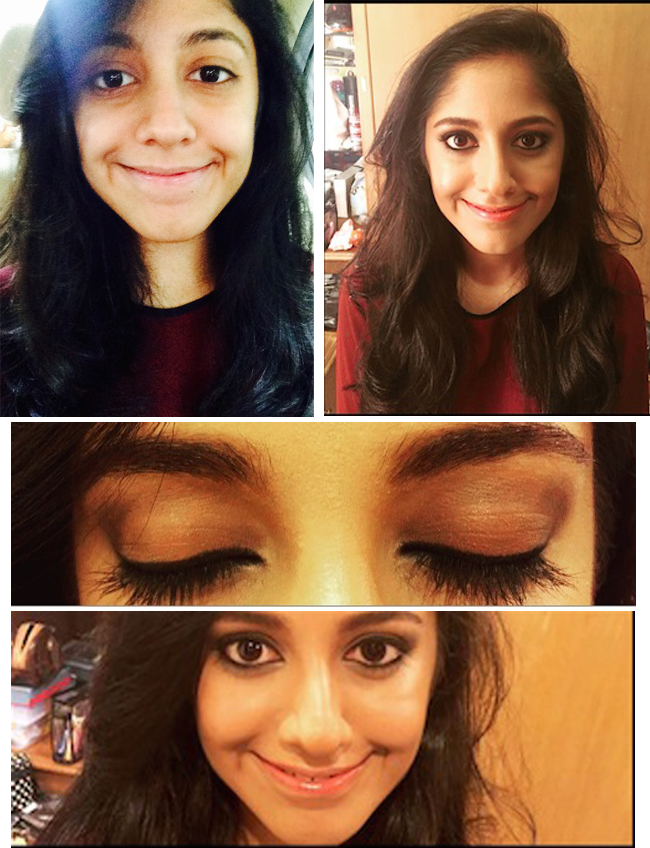 A piece of advise Mansha would like to share to young and aspiring makeup artists is to explore different colors and textures because there are never ending boundless options. She says, play on your lips and go wild!
Saree Draping:
Apart from her expertise in makeup, Mansha is also fabulous at saree draping! She's always loved sarees, she says her first memory wearing a saree was on her 11th birthday. She went on to take up an intensive saree draping course in Mumbai, where she learnt a total of 28 different draping styles. From the course, she learnt that the trick to look exquisite in a saree is to make sure the skirt you wear underneath your saree (petticoat) is tight enough! Most women underestimate the importance of the petticoat, but no matter how beautiful your saree could be, you won't be doing justice to it if you haven't gotten the petticoat right. So always make sure your petticoat isn't a size too big or small. When I asked Mansha her favorite style, she said, currently the Dhotti Saree. This is definitely my current favorite too!
Mansha is a big fan of the traditional Rajasthani Bandhani and Mirror Work, she says that they have a classic look that will never go out of style! Her favorite designers include: Payal Singal, Masaba and Farah Sanjana.
Here's Mansha is showing me how to drape a saree: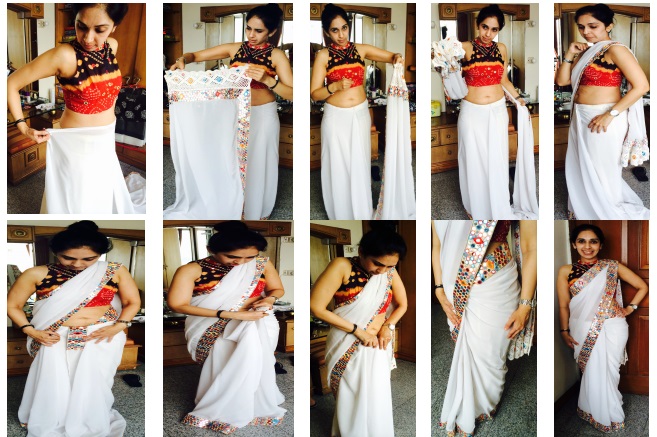 Her are some top saree draping tips from Mansha:
If you are going for the Pin-up Airhostess or Mumtaz look, don't use thick silk material – it isn't going to give you the sleek look you are going for!
If your saree has a beautiful palu, be sure you flaunt it! Pin up your palu on your shoulder and let it loose. Also, make sure your blouse is simple so that it doesn't look too over the top, balance is important!
If you are going for a party look, pick a saree with a dressy blouse. After you
finish your pleats, go one round around the waist and pin the palu up to your shoulder, leaving it to fall on the wrist. Use soft, thin material for the palu: chiffon, net, georgette.
Make sure you use strong and sturdy safety pins that pierce the pleats without tearing the saree.
If you are wearing a net saree, put a small tissue/paper underneath the net when you are pinning it up – this will ensure that it won't tear.
Make sure your blouse is perfectly fitting – this can really make or break your look! For example: a blouse that is too loose will make you look old fashioned while a blouse that is too tight will make you look undefined and unstructured.
Make sure your saree is floor length, its just always more elegant this way!
Accessories:
Lastly, Mansha is also into accessories, which is a new hobby she says. Her collection has some absolutely stunning Indian ethnic pieces from India. Mansha does this on a preorder basis.
Mansha's ability to make her clients not only look beautiful, but feel beautiful makes her a favorite among the many experts in the field! Big, big thank you to Mansha for sharing so much with us, we really appreciate it and wish you all the very best!
Check out Mansha's instagram page @makeupbymansha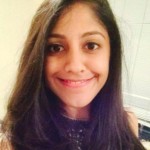 by Zareen Akbany