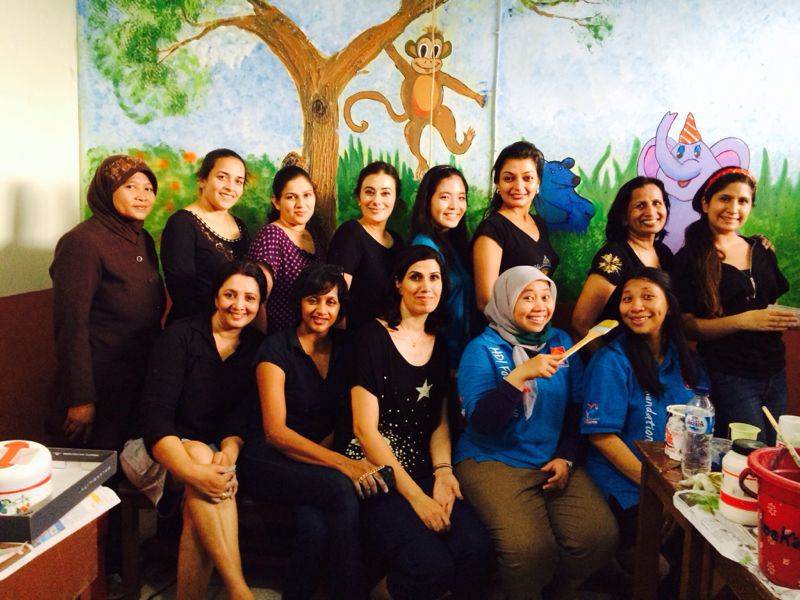 The school is a dismal structure which stands in the middle of 'Kampung Sawah.' This 'kampung sawah' is incidentally a small forgotten piece of land by the river, surrounded by gigantic factories Pulo Gadung.
'During the heavy rains last rainy season reports of how high the flood waters reached inside the school constantly sent shivers down my spine. Every time the thunder rolled, my thoughts went to the school that existed just a hundred meters from the clogged river' Pavan narrates.
Here is a short video on a conversation that Indoindians had with Pavan and Meera, when we caught up with them for coffee. Due to recording in a public space, there is some background noise.
Pavan took up the cause with a few like minded artists and a lot of good hearts to come forward to paint murals on the walls of the Kampung Sawah classrooms. Some of the volunteers had never painted before and just came along to help with whatever they could. They too landed up painting and getting in touch with their artistic inner self. 'I was initially scared as I had never painted on walls before, but once we got started it was so much fun and we did some good work,' shared Vijaya Birla.
'The children would peek through the doors while we worked and many a time I wanted to interact with them,' says Sunita. They now plan to volunteer some teaching sessions at the same school and interact with the students.
Tanya Alhuwalia at 22years is the youngest member of the group and is proud to be associated with it, 'It was so much fun and I actually used my talents to give back.'
'Most of the members were artists from the existing Indian artists group called 'Different Strokes of India'' says Meera Joseph. 'We planning another exhibition of our works and the proceeds will be used for more charitable causes', she added.
Once the rains subsided the work started in full swing and the artists could go in with their paints and brushes and let their creative juices finally splat themselves in vibrant hues.As the idea took root the HDI foundation also volunteered to fix the roof, scrape the paint and fix the broken walls.
The five classroom walls painted were outstanding and not only did the artists do something meaningful with their talents but also whet their appetite for more giving.
The amazing artists who participated in this project are as follows. We have about 6 others who could not join us this time.
Arti Tekriwal
Leela Kothari
Meera Joseph
Pushpa Sodhani
Pavan Kapoor
Ranju Ahluwali
Rimzim vyas
Shipra Rao
Sunita Lakhotia
Tanya Ahluwalia
Vaishali Deepak
Varsha Taparia
Vijaya Birla