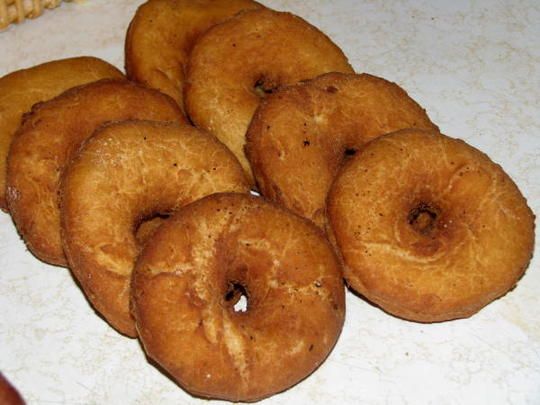 MASHED POTATO DOUGHNUTS
Ingredients:
4 cups flour
4 tsp baking powder
1/2 tsp cinnamon
1/2 tsp nutmeg
1 tsp salt
1 cup mashed potatoes
3 tbsp shortening
1 cup sugar
2 eggs, well beaten
1 cup milk
Directions:
Sift first 5 ingredients together. Cream sugar and shortening, add potatoes and eggs.
Add to flour mixture, with milk, to form a soft dough that you can handle.
Roll out on floured board 1/2 inch thick; cut with doughnut cutter.
Cook in deep, hot fat till brown on both sides (turn when first crack appears).
Drain on paper towels.
Serve plain or coated with powdered sugar. Makes 4-5 dozen.