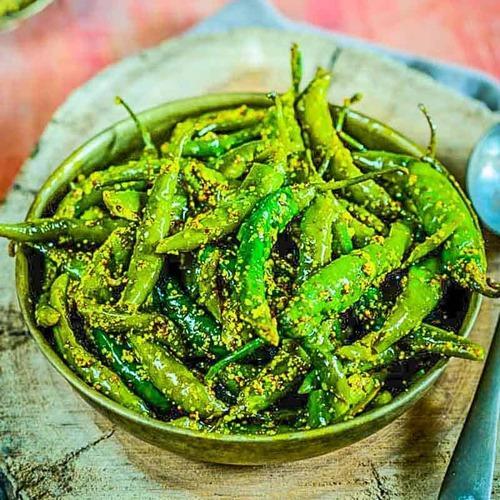 Mirchi ka achar
Ingredients:
1 to 11/2 cups (100 -150 gm) chopped green chilies ( cabe rawit or a mixture of cabe rawit and cabe keriting … hot or medium hot variety (hari mirch)
75-100 gram ginger (adrak)- grated
1 full (20-22 cloves) garlic(lehsun)-grated
1 roundel or 10 -15 grams jaggery (gurd) -grated
2 tablespoons mustard seeds grounded or (rai powder)
1 tablespoons salt (namak)
2 teaspoon turmeric powder (haldi)
1 teaspoon red chilly (lal mirch)
1 cup mustard oil (sarson ka tel)
1 table spoon or 1 bottle cap of the local vinegar (cuka)
½ teaspoon Asafoetida powder (hing)
Instructions
chopping green chilies
Rinse and wipe dry the green chilies very well. There should be no trace of moisture in them. You can also let them dry on their own.
Remove the crowns and chop the green chilies in 1 inch pieces.
You may split some from the centre and leave some as a whole.
making green chilli pickle
In a dry grinder or coffee grinder, powder the mustard seeds coarsely. Or you may take a pre-prepared powder of rai powder.
Make the ginger garlic paste by finely grating ginger and garlic. Keep aside
Smash or grate the jaggery separately. Keep aside.
adding mustard oil in chilli pickle
Heat mustard oil till its smoking point. Let the mustard oil cool till it becomes warm or is slightly hot.. About 10 mins.
On medium heat, add finely grated mixture of ginger garlic paste with the asafoetida powder .
Keep stirring. Soon the ginger garlic will start to change its colour.
Add the dry masala- turmeric, mustard seeds, chilli powder, salt.
Stir for 1 minute.
Add the grated jaggery.
Stir for another minute till the jaggery melts in the mixture.
Add the green chillies till they start to change colour and are still crispy.
Add the vinegar/cuka, stir to mix.
Let it cool for a while and then transfer it in the pickle jar.
Let it completely cool now over the jar with its lid. The pickling process is complete now. Ready to eat right away.
You may keep the pickle outside at room temperature or in the fridge.
Serve green chili pickle as a side condiment with a simple Indian meal like dal-rice or curd-rice. The pickle can also be served with aloo paratha, gobi paratha, mooli paratha or even plain parathas or chapatis.
Enjoy !