Mrityunjay Kumar Singh, popularly known as MK among friends & colleagues, is an Indian Police Officer of 1987 batch, presently posted as Additional Director General of Police (Railways) of West Bengal in India. Very recently he was here with us in Jakarta as Counselor (culture) of the Indian Embassy & Director of JNICC as well as Indian culture centre, Bali in Indonesia from 2008-2011.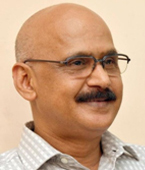 Personal History:
Born in a joint-family of rural Bihar in Rohtas district, MK has been born and brought up amidst the traditional moors. From village to urban, and urban to cosmopolitan metros, he had a mix of learning. From village school of nativity to the university of metropolitan modernity, from a lout and boorish local to a savvy and suave citizen – he changed many places and routes of formal education with his father's transferrable job and finally became a Master of Arts in Political Science from Delhi University with Bachelor's Honours degree in History from St. Columbus College, Hazaribagh (now in the state if Jharkhand). Being a drifter, he accidentally chose to become a cop, thanks to his goading mother who always wanted to see one of her sons, a cop.
While performing his duties at various locations in the state of West Bengal, his sensitive mind kept on soaking in literary and musical inspirations. He kept writing as and when he could and working on Bhojpuri folk music. He started learning classical music too at the age of 40 and performed with his team both at home and abroad (Guyana & Mauritius). He got opportunities to work with film director like Late Rituparno Ghosh (in 'Chokher Bali' & 'Antarmahal'), music composers like Debajyoti Mishra, Pandit Tanmoy Bose & Prabuddha Banerjee in many of their compositions, and dancing icons like Didik Ninik Thowok of Yogyakarta (Indonesia).
Presently he is a visiting professor in the Regional Centre of Mahatma Gandhi Hindi Vishwavidyalay, Wardha at Kolkata, a regular poet and columnist for many Hindi dailies & magazines, has written a play, working on a novel in Bhojpuri to be translated further in Hindi & English related to the history and dynamics of Indentured labor of colonial days and its effect on their future generations.
Success to him is nurturing dreams and chasing them passionately with desired learning and discipline. He believes in being a diehard optimist who patiently drifts towards his goal without being distracted.
Tips, strategies, learning:
Let your heart be your guide and mind the executor. Pursue a task heading towards a closed path; there is no path that is closed. There is always illusion and cloud; accept it as your natural environ.
Start the day with something you thought is left out yesterday or something you thought you could do, but did not have enough time.
That each step is a way forward, and every way-forward makes your muscles learn how to take the next step. So, it's learning all the way.
Don't forget to celebrate and rejoice at the feats you think is a success to you and makes you smile. Never take 'public recognition' as a sign of your success; it makes you brittle and perishable.