A unique Nepalese preparation of chicken mince balls cooked in mustard oil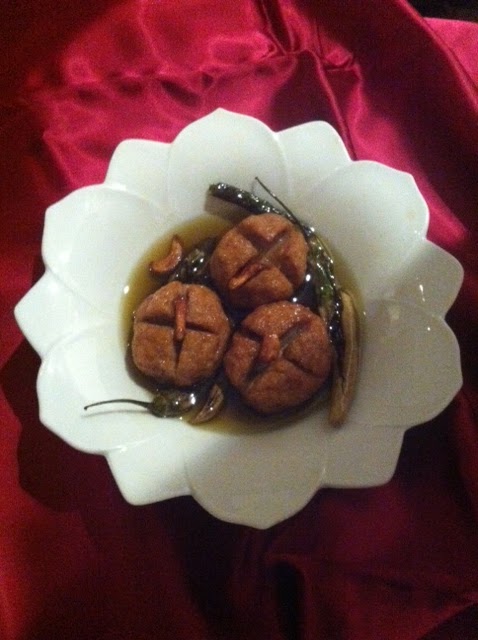 Ingredients:
6 chicken breasts, boneless
1 tsp anise pepper (chakri phool) powder
2 tsp jeera powder
1 tsp soda bicarbonate
1/2 tsp red chilli powder
1 cup mustard oil
40 garlic cloves
15-20 green chillis, slite
Salt to taste
Directions:
Cube the chicken and put the pieces in a high-speed blender. Blend the chicken for about two minutes, or until it is pureed.
Add the anise powder, jeera powder, soda bicarbonate, red chilli powder and salt, and blend for another 30 seconds.
Remove the mixture and make balls the size of a golf ball each, using water or mustard oil on your hands to avoid the mixture from sticking.
Heat the mustard oil until it smokes, reduce heat to half, and gently put the chicken balls in and fry until they turn golden.
Remove the balls with a slotted spoon and keep aside. Cut a cross (X) on one side of each of the fried balls with a sharp knife going half way down.
Ten minutes before serving, heat the oil once again, add the garlic and green chillis, and fry for a minute.
Then add the fried chicken balls and pour the hot oil over them with a spoon until the cuts open up like a petal.
Fry until they turn golden brown all over. Serve in the frying pan with the oil.