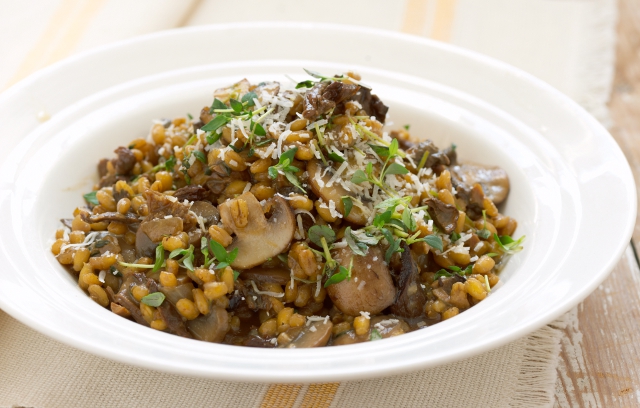 This delicious and hearty mushroom risotto substitutes fiber-rich barley for the more traditional arborio rice and works well as a main dish or side dish for steak.
Ingredients:
1 tbsp dried mushrooms
1 onion, chopped
1 garlic clove, crushed
15 grams butter
225 grams chestnut mushrooms, sliced
150 ml dry white wine
200 grams pearl barley
2 tsp chopped fresh thyme, plus a few leaves to garnish
750 ml chicken or vegetable stock
3 tbsp single cream
1 sprinkle grated hard sheep's cheese, to serve
Instructions
Soak the dried mushrooms in boiling water for 30 minutes. Drain and chop.
Soften the onion and garlic in butter, stir for 2 minutes. Add the sliced fresh mushrooms and wine, simmer for 2 minutes.
Stir in the pearl barley and chopped thyme. Add the stock and bring to the boil, then simmer until the barley is tender but with the bite and liquid is almost absorbed (about 40 minutes)
Add the chopped soaked mushrooms and the single cream. Garnish with thyme leaves and grated cheese.