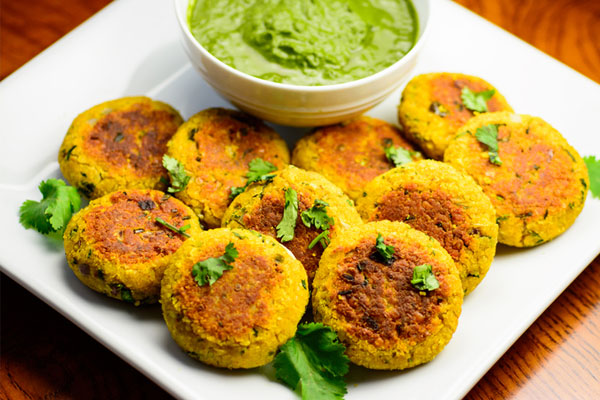 On a diet or wanting to eat healthier? Then try this recipe of oats and mung dal tikki. Not only is the process of cooking quick, it is extremely easy to make. It also uses ingredients that are easily available. Additionally, this is an easy way to add oats to your diet as some do not like the taste of oats.
Ingredients :
½ cup yellow Mung dal
½ cup quick cooking oats
3 tbsp grated onions
2 tbsp curd
2 tsp chilli powder
¼ tsp garam masala
¼ tsp Turmeric
1 tsp ginger-garlic paste
½ tsp finely chopped green chillies
2 tbsp chopped coriander
1½ tsp oil for cooking
Salt to taste
Method :
Clean, wash and boil the Mung dal in one cup of water till the dal is soft and cooked and all the water has evaporated.

Blend all the dal to a coarse paste.
Transfer it to a bowl and add all the remaining ingredients and mix well.
Divide the mixture into 12 equal portions and shape each portion into a two and a half inch round flat tikki.
Cook each tikki on a non-stick pan / tawa using ½ tsp oil.
Serve with green chutney.
Serves: 04
Cooking time: 40 mins