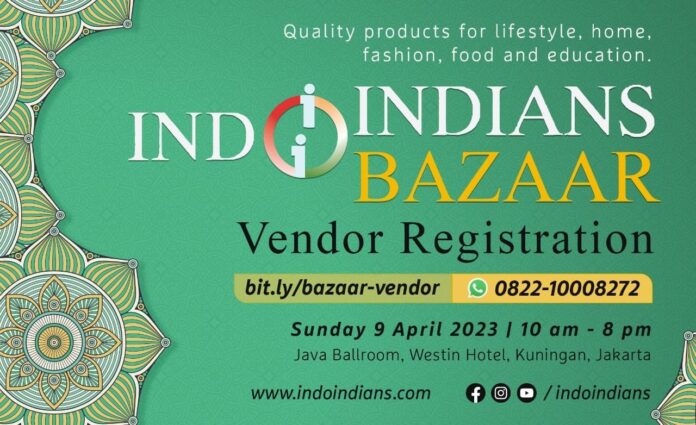 Indoindians Bazaar on Sunday 9th April 2022 at The Westin Hotel Jakarta – Quality products for lifestyle, home, fashion, food and education. Also food court with food vendors with seating area for diners.
Event Date and timing: Sunday, 9th April 2023, 10:00 am to 8:00 pm
Venue: Java Ballroom & Denpasar Room, The Westin Hotel, Kuningan, Jakarta
An opportunity to bring under one roof buyers and sellers for a day of shopping, friendship and fun while connecting the Indian diaspora with the other expat and local communities in Jakarta.
Photos for our last bazaar here >>
Featuring:
Food stalls with food service at Denpasar Room
Fashion & jewelry
Household products
Handicrafts
And much more
Also an opportunity for service providers to promote themselves at the event.
Table Layout for Lifestyle Bazaar:
Table details and pricing:
Table Size
Special Table
in Java Ballroom
Premium Table
in Java Ballroom
(180cm x 75cm)
(180cm x 75cm)
Floor space
180 cm x 175 cm
180 cm x 200 cm
Standard setup
Table and 2 chairs
Table and 2 chairs
Price in IDR
1,500,000
2,000,000
Additions available
       Electricity point
50,000
50,000
       Sosmed Promo
(4 posts)
1,000,000
1,000,000
Optional equipment (will have to brought by vendors)
Max 2 (single rod only) racks in place of table
Floor space can be used for custom booth/racks etc
*Tables are subject to availability. Sharing of tables is strictly prohibited. All furniture needs to fit within marked floor space
** Food vendors with food service will be permitted only in the Denpasar Room.
*** Please select appropriate table as per layout above and fill in the form.
Register, Select Table and Pay here >>
Indoindians Bazaar Vendor Registration
Indoindians Bazaar Vendor Registration
NOTE: Dates are subject to change up to 2 weeks before the event due to unforeseen circumstances.
No additional tables can be provided.
Terms & Conditions:
Only products specified by the vendors in the registration form can be sold during the event.
Only packaged food can be sold in the Java ballroom bazaar area.
Food vendors with food service will be permitted only in the Denpasar Room.
Set Up: Doors for set-up for exhibitors will be opened from 12 midnight on Saturday 8th April and 7am on the day of the event. Kindly be early for set-up and avoid traffic congestion in the loading area. All Exhibitors must complete their table display 30 minutes before the event start time on the same day. Exhibitors are strictly advised not to cart trolleys or cartons through the main hotel lobby, or via the guest lifts at anytime. Should you need assistance from any venue staff, please go through the Organizer. Vendors are required to stay till the closing time of the event.
Timings: Indoindians Lifestyle & Food Bazaar 2023 – Sunday 9th April 2023, 10:00 am to 8:00 pm. Kindly note that all participants need to be present for the entire duration of the event.
Sub Letting: Sub-letting of the table space by vendors is strictly prohibited. Substitute vendors will not be permitted to participate.
Cancellation: Last Date for Cancellation Should be by 30 days before the event date, in writing to event@indoindians.com. A cancellation fee of IDR 500,000/ is applicable to any cancellation of a confirmed booking, under any circumstances. Cancellations made less than 30 days of the event will not be eligible for any refunds, under any circumstances. After the cancellation the exhibitor will have no claims on table space.
Payment: participation fees have to be paid in full to be eligible. Payment details will be shared with registered vendors. Tables cannot be put on hold for more than 3 days without receipt of payment.
Loading and Unloading: Loading and setup need to be complete at least 30 minutes before the event starts. Loading / unloading instructions will be provided prior to the event.
Advertising: Extensive advertising is done through Indoindians website and its communications channels to relevant audiences and communities. Further advertising is ensured through promotion campaign to over 50K reach.

Bazaar page with vendor listing on Indoindians website
Bazaar update mailer every 2 weeks featuring all new vendors

Additional Vendor online marketing/promotion package – IDR 1.000,000/ for 1 custom posts on each Indoindians social media channels
– Instagram
– Facebook
– Twitter
Interested? Send an email to event@indoindians.com or WA +62 822 1000 8272 today.
Please join our facebook page at www.facebook.com/IndoindiansJkt to help cross promote your brand.
Interested in the Bazaar Sponsorship Opportunities? Details here >>