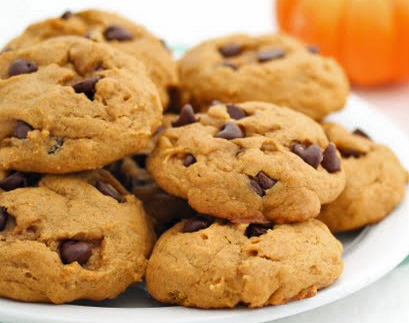 Try this soft and chewy cookies recipe whenever you want a quick and hassle-free paleo snack. This recipe is gluten-free, dairy-free, and totally vegan.
Ingredients:
2 ½ cups almond flour
¼ tsp sea salt
½ tsp baking soda
1 tsp pumpkin pie spice
1 tbsp flax seeds
3 tbsp water
½ cup pumpkin puree
¼ cup maple syrup or honey
2 tbsp coconut oil/butter (in room temperature)
½ cup dark chocolate chips
1 tsp vanilla extract
Instructions:
Prepare baking sheets with parchment paper, and preheat oven to 180 degrees Celsius.
Stir together flax seeds and water. Set aside until the mixture achieves an egg-like consistency.
Whisk almond flour, baking soda, sea salt, and pumpkin pie spice together in a bowl. In another bowl, beat together maple syrup, pumpkin puree, coconut butter, vanilla, and flax seed mixture.
Add the dry ingredients to the wet ingredients; then mix with spatula until well combined. Stir in the chocolate chips, and mix well.
Scoop the cookie dough using ice cream scoop or a tablespoon, and form into balls. Place them on the prepared baking sheets and flat the balls gently using your fingers or palm (the cookies won't spread on their own).
Bake for about 15 minutes to get the chewy and soft texture. Remove from the heat and let cool on a cooling rack.