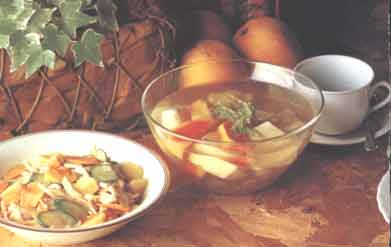 Ingredients :
1 small papaya, skinned and seeded.
1 packet tofu.
1 stick celery, sliced.
1 small onion, peeled, quartered.
1 lt chicken stock.
1 sprig coriander.
salt and pepper
Directions :
Cut the papaya into bite-size pieces and the tofu into large cubes.
Strain the chicken stock till the soup is clear. Bring to boil.
Add the celery and onion. Gently simmer for a while.
When the onions turn translucent, add the papayas. Simmer until the papayas are soft.
Do not over cook the papaya. Add the tofu cubes slowly and simmer until they're heated through. Season according to taste.
Before serving, add coriander leaves. For a tastier soup, scatter with fried sliced shallots.
TIP :
For good chicken stock, boil chicken bones with slice of fresh ginger. If you wish, add one or two honey dates. Chicken stock keeps for a week or two when frozen. To use, simply thaw and add your favourite Vegetables or meat. The trick to good soups is to serve them piping hot!