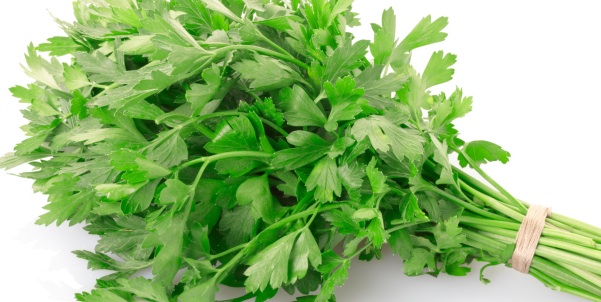 Parsley Description
Parsley (Petroselinum crispum) is probably the most popular and versatile herb available. It has a very mild, fresh flavour.
Parsley complements – lamb, chicken, ham, casseroles, fish, vegetables, salads, egg and cheese dishes, soups, sauces.
Did you know?
The Greeks used Parsley to crown victors at the Isthmian Games. It was also a symbol of death and scattered over tombs. The Romans were the first to use Parsley as food and ate it like lettuce. The Romans believed Parsley worn as wreaths around their necks prevented drunkenness. Parsley has always been linked to the occult. It was believed that the seed germinated slowly because it had to go down to the devil and back seven times before it would grow. An old saying goes Where Parsley thrives, the missus is master.
Quality
Parsley should have a good fresh green colour, even leaf particles and a mild aroma.
Usage
Parsley is an essential part of Bouquet Garni .

Gremolata is a garnish of grated lemon rind, Garlic and Parsley sprinkled over the traditional Italian dish, osso bucco.

Saut mushrooms in butter, Garlic and a good tablespoon of Parsley.

Add Parsley to white sauce and creamy dips to give colour and a mild flavour.]

Toss a tablespoon of Parsley into all salads, eg potato, pasta, lentil and green salads.

Parsley is a good garnish for white fish as it will not overpower the delicate flavour.

Whilst French cuisine does not use a wide variety of herbs and spices, Parsley is used to flavour many dishes such as the well known jambon persill. This dish, made with chopped ham in aspic, flavoured with Parsley, Garlic and vinegar is excellent for buffets.