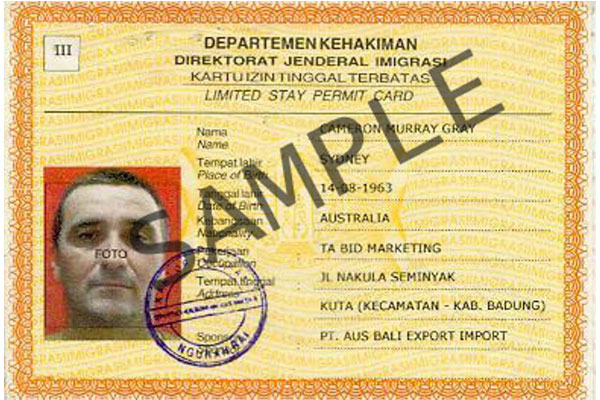 Expatriates who wish to live and work in Indonesia need numerous documents issued by various Indonesian government departments. The procedures for obtaining all of these permits, visas and registrations require vast amounts of paperwork to be processed, as well as a number of approvals from different sources.
Your sponsor or employer, or an agent, should handle these requirements on your behalf as these are extremely important, complex and time consuming procedures. However it is useful for you have an understanding of what is involved. The following is a brief guideline to the various permits and procedures.
Passport
All family members should have separate passports from their home country with a validity of at least six months. If your passport is nearing expiration it is advisable to renew it to the maximum time allowable before you apply for an Indonesian work permit and visa, so that the procedure does not have to be repeated after a short time due to the expiration of the passport.
Expatriate Placement Plan" RPTKA
Expatriates who are coming to work in Indonesia need to be sponsored by a company. The company must submit an Expatriate Placement Plan (RPTKA) for the assignee to the Department of Manpower. There are strict guidelines regarding the kinds of positions that can be held by expatriates.
TA01
TA01 recommendation is issued by the Department of Manpower based on an approved Expatriate Placement Plan and must be issued before a Limited Stay Visa (VBS) and Stay Permit (KITAS) can be applied for. Only expatriates working in Indonesia require a Work Permit and TA01 recommendation, while dependent family members, including spouse and children up to 17 years old, will be sponsored by the working spouse. Dependent family members are only entitled to live in Indonesia with the working spouse/parent, and they are not allowed to work. If a spouse is also working in Indonesia he/she will have a separate Work Permit and independent Stay Permit.
Limited Stay Visa (VBS or Vitas)
This is a temporary stay permit issued by the Immigration Office in Indonesia and is stamped in the passports of all family members by the Indonesian Embassy in the location concerned before their arrival in Indonesia.
Work Permit" IKTA
Once the RPTKA has been approved and the TA01 recommendation has been issued the expatriate can apply for a Work Permit (IKTA) which is issued through the Department of Manpower and must be approved through several ministries. This permit is issued to a company and not to an individual. Work Permits are only issued to companies that require a specific position be reserved for an expatriate when there is currently not an Indonesian qualified to fill that same position. Work Permits may be issued for short-term periods and up to a 12 month period. A Work Permit is issued after your arrival and the payment of your annual Skill & Development Fund (DPKK) fee.
Skill & Development Fund (DPKK) Fee
Companies employing foreigners are charged $100/month per expatriate employee to offset the costs of training Indonesian nationals. This tax is administered through the Department of Manpower. Proof of payment of the Skill & Development Fund (DPKK) fee to the BNI˜46 bank for one year in advance, amounting to US $1,200, is needed before a Work Permit is approved.
Immigration Registration
After entering Indonesia with the VBS, expatriates must report to the Immigration Office within 3 days of arrival in Indonesia. Failure to do so will result in extremely high fines. At this or subsequent visits to the Immigration Office, you will be required to make a full set of fingerprints, sign various documents and have photographs taken.
Stay Permit (KITAS)
Eventually the Immigration Office will issue a Stay Permit in the form of a card for the working expatriate and each dependent for a one-year period. You must keep this card with you at all times. However, in order to avoid the risk of losing the original card and the resulting hassle, many expatriates keep this card at home in a safe place and carry only a photocopy. The KITAS card may be renewed annually, with up to two extensions without having to leave the country.
Foreigner's Registration & Change Book (Buku Mutasi)
This book, often referred to as the Blue Book and of similar size to a passport, is issued at the same time as a KITAS. All changes of address, status, etc. need to be notified to the Immigration Office and recorded in this book.
Exit Re-entry Permit (ERP)/Multiple Exit Re-entry Permit (MERP)
Every time an expatriate wants to leave Indonesia temporarily an Exit Re-entry Permit must be obtained at the Immigration Office. The process takes three working days and the permit is in the form of a stamp in your passport. A single Exit Re-entry Permit can be issued if your KITAS is valid for 3 months or less. This permit enables you to exit and re-enter the country only once. A multiple Exit Re-entry Permit is issued only if your KITAS is valid for more than 6 months. This permit enables you to exit and re-enter the country any number of times during the six months validity of the permit. It is advisable to always have a valid multiple re-entry permit stamped in your passport just in case you need to leave the country in a hurry.
Population Registration (SKPPS)
Individuals who have obtained a work permit and a KITAS are considered residents. Residents of Indonesia, both citizens and foreigners alike, should register with the local municipality's population office to obtain a Certificate of Registration for Temporary Resident (SKPPS).
Certificate of Place of Residence (SKTT)
A Certificate of Place of Residence should be obtained from the Sub-district Office (Kantor Kelurahan) in your area. This certificate is necessary in order to register with the Police Department to obtain the Certificate of Police Registration (SKLD).
Certificate of Police Registration (SKLD)
Expatriates holding a KITAS card must register with the National Police within 30 days of issuance of their Stay Permit. The Police Department (Direktorat Intelpam Sub Direktorat Pengawasan Orang Asing) will issue a Certificate of Police Registration (SKLD), which was previously in the form of a book and more recently a card. You must keep this book or card, or a photocopy, with you at all times. A police repor t (STM) acknowledging your residence, issued by the local police office (Polres) nearest your residence, may be required before the issuance of the SKLD.
Travel Permit (SKJ/Surat Jalan)
Your company may recommend that you obtain a three month travel permit if traveling to other parts of the country, especially outlying areas.
Provided by: Colliers International