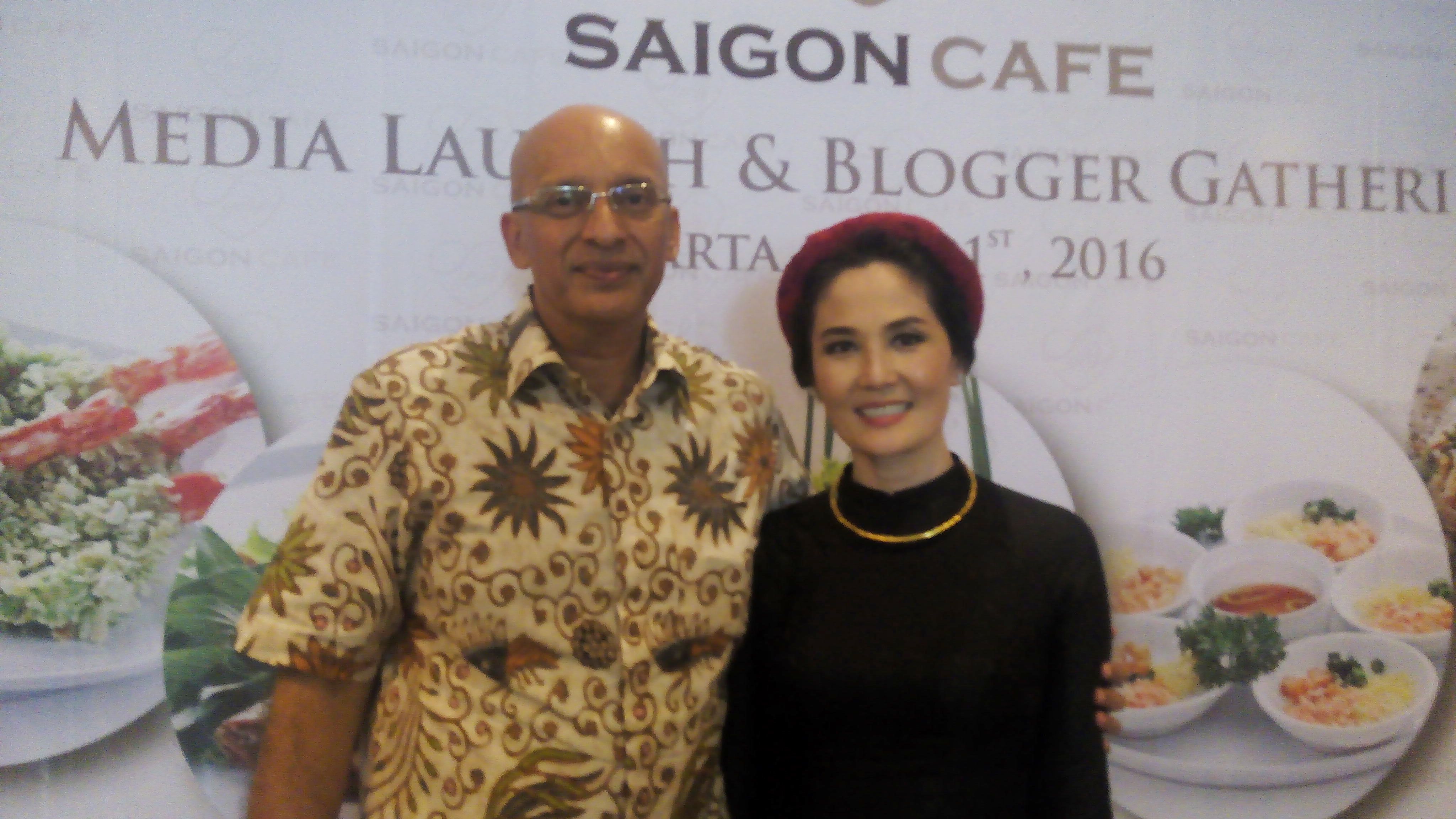 Praba Madhavan and Mai are behind the authenticity and goodness of Yeu Saigon Café. Praba, originally from Malaysia, came to Jakarta in 1987 for work. In 1988, his company assigned him to Vietnam; and that was when he met Mai for the first time.
In his 5 year stint in Vietnam he became very familiar with Vietnamese cuisine. "I know which Vietnamese cuisines are authentic and which are not,"
After 5 years he moved back to Indonesia and lost contact with Mai. "I didn't have contact of Mai until around 3 years ago," he said. "One day, out of the blue, I received a text from her. And she said that she wanted to open a Vietnamese restaurant here in Jakarta," he explained. Mai also owns a Vietnamese restaurant in Paris, France, in addition to her property business.
He said that one of the reasons that Yeu Saigon Café was established to fill the gap for authentic Vietnamese restaurant in Jakarta. "That's why took a chance. Yeu Saigon Café started from our passion for food, and interests in culinary business,"
An interesting thing about Yeu Saigon Café is the word 'yeu' which has a very deep meaning for Praba. "When my wife died five years ago, I was devastated and sad. It was a great loss for me and my family. But I feel that God give me one more chance to get happiness by uniting me and Mai. That is why we have 'yeu' in our restaurant name, which means love," he smiled. "I want this love; my love for this restaurant, my love for Mai, our love for our staffs and of course to our customers can be felt when they come to this restaurant," explained Praba.
Since it opened a year ago, Yeu Saigon Café had good response from diners. "Customers are enthusiastic about our restaurant. They can appreciate the authenticity of Vietnamese cuisine. There are two customers' profiles: those who travel a lot and know Vietnamese cuisine; and second are those who have studied abroad and are familiar with Vietnamese cuisine, as it had been their part of their everyday life," he smiled. "So when these people come back to Indonesia, they will seek authentic Vietnamese restaurant,"
To maintain authentic Vietnamese cuisine in Yeu Saigon Café, Praba and Mai carefully select the chefs for their restaurant. "Our chefs must have at least two years experience. And he has to be Vietnamese," he shared. Praba also said this differentiates Yeu Saigon Café from other Vietnamese restaurants in Jakarta. "Vietnamese cuisine is very different from Indonesian cuisine. If the chefs aren't trained enough, they will gradually adjust the taste to Indonesians' stomach. If that happens, the authenticity is gone," he explained. He and Mai always prioritize quality over anything else.
Praba also really enjoys his business, although he is also still running a company in palm oil industry. He also said that there is a part of him that 'has changed' after he opened Yeu Saigon Café. "Previously, I was a person who didn't really like to meet people. But now, it gives me pleasure when I greet my customers, who come from various backgrounds. I'm really happy with that," he told. Passion is one thing that makes it happens. "Now I work 7 days a week. And I think it would be impossible if I had no passion,"
Despite his busy schedules in managing the restaurants and his business, he spends his free time in meditation and prayer. "Well, with this business I can say that I don't have free time anymore," he laughed.
As for future plans, Praba stated that he will open three other branches of Saigon Café this year. "In September we will open our next branch in Lippo Mall Kemang, in October we will open in Grand Indonesia, and in December we will open in Mall of Indonesia," he shared.
Praba's shared his recipe to a successful business. "Number one, you need to have passion. Don't see this as a business. If you only see it as merely a business, it won't last long," he told. "You will face many ups and downs; you need to sacrifice many things for your business. If you don't have passion, you wouldn't be able to deal with that," he said.
Second is the right concept. "We have to make something that is different from the others. That is also what we highlight here: the concept, the quality of the foods. And thank God, our customers appreciate those things," he smiled.