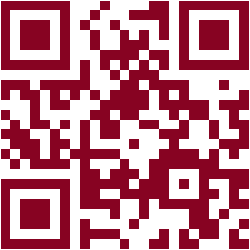 By Poonam Sagar : You might wonder what that fancy digital looking box pictured left is and what it's used for. This two-dimensional bar code, called quick response codes (QR codes) are mobile phone readable bar code.
Quick take your Smartphone and scan this code. If you do not have the app to read it, just download a free app and test it out.
A QR code is a type of matrix bar code first designed by Toyota subsidiary Denso Wave in 1994 to track vehicles during the manufacturing process. More recently, the system has become popular outside of the industry due to its fast readability and comparatively large storage capacity. The code consists of black modules arranged in a square pattern on a white background. The information encoded can be made up of any kind of data (e.g., binary, alphanumeric, or Kanji symbols).
QR codes can also be described as encoded hyperlinks that can be printed on promotional material and also be used digitall"you can append a QR code to a Tweet, or displayed on a web page. When you scan or read a QR code with your camera-enabled Smartphone, you can link to digital content on the web; activate a number of phone functions including email, IM and SMS; and connect the mobile device to a web browser. These codes are a mobile friendly way to point potential customers who aren't in front of their computers to online resources.
This technology blurs the distinction between smart phones, digital destination and content, and paper-based communication mediums. The information encoded could be:
Personal or company contact information.
An embedded phone number which the phone can dial, or a company home page URL or a specific destination on a social network (i.e. company fan page).
An RSS feed, SMS or an arbitrary text message.
An email address or a calendar event with location, title, start and end time, alarm and zone.
A physical address with location coordinates information.
The technical specifications for a QR Code are set down in the ISO-18004 standard so they are the same all over the world. To make things a bit more robust, the QR Code also contains its own error correction data, internal orientation calibration and self-alignment markers. In this way it doesn't matter whether the QR code is upside down or wrapped around a curved surface, the message will still get through.
QR Codes are not in widespread use yet, but all the technology parts are in place and ready to be exploited. The platform is mature, it's an ISO standard, and can be effectively used in Indonesia which has a growing smart phone user base by companies and consumers. The ease of use and versatility provides instant value in mobile strategies for product sales, information access and promotional programs.
The key is to be ready on the other end of the code with some content that actually intrigues the user, and makes them get out their phone and scan.
It is just a 3-step process to link the physical world to mobile for an interactive experience:
STEP 1
Create your own QR code of the information with any online QR code generator. Include a shortened url (sign up with www.bit.ly) for website link, contact information, map or directions and even instant payment through PayPal for products or services. Some online generators are:
– www.qrstuff.com
– www.icandy.com
– www.stickybits.com
STEP 2
Manage campaign and publish your codes wherever you like. Print the code on marketing materials, stickers or even behind business cards.
STEP 3
Track with Real-Time Analytics by tracking the url statistics. This is especially important when you want to measure the results of a marketing campaign using QR codes. Just log in to your bit.ly account and get statistics. So when a user scans your QR code and reviews the linked information, that scan will be included in the data the next time you run your report.