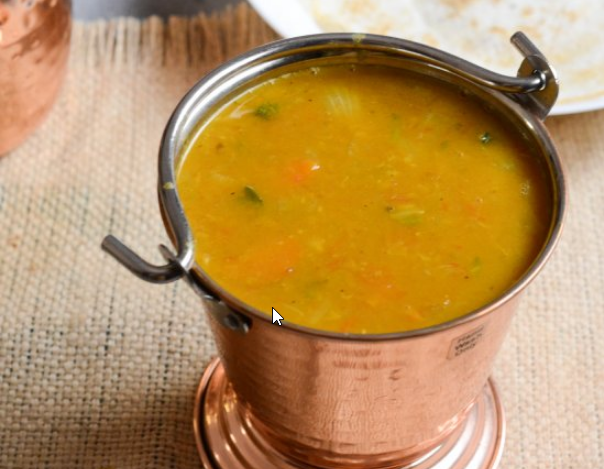 Quick One Pot Sambhar by Vasanthi Ram 
Ingredients
Peel and half shallots  – one handful.
Wash and soak 1 cup of Toor daal for 15 mins.
One lemon size tamarind juiced.
Coconut milk powder 2 small sachets. or diluted coconut milk one cup.
Method:
In a pressure cooker add 4 tbls of oil along with 1 tsp of mustard seeds and a whole red chill 1 cut into 2pcs.
 Add 1/2 tsp asofodetia.
1 tsp urad dal.
keep the flame on medium and temper the above.
To this add shallots fry 2mins and 2 green chillies cut length wise, plus

1 tbls sambar powder
1″tsp tumeric
1 tsp grated jaggery.

Fry till you get a nice aroma and shallots turn medium brown.
Add a little salt to flavor the shallots( not entire salt).
Add tamarind juice and coconut milk bring to a boil.
Add the soaked daal along with 1 to 1 1/2 cups water
Pressure cook for 8 whistles.
Cool and open.
Add salt to taste.
For a fresher taste you can temper again with a little oil, mustard seeds and curry leaves( optional)
Garnish with coriander leaves.
Adjust salt.pour on glass idly n enjoy!!
Other recipes by Vasanthi Ram here >>