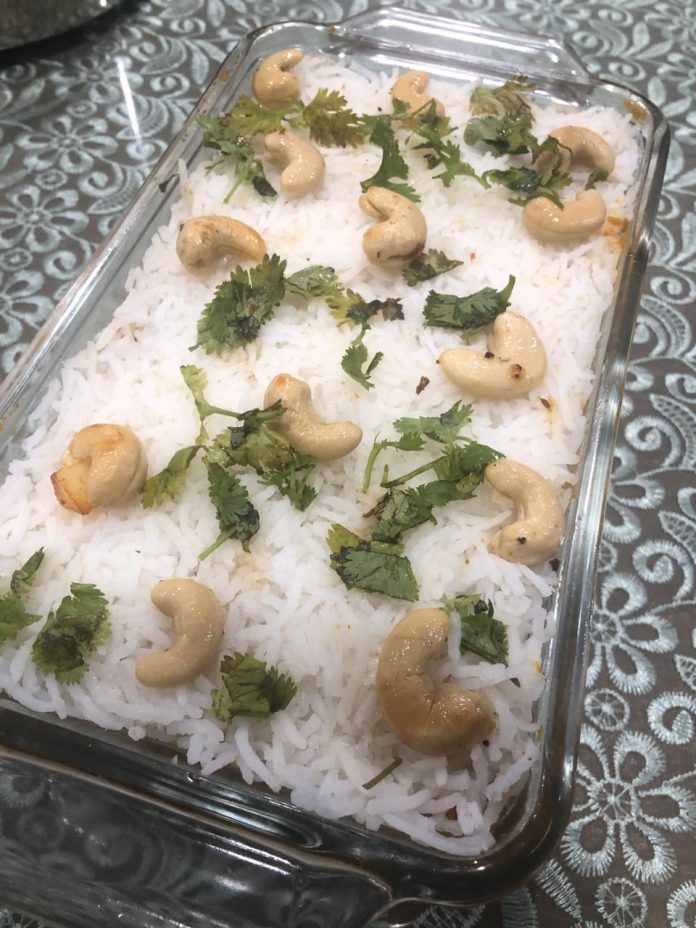 Rajasthani Kabuli is a vegetarian dish which is a whole meal itself. This rice dish is prepared with dry fruits, vegetables and fresh fruit. Garnishing of fried bread slices and pomegranate pearls sets Rajasthani Kabuli apart from other rich rice preparations.
serves 4
Ingredients
– For GRAVY
* 1 big onion finely chopped
* 5 cloves garlic finely chopped
* 5 small chili finely chopped
* 1 medium piece ginger finely chopped
* 3 ½ big Tomatoes Purée
* 1 ½ cup curd
* 1 cooking spoon of unmelted GHEE
* Dhaniya for garnish
* 2 cups boiled rice (take note of diet of your family)
Veggies to be fried separately:
ALL CUT IN ROUND SHAPE. Not too thin not too thick
* 2 potatoes
* 1 carrot
* 1 onion
* Kaju
* Paneer
* 2 slices of bread cut into medium squares (I prefer to fry bread in ghee)
* Pomegranate for garnish (optional)
* Saffron for garnish (optional)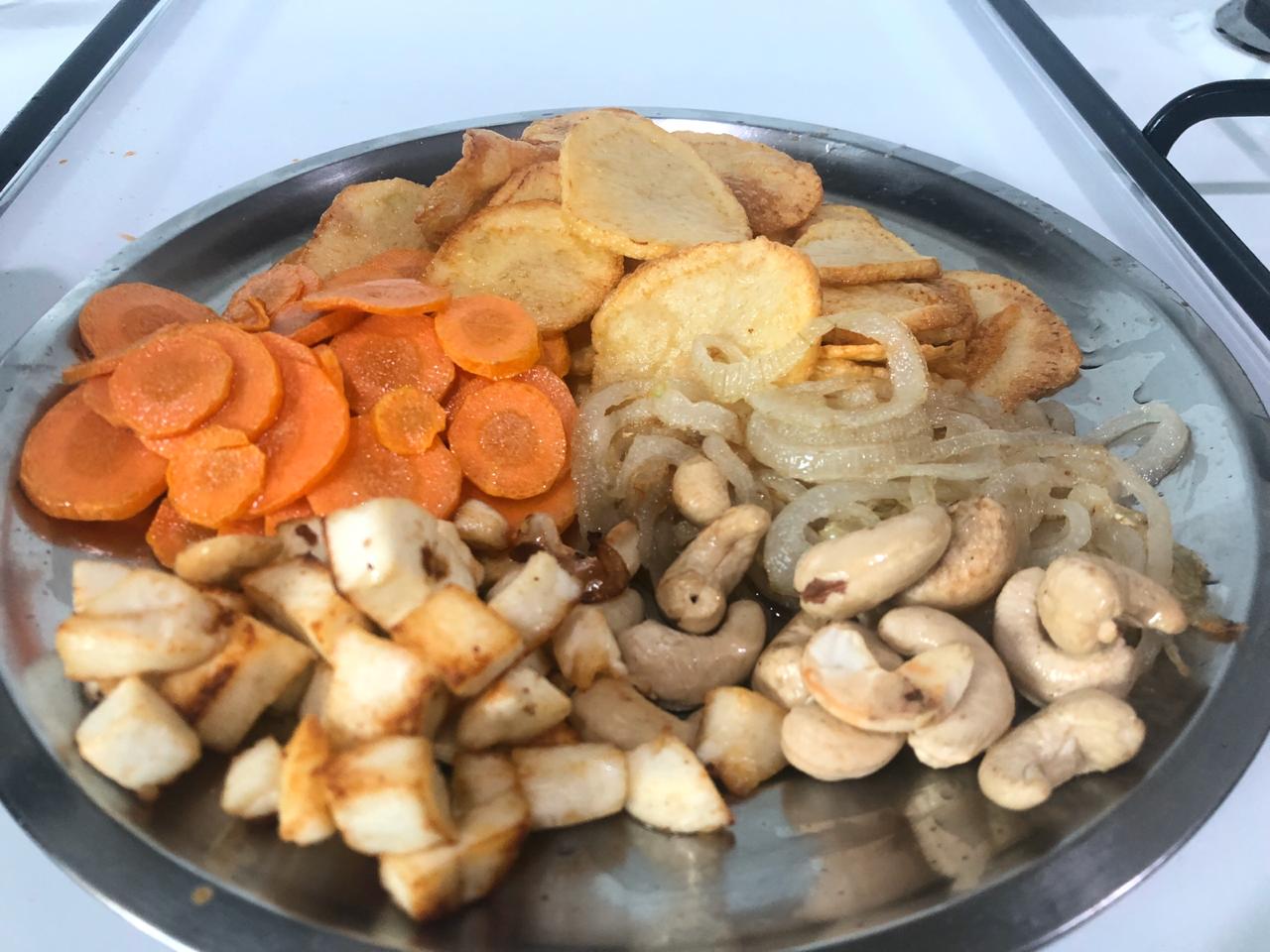 Quick Tip: Start frying veggies separately as you start your gravy. It will save you a lot of time.
GRAVY PREP:
– Add ghee and sauté : jeera, chili, onion, garlic and ginger.
– After onion slightly brown add tomato purée. Reduce flame to medium and let all water of tomato evaporate.
– Meanwhile prepare your curd. Add ¼ tsp haldi, 3 tablespoon dhaniya powder, 2 tablespoon chili powder, salt to taste. Please mix all masala properly into the curd without any lumps.
– We want the gravy to be little spicy as it will be soaked by the veggies later and also be eaten with plain rice.
– Add this masala curd and mix well.
– Keep flame on medium and cover pan. Add ½ cup malai and mix well. This is optional but definitely gives a very awesome taste.
– Cook until you see ghee has come on top. Keep stirring in intervals.
– Add ½ cup water and bring to a boil.
– Add all your fried veggies except kaju. As we use for decor. If you want to add inside the gravy fry little extra.
– Let veggies mix well and take a boil or two.. we don't want a runny gravy. And also not too tight. Just right.
– Add dhaniya
Note: don't add the bread in gravy.
Serving:
Take a Pyrex where you can layer properly.
Rice at the bottom
Place the breads on the rice
Add gravy
Add breads again
Add gravy
Cover with rice
Garnish with kaju & dhaniya. Saffron and pomegranate are optional.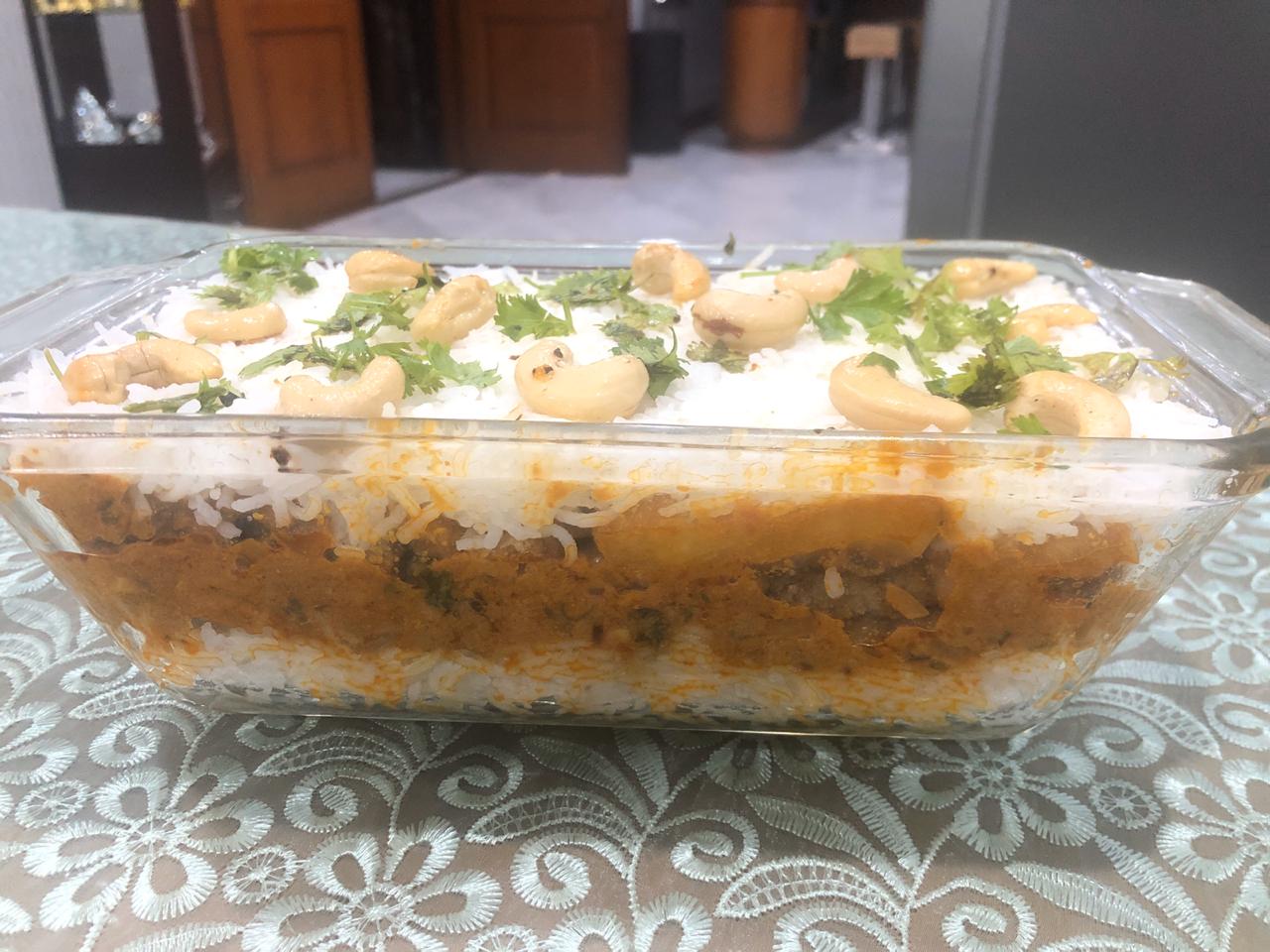 Serve hot. Enjoy!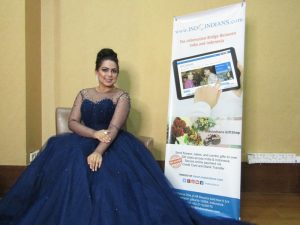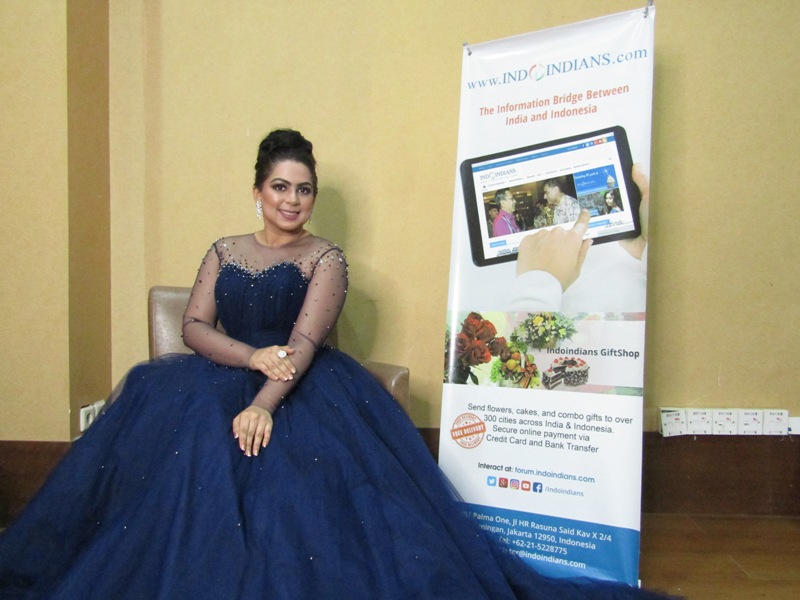 Recipe shared by Palak Bhansali