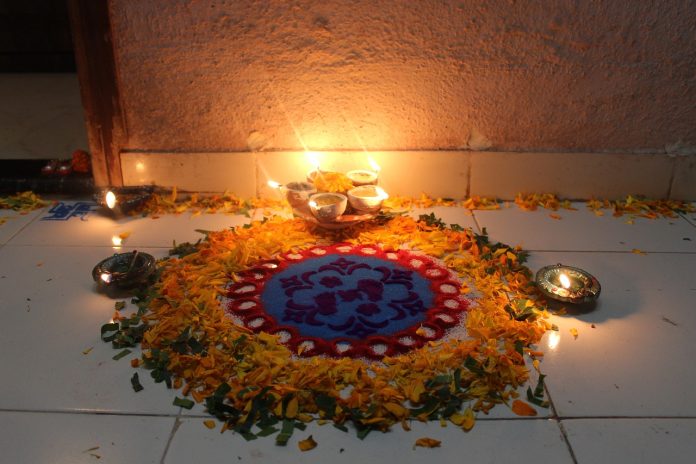 Rangoli is a folk art from India. A rangoli may be symmetrical and consist of bright colours, intricate patterns and motifs. They are commonly created around Diwali, an important Hindu religious holiday that celebrates the victory of light over darkness.
Rangoli patterns are always made on the floor or on a board that can be carried to the spot where it's going to be displayed. They are often placed outside a house by the doorstep, and can be created using a variety of materials such as limestone, quartz powder, cereal powders, rocks and even flowers.
The beautiful patterns created on the floor using a variety of materials such as sand, flower petals, rice flour, lentils and beans, is something that forms a Rangoli – one of the most beautiful Indian folk arts. In India, the art of rangoli is seen as a symbol of beauty, hope, and tradition. The art of drawing unique Rangoli designs is considered an auspicious sign, and they are drawn meticulously and with bare fingers to ward off all evils. It is revered as a divine art. Rangoli, also known as Sand Mandala, has different names in India: Kolam, Alpana, Muggulu and Rangavalli. A custom of rangoli is meant for the moment or occasion.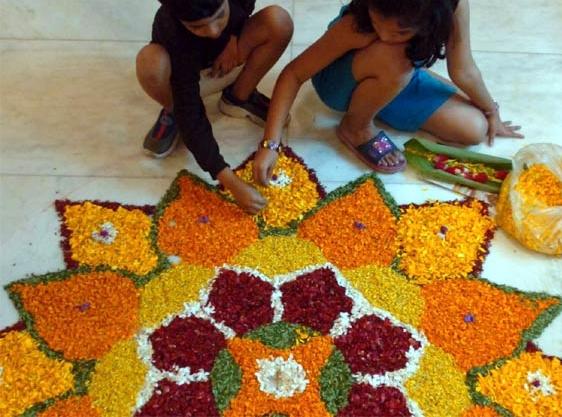 it is said to ward off any negative energy and mood before entering one's home. In addition, rangolis are considered to be ceremonial decorations invoking the good spirits and deities to bring good luck to the family. Each of the different types of rangoli have their own scientific reasons and spiritual meanings behind them.