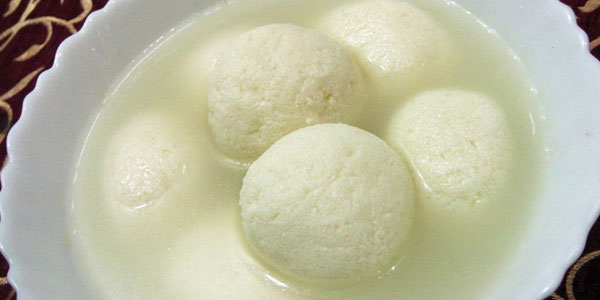 The traditional Bengali sweet, Rasgulla is a popular sweet. Soft and spongy balls made of fresh paneer and dipped in sugar syrup. You just cannot stop at one!
As they are relatively lighter than most other Indian sweets, so are served through the year, rather than just on any special occasion or festival.
Ingredients :
750 ml. Milk
1 cup Sugar
1 tbsp. Flour or semolina
1 cup Water
A pinch of Cardamom
Juice of a lime
Method :
1. Make Paneer/chenna of the milk by adding lime juice to it.
2. Add flour and cardamom to the chenna and knead it with hands until it is smooth and pliable.
3. Divide the dough into small equal portions and roll them into balls.
4. Make a thin syrup by combining 1 cup sugar and 1 cup water and cook over low heat.
5. Drop the rasgullas in the clean boiling syrup, and boil for 10 minutes.
6. Sprinkle water on the boiling syrup every 2 minutes.
7. Remove from the heat and cool. Flavor with rosewater.
8. Keep it refrigerated and serve it chilled.
One 100 gram serving of rasgulla has a total of about 186 calories. Carbohydrates comprise 153 of those calories, fats account for 17 calories and proteins make up the remaining 16 calories. A serving of rasgulla provides about 9 percent of the total daily calorie requirement for a standard diet of 2,000 calories.
They are deceivingly light to eat, but their high sugar content can play havoc with your weight loss plans, hinder muscle growth and can cause other lifestyle diseases such as diabetes.