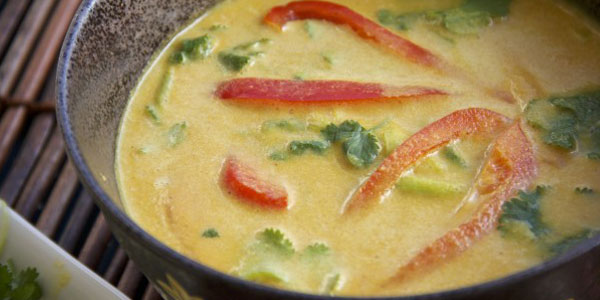 This is a delicious coconut curry soup can be served chilled or warm, and either way it tastes amazing! I have tried so many raw soup recipes but they just didn't give me that feeling of excitement to share. This curry soup recipe had me loving it from the start. It has that kick to it but is savory and sweet at the same time.
Soup Base
2 – 3 young Thai fresh coconuts
4 ts Soy Sauce
1 small chili pepper
2 Ts olive oil
2-3 Ts curry
Lemon grass sliced thin
Small piece of ginger if desired
1/2 – 1 avocado
Garnish Ingredients:
1 tomato
1 bunch of coriander/ cilantro
Few leaves of mint
1/2 avocado
1/2 portobello mushroom
1/2 pear if desired, I find it adds a nice touch.
How it make.
Open the coconut and pour the coconut water in the blender.
Cut the coconut in half and remove the flesh from the coconut, add the avocado and blend until creamy.
Add the rest of the ingredients :
the tamari, the chili, the olive oil and the curry, lemongrass, ginger and blend. Garnish
Cut the portobello, the avocado and the tomato in little squares.
Pour the soup base in a bowl on the garnish and serve.
Celtic salt and ground black pepper to taste. If you wish, you can warm the soup base a bit on the stove.