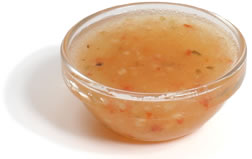 As healthy salads are, it would be tasteless and bland without dressing. Yet store-bought dressings may be full of ingredients that you do not want to eat. The only solution is to make your own Italian dressings. We assure you, it will make your salads taste delicious and can even be adjusted according to your preference!
Ingredients :
1 cup oil
1/4 cup vinegar
2 tbsp finely chopped onion
1 tsp. salt
1 tsp. sugar
1 tsp. dry mustard
1 tsp. dried basil leaves
1/2 tsp. dried oregano leaves
1/4 tsp. pepper
2 cloves garlic, crushed
Directions :
Shake all ingredients in tightly covered container. Refrigerate at least 2 hours. Shake before serving.
For A Creamy Italian Dressing, beat 1/2 cup Italian dressing and 1/2 cup mayonnaise with hand beater until smooth.