Fitness and health are some of the most important part of our lifestyle. People have their own style to maintain their fitness, from eating healthy food to exercise regularly. For those who want to build their body to be toned and healthier, usually they would choose to exercise in gym or fitness centers.
Major urban centers in Indonesia have a variety of fitness centers that can satisfy sport enthusiasts. In Jakarta, there are many sports clubs and fitness centers to choose from. Some of the clubs are connected to apartment or office buildings; some located in mall so they're more accessible.
But, before you join a membership in sport club, here's some tips to choose the right sports club for you:
Look for recommendation
If you have friends who exercise in gym regularly, maybe you can ask them for the recommended club. Ask about their experiences as a member there. Or, you can refer to our recommendation in this article.
Know your needs
Sports club with extensive facilities and services of course will charge you more. Some fitness centers only provide basic fitness facilities and aerobic. Some are equipped with swimming pool and sophisticated fitness equipments. Know what you need so it will be easier for you to choose which fitness center you're going to join.
Services of instructors and/or staffs
Are the staffs friendly and helpful? Do they carefully keep the member's safety and comfort? Are the instructors always available to help you if you need their help? Those are also some things you need to consider.
If you have no idea which club in Jakarta provides what you need and want, here are 7 recommended fitness clubs in Jakarta for you:
Fitness First
Fitness First is one of the most famous fitness clubs in Jakarta. It has many branches that are located in strategic spots in town. The club is equipped with the latest machines for cardio exercises as well as weight training. Fitness First also offers Group Exercise classes such as Zumba, BODYCOMBAT, cycling, yoga, and many more. You can also get a free trial to know more about services and facilities at the gym and of course try out a selection of workouts to see what suits you.
Branches:
Cibubur Junction
Cibubur Junction 2nd and 3rd floor, Jalan Jambore No 1 Cibubur, East Jakarta
Phone 021-87756577
Lotte Shopping Avenue
Lotte Shopping Avenue, 3rd floor, Jalan Prof. Dr. Satrio Kav 3-5, Karet Kuningan, South Jakarta
Phone 021-29889333
Pluit Village
3-63, Jalan Pluit Indah Raya, Penjaringan, North Jakarta
Phone 021-6683880
Grand Indonesia
Grand Indonesia Shopping Town, Office Tower 11th floor, Jalan MH Thamrin Central Jakarta
Phone 021-23586090
Oakwood
Oakwood Apartment, 2nd floor, Jalan Lingkar Mega Kuningan Central Jakarta
Phone 021-25542333
Pejaten Village
Pejaten Village Mall 3rd floor, Jalan Warung Jati Barat No 39, South Jakarta
Phone 021-78839363
Senayan City
Senayan City 6th floor, Jalan Asia Afrika Lot. 19, Central Jakarta
Phone 021-72781333
Kemang Village
Lippo Mall Kemang 3rd Floor, Jalan Pangeran Antasari No. 36P, South Jakarta
Phone 021-29056855
Pacific Place
Pacific Place Mall, 5th floor, Jalan Jenderal Sudirman Kav 52-53 South Jakarta
Phone 021-51400525
Plaza Semanggi
Plaza Semanggi 2nd-3rd floor, Jalan Jenderal Sudirman Kav. 50 Jakarta
Phone 021-25539488
Taman Anggrek
Mall Taman Anggrek 5th & 6th floor, Jalan S. Parman Kav. 21, West Jakarta
Phone 021-5609700
Website: www.fitnessfirst.co.id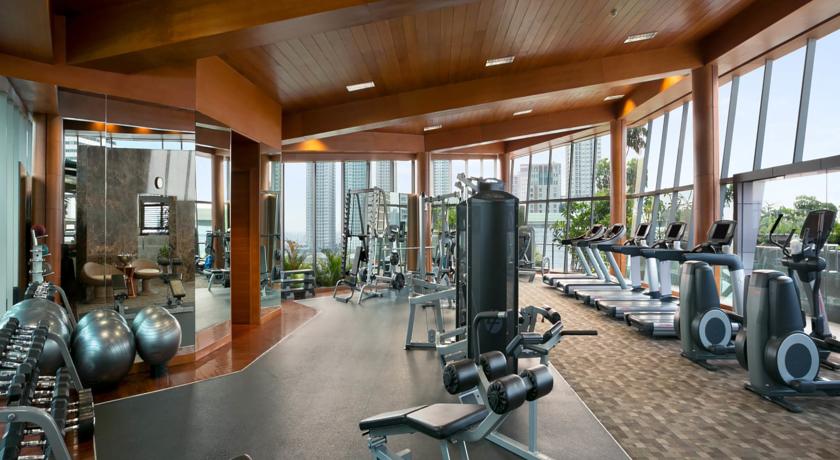 Inside Fitness First Plaza Indonesia
Gold's Gym
The award-winning fitness club offers you with extensive range of facilities and programs that will help you achieve your fitness goals. It has a popular program, GGX (Gold's Group Exercise classes) that is enjoyable and of course helps you to stay in shape. The instructors and personal trainers will help you to set your individual goals and show you how to achieve them based on your current level of fitness. They even can address your nutritional needs and educate you on how diet will impact your fitness results.
Branches:
Mall Ciputra
Lower Ground 1-A, Jalan Arteri S. Parman, Jelambar Baru, Grogol, West Jakarta
Phone 021-5606269
Pantai Indah Kapuk
Metro Broadway 5th floor, Family Clubhouse@The Centro, Jalan Pantai Indah Utara II Jakarta
Phone 021-30010360
Mall of Indonesia
MOI, 2nd floor Kelapa Gading Square
Phone 021-45867590
Thamrin City
Thamrin City Building, Cosmo Terrace 1st floor Unit CT 01-03, Jalan Thamrin Boulevard, Central Jakarta
Phone 021-31991122
Citywalk Sudirman
Citywalk Sudirman (Citylofts) 2nd floor, Jalan KH Mas Mansyur No 121, Central Jakarta
Phone 021-25558728
PX Pavilion
Jalan Puri Indah Raya Block U1, Puri Indah Kembangan Selatan, West Jakarta
Phone 021-58351115
Setiabudi One
Setiabudi One Building, 2nd floor, Jalan HR Rasuna Said Kav 62 South Jakarta
Phone 021-5212191
Gajah Mada Plaza
Gajah Mada Tower 2nd floor, Jalan Gajah Mada No 19-26 Jakarta
Phone 021-63852818
Cilandak Town Square
Cilandak Town Square 2nd floor, Jalan TB Simatupang Kav 17, Unit A-202 South Jakarta
Phone 021-29042808
Baywalk Mall Pluit
Baywalk Mall, Shop Unit 4-23, 4-25 Jalan Pluit Karang Ayu, North Jakarta
Phone 021-29621317
Kalibata City Mall
Kalibata City Mall, Lower Ground floor Unit AN-Q2, Jalan Kalibata No 1, South Jakarta
Phone 021-29317508
Website: www.goldsgym.co.id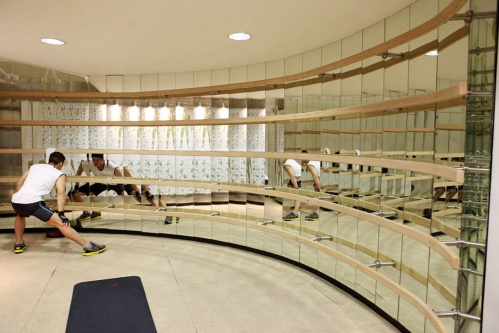 Stretching Room of Gold's Gym Mall of Indonesia
Elite Club
Located at the heart of Jakarta, Elite Club offers a wide range of sports and exercise choice for the members, including group exercise (yoga, dance class, Les Mills, martial arts), individualized exercise program supervised by personal trainers, aquatic sports, and outdoor sports such as tennis and squash. The fitness club is also equipped with aerobic studio, mind and body studio, spinning studio, swimming pool, and jogging track. The members also can get many benefits, such as discount at several restaurants and spa near the location of Elite Club
Address:
Rasuna Epicentrum Complex
Jalan HR Rasuna Said Kav C-22 Karet Kuningan, South Jakarta
Phone 021-5263150
Website: www.eliteclub.co.id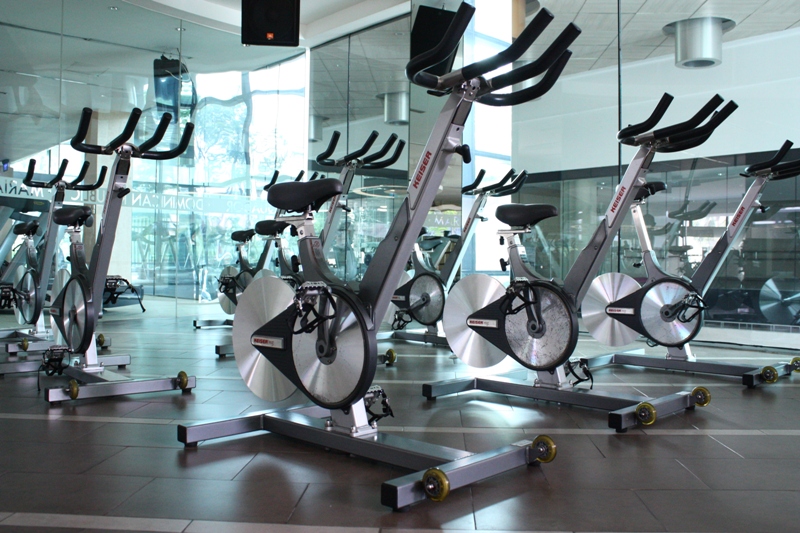 Fitness Equipments at Elite Club Epicentrum
Celebrity Fitness
Celebrity Fitness is one of the biggest fitness clubs in Asia. The club offers Group Fitness, including Less Mill's Bodycombat, BOSU, Weck Method, and Twist Training as well as Personal Training for those who want to shape their bodies or achieve better health and fitness. The branches are also located in malls and strategic spots in Jakarta.
Branches:
Central Park
Central Park, 3rd floor, Jalan Jenderal S. Parman Kav 28, West Jakarta
Phone 021-56985400
Puri Indah Mall
Puri Indah Mall 2nd floor, Jalan Puri Agung, West Jakarta
Phone 021-5815577
Plaza Indonesia
Plaza Indonesia 4th floor, Jalan MH Thamrin No 28-30 Jakarta
Phone 021-29923933
Bursa Efek Jakarta
Bursa Efek Jakarta (IDX), Exchange Tower 1 1st floor, Jalan Jenderal Sudirman Kav. 52-53, South Jakarta
Phone 021-5157458
FX-Lifestyle X'nter
FX Plaza, 4th floor, Jalan Jenderal Sudirman-Pintu Satu Senayan, South Jakarta
Phone 021-25554288
Gandaria City
Gandaria City Mall, Jalan Sultan Iskandar Muda Kebayoran Lama, South Jakarta
Phone 021-29053133
Kemang 37
Kemang 37, Forme Building 3rd-4th floor, Jalan Kemang Raya No 37 South Jakarta
Phone 021-71792008
Kota Kasablanka
Kota Kasablanka Mall, 1st floor, Jalan Kasablanka Raya Kav 88, South Jakarta
Phone 021-29488601
Pondok Indah Mall
Lower Ground, Pondok Indah Mall Unit 2C, Jalan Metro Pondok Indah No 33-34 South Jakarta
Phone 021-7507929
Website: www.celebrityfitness.com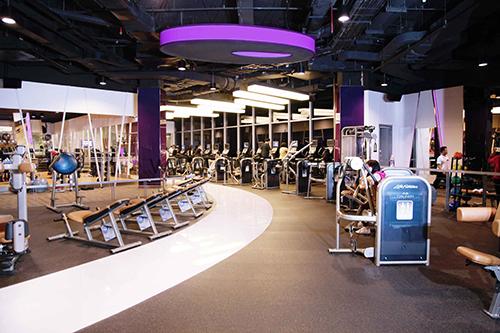 Nice Interior in Celebrity Fitness Won't Give You Excuse to Not Exercising
Jatomi Fitness
Jatomi Fitness is the largest chain of fitness clubs' in Eastern Europe, with branches in Malaysia and Indonesia in Southeast Asia area. The fitness club is equipped with the latest generation of gym machines, as well as the newest trainings for its members. The experienced and helpful trainers are also experts in nutrition and healthy lifestyle, so they will help you to achieve your fitness goals. It says that once you start to exercise, you will love the feeling.
Branches:
Jatomi Fitness Kuningan City
Kuningan City Mall 2nd floor, Jalan Dr Prof Satrio Kav. 18 Setiabudi, South Jakarta
Phone 021-30480800
Jatomi Fitness Tangerang City
TangCity Mall, Jalan Jenderal Sudirman No 1 Cikokol, Tangerang
Phone 021-29309700
Website: www.jatomifitness.co.id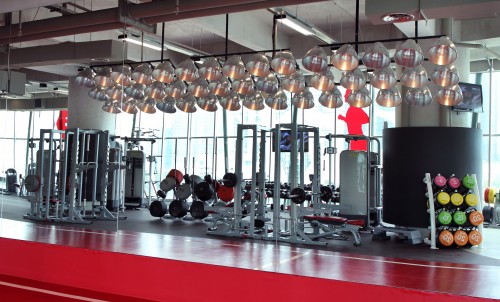 Latest Fitness Equipments Technology at Jatomi Fitness
20FIT
20FIT is the first micro-gym in Indonesia that uses Electro Muscle Stimulation (EMS) technology and Miha Bodytec equipment for personal training experience. The name '20FIT' derived from the concept that fitness can be attained within 20 minutes. The EMS technology allows you to get training in lesser time and more effective way. Training for 20 minutes in 20FIT equals as doing weight training in conventional gym center for 2 hours.
Branches:
20FIT Central Park
Ruko Garden Shopping Arcade Block B/9CC, Jalan S Parman Kav 28 Grogol Petamburan, West Jakarta
Phone 021-29337188
20FIT Puri – Taman Aries
Rukan Taman Aries Niaga Block E01-U1, Kebon Jeruk, West Jakarta
Phone 021-29319161
20FIT Cipete
Jalan Cipete Raya No 16 Cilandak, South Jakarta
Phone 021-29124509
20FIT Senayan
Jalan Sinabung Raya No 9, Kebayoran Baru, South Jakarta
Phone 021-29419752
• 20FIT Setiabudi
MD Place Tower 1, 1st floor, Jalan Setiabudi Selatan No 7, South Jakarta
Phone 021-29669269
20FIT SCBD
Galeria SCBD LOT 6, Jalan Jenderal Sudirman Kav 52-53 South Jakarta
Phone 021-51402474
20FIT Dharmawangsa
Dharmawangsa Square D-64, Ground Floor, Jalan Dharmawangsa VI & IX, Kebayoran Baru, South Jakarta
Phone 021-72780233
20FIT WTC2
World Trade Center, WTC 2, LG Floor, Jalan Jenderal Sudirman Kav 29-30, South Jakarta
Phone 021-29522640
20FIT Pondok Indah
Pertokoan Taman Hijau Baru, Jalan Terusan Gedung Hijau No 5, Pondok Indah, South Jakarta
Phone 021-7690826
20FIT Pantai Indah Kapuk
Rukan Ekslusif Bukit Golf Mediterania, Block G No 6, Pantai Indah Kapuk, North Jakarta
Phone 021-55966295
20FIT Pluit
Jalan Pluit Raya No 5, North Jakarta
Phone 021-66698183
20FIT Kelapa Gading – Rukan Orchard Square
Rukan Orchad Square Blok GOS/D19, Jalan Raya Kelapa Hybrida, North Jakarta
Phone 021-29616460
20FIT Sunter
Ruko Puri Mutiara, Jalan Sunter Agung Blok C-17, Food Centrum Sunter, North Jakarta
Phone 021-65318510/11
Website: www.20fit.co.id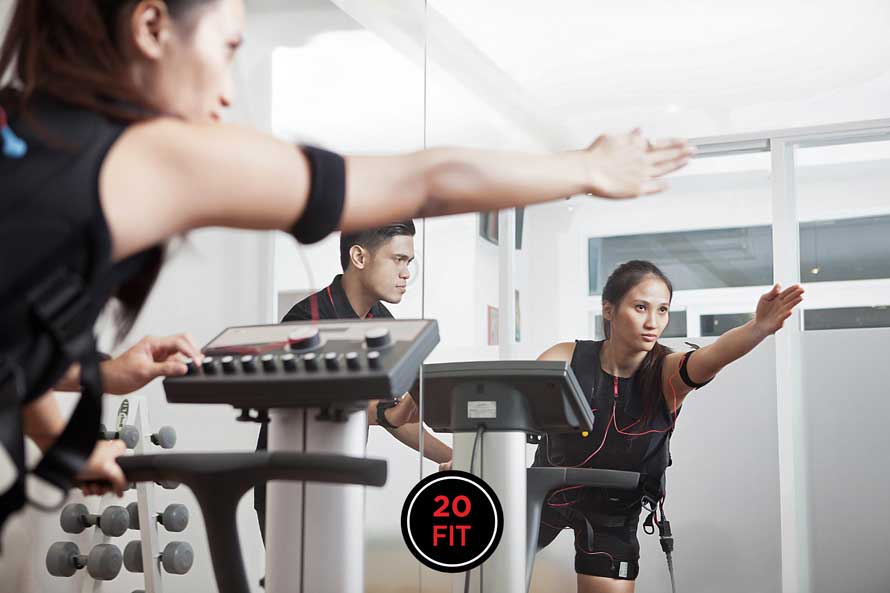 Get Fit in 20 Minutes is Not Impossible at 20FIT
Live healthy is not a choice—it is a must. Regular exercise under supervision from the experts will help you to achieve your fitness goals. Join a fitness club is a good choice if you want to maintain your healthy living, plus, shaping your body. These recommended fitness clubs can be a choice for you!