Did you know that your home is not really clean if your sofa is dirty?
There at least two reasons to have your sofa cleaned regularly.
First is to help maintain the appearance of your furniture, be it the colors or the shape. Second is to get rid of unwanted pathogens and dirt that can build up on your sofa, which then can cause health to your family.
While cleaning your sofa seems like a tiring and time-consuming job, you can trust that job to sofa cleaning services that are easily available around town. These sofa cleaning services will pick up your dirty sofas, clean them, and then get them delivered back to your home. Some will even clean them at your homes with the least amount of fuss.
Here is the list of sofa cleaning services that you can book in Jakarta:
Deep Clean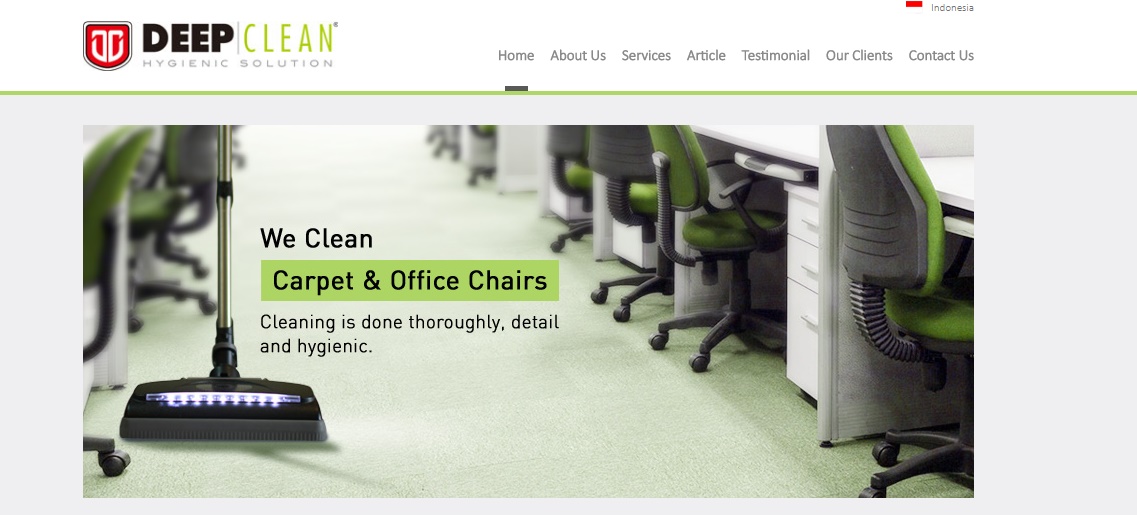 Deep Clean comes as one of the professional cleaning solutions for indoor furniture containing foam. Their vacuum equipments are 100% dry and specially designed to clean up dust, and sterilize furniture from various bacteria and microorganism while maintaining the durability. The technology they are using is from US and has been proven by 8 international certificates, including Canada Anti Allergy Board.
Address: Greenville Blok AQ No 21 West Jakarta
Phone: 021-5671069
WhatsApp: 0857-1464-4050/0816-1843-559
Website: http://www.deepclean.co.id/en
De Hygienique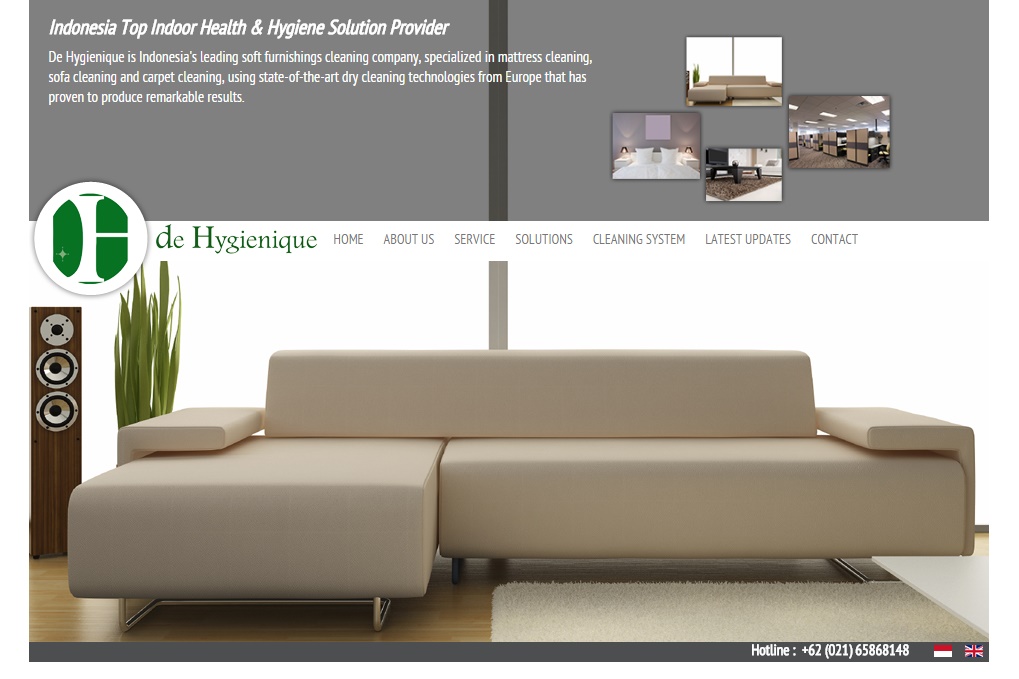 De Hygienique's upholstery and sofa cleaning uses eco friendly sofa cleaning technology, specially formulated in Europe to ensure your soft furniture are effectively cleaned without leaving behind chemical from cleansing agents. Their cleaning agents don't contain any dangerous chemical, so it will be safe for sofa material as well as the environment.
Address: PT Primajasa Sanitasi, Jalan Angkasa 1 No 10 Kemayoran, Central Jakarta
Contact: 021-65868148 (Hotline)
WhatsApp: 0822 – 99926870
Website: http://dehygienique.co.id/en/
Email: enquiries@dehygienique.co.id
Clean & Care by INFORMA

This furniture store also provides sofa cleaning service. You can make a reservation at any INFORMA or Ashley stores in Jabodetabek and Bandung area, and the store will inform the cleaning schedule up to 2 days after registration. The service also applies for non-INFORMA products. The fees vary from Rp140,000 to Rp500,000 for one set of sofa.
Address: Gedung Kawan Lama 6th floor, Jalan Puri Kencana No 1 Meruya Kembangan, West Jakarta
Phone 021-5829090 ext 156 & 842/1500382
Website: https://informa.co.id/clean-n-care
Jeeves of Belgravia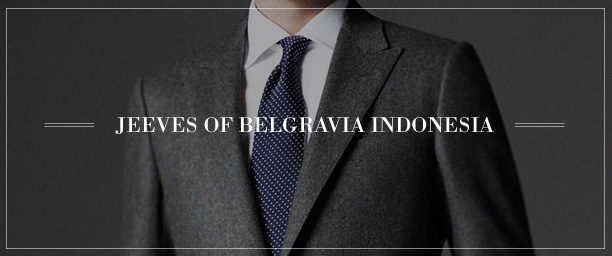 Jeeves of Belgravia is one of the cleaning services in Jakarta. It does not only provide high-quality laundry service, but also upholstery cleaning, including sofa. Jeeves uses a two-step cleaning process because leftover cleaning agents can attract dirt to your furniture. This cleaning service also uses state-of-the-art high quality water treatment system to purify the water they use for cleaning service.
Address : Jl. Cipinang Jaya No.39, Cipinang Muara Kecamatan Jatinegara Jakarta Timur, DKI Jakarta 13420 Indonesia
Contact: 021-8199707
WhatsApp: 08112279707
Website: https://www.jeeves-indonesia.com/
Email : info@jeeves-indonesia.com
Maxi Clean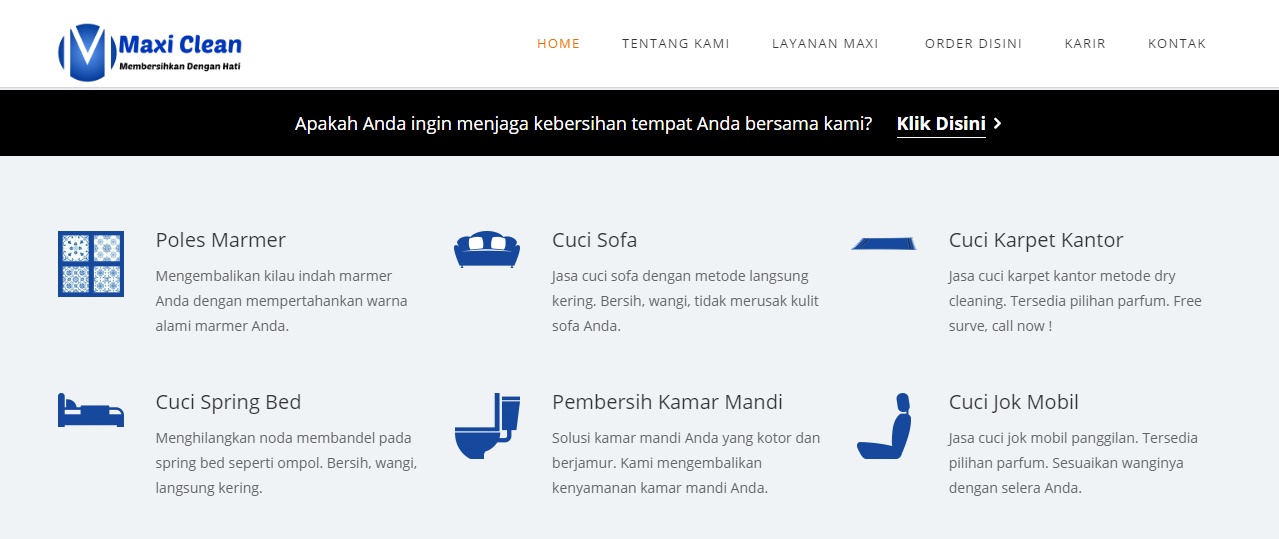 Maxi Clean uses the latest technology and method for sofa cleaning service. They use wet and dry vacuum cleaner, soft brush and pad, special shampoo, deodorizer, and degreaser to clean your sofa. Maxi Clean provides free survey in which their team will come to your home and you can consult with them about your household cleaning needs.
Address:
Palma One 5th floor Suite 500, Jalan HR Rasuna Said Blok X-2 Kav 4 South Jakarta
Phone: 021-22714641
Jalan Kebembem Raya no. 6, Lenteng Agung, Jagakarsa, Jakarta Selatan 12620
Phone: 082112122020
Website: https://maxiclean.co.id/
Email: marketing@bintoroclean.co.id
Tujuh Sodara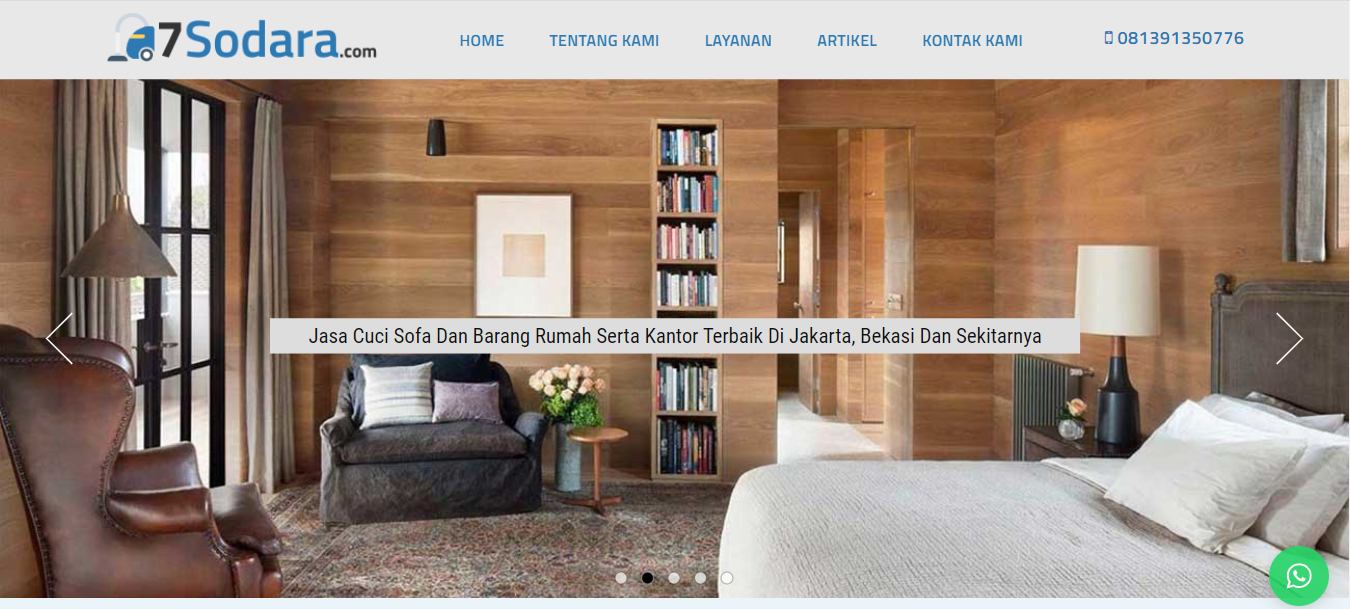 Tujuh Sodara services include washing sofas, pillows, carpets, and even window blinds, both at home and in the office. Supported by our professional experts in cleaning, our services include washing the sofa which is done by natural drying without a dryer. This ensures that the quality of the sofa is still clean with a percentage of 95%. Not only do they provide cleaning services, but also accept consultations regarding the washing of household and office items.
Address:  Jl Rawa Jaya Lll No 62 RT 03 RW 04 Pondok Kopi Jakarta Timur
Phone/Whatsapp: 081391350776
Website: http://tujuhsodara.com/
Email: info@tujuhsodara.com
Master Clean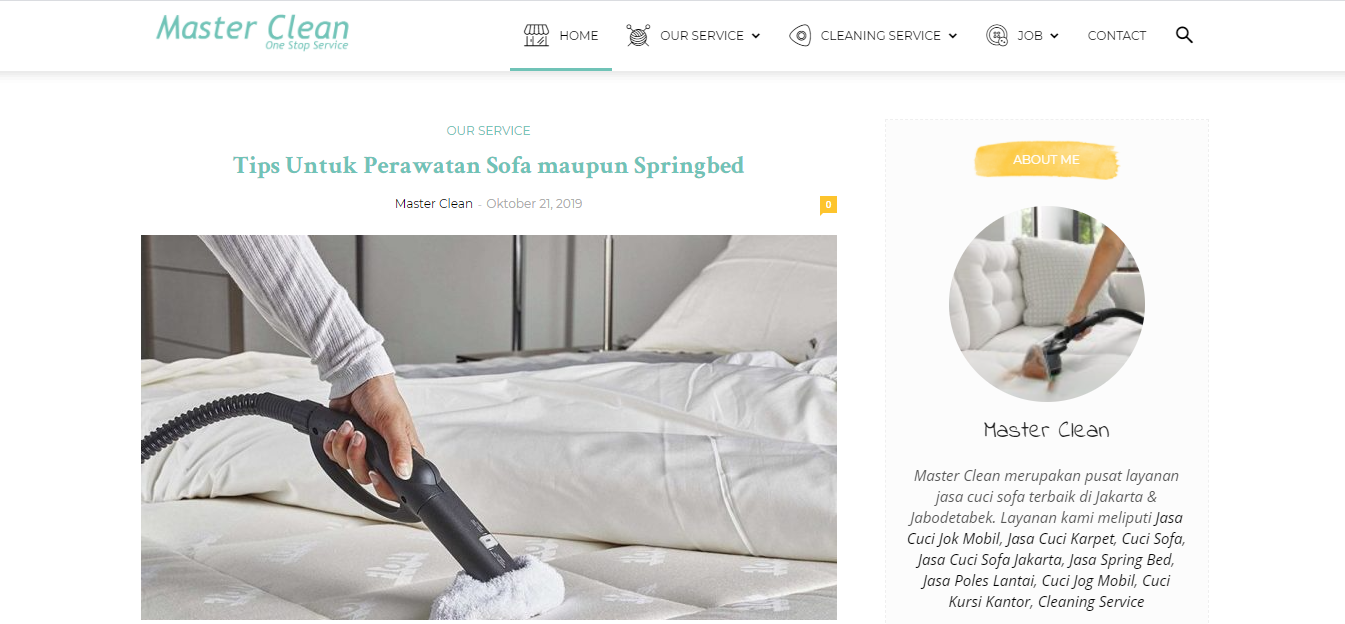 Master Clean is a business unit that provides a sofa washing service with a wet clean system that is proven to be able to clean dirt, kill germs and bacteria that stick to our sofa and springbed fabrics by using a vacuum cleaner that can lift dirt until it is maximally clean. They also use a special anti-septic and special chemical shampoo made from environmentally friendly organic materials that can kill germs and bacteria that stick to your sofa and springbed fabrics, and can also remove / disguise stains on sofa, springbed without damaging fabric color and is safe to use. Even though it's located in Bekasi, Master Clean can still serve all Jabodetabek areas.
Address: Jl. Kp. Gusti No.40, Pejagalan, Penjaringan, Kota Jkt Utara, Daerah Khusus Ibukota Jakarta 14450
Phone: (021) 6685050
SMS: 0856993-1010
Whatsapp: 081289777444
Website: http://masterclean.id/
Sentron Clean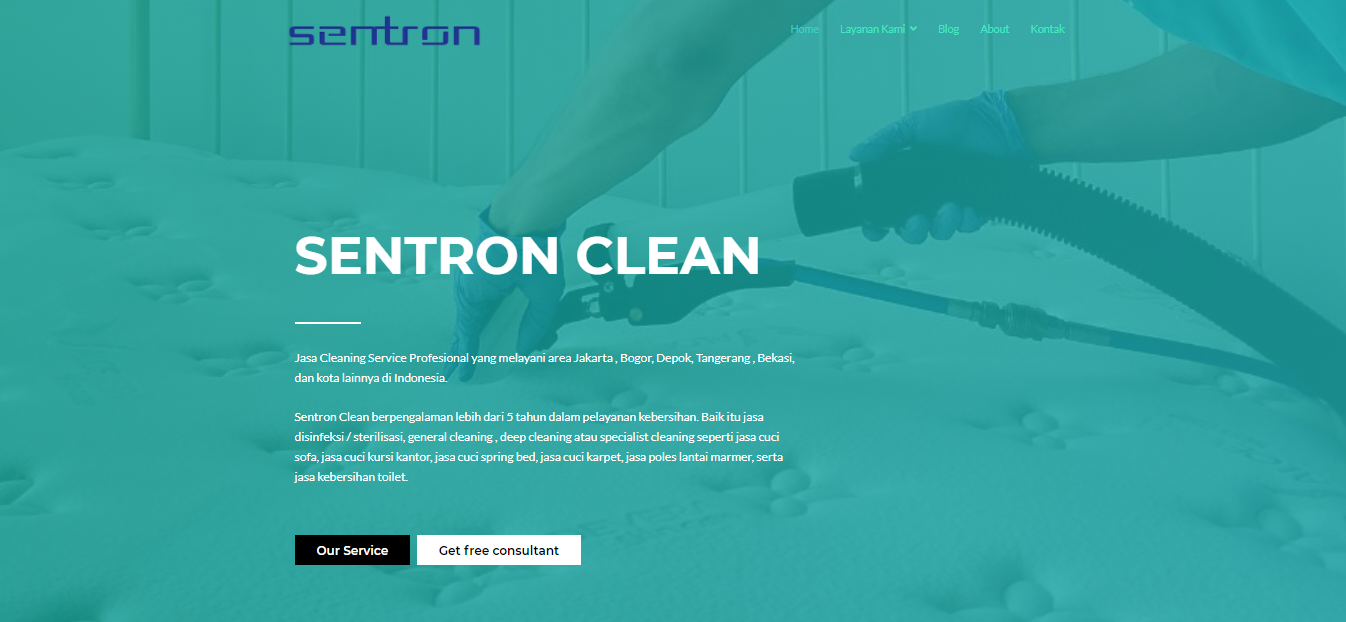 Sentron Clean has more than 5 years experience in cleaning services. Be it disinfection / sterilization services, general cleaning, deep cleaning or specialist cleaning such as sofa washing services, office chair washing services, spring bed washing services, carpet cleaning services, marble floor polishing services, and toilet cleaning services. The advantage is that service is also accompanied by a guarantee if the consumer is not satisfied.
Address: Jl. Guru Muhyinin RT 5 RW 2 Lenteng Agung, Jagakarsa, Jakarta Selatan. 12610
Phone: 0822-1007-8008
Website: https://sentronclean.com/
Email: info@sentronclean.com
HydroClean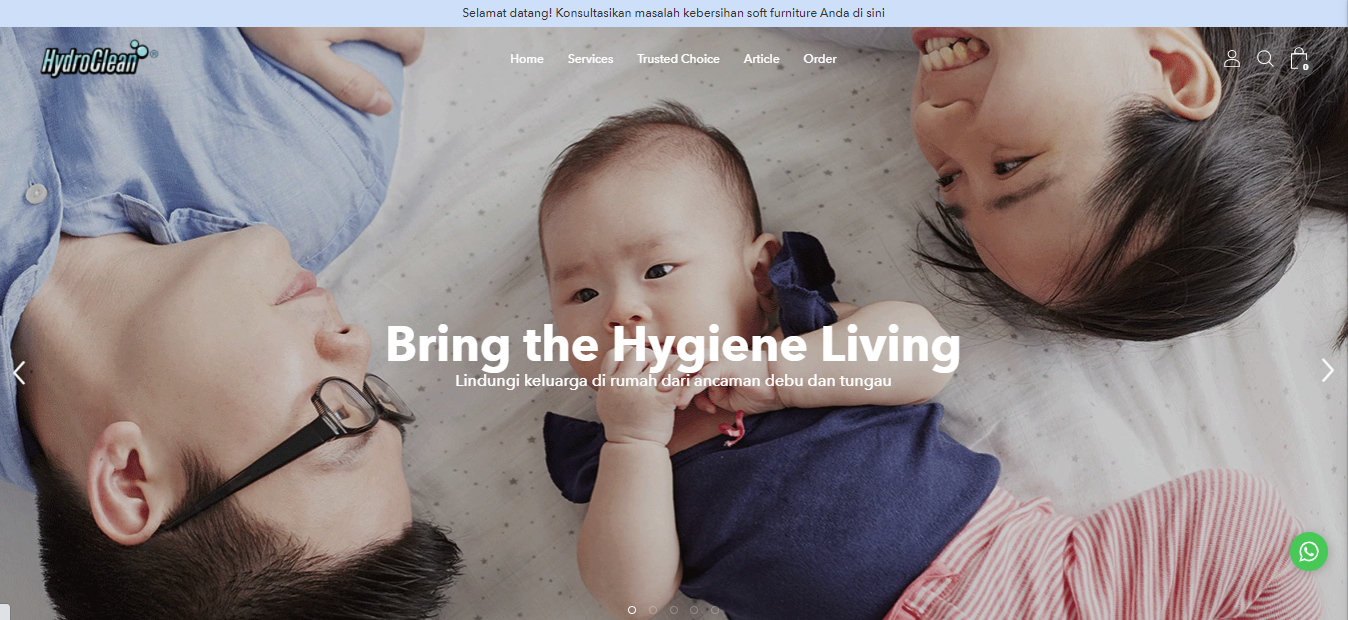 HydroClean is a professional sofa and mattress cleaning service that uses vacuum with Hydro Allergenic System technology and is spread across 20 cities in Indonesia. Their services guarantee that sofas and mattresses will be 100% dry and free from chemicals and mites. Apart from cleaning sofas and mattresses, HydroClean also provides services for washing carpets and curtains. In addition, HydroClean also has a service called Odor Busting Service. This service will reduce odors by up to 70% on your soft furniture and with materials that are classified as food grade so it is safe for your family's health. HydroClean also provides Sensibio Baby which is suitable for baby's soft furniture.
Address: Gedung Tifa, Lantai 6, Jl. Kuningan Barat No. 26
Phone: 081219160802
Website: https://hydroclean.id/
Clean Warrior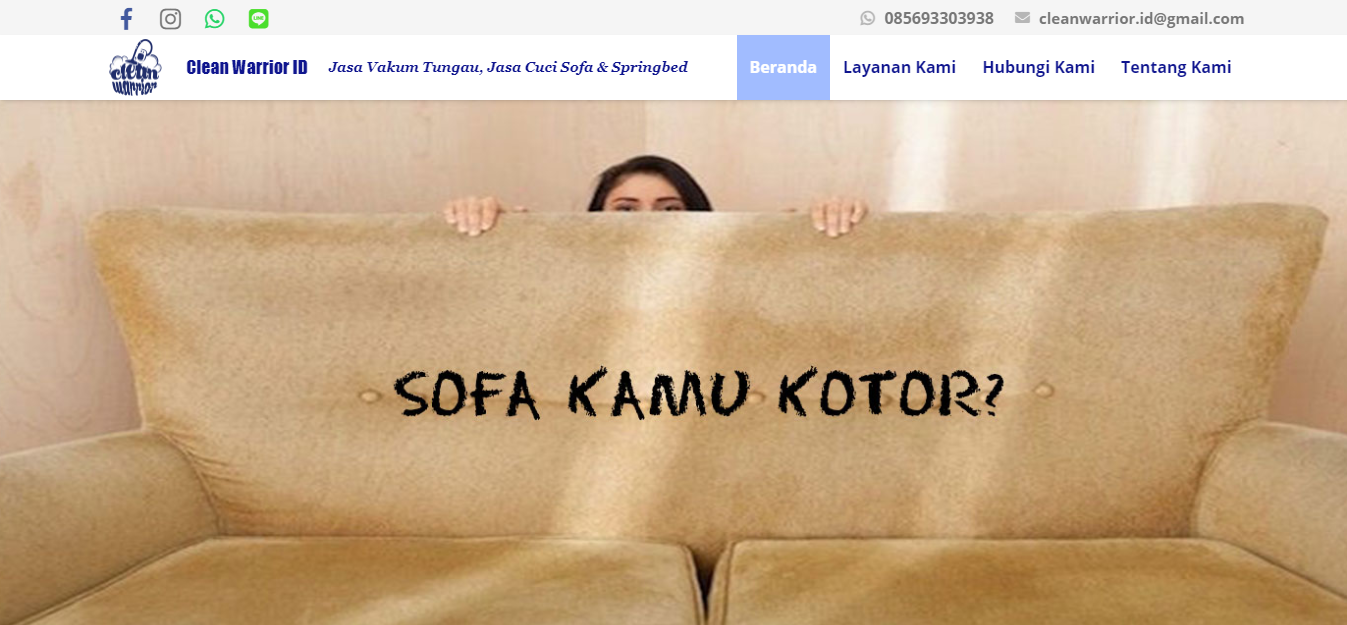 Clean Warrior provides services in eradicating mites and washing soft furniture such as mattresses and sofas. Present in Jabodetabek and Bandung, this service offers affordable prices with professional service. Clean Warrior have two different services, a hydro allergenic vacuum service and a sofa / mattress / carpet cleaning service. With the service of a hydro allergenic vacuum, your soft furniture will be vacuumed using a machine that can filter up to 99.9% of the microorganisms that nest in your soft furniture. The results of the work are guaranteed to be 100% dry, and the goods can be reused immediately.
Meanwhile, sofa / mattress / carpet washing services wash soft furniture uses dry foam shampoo and special tools to remove dirt and various stains so as not to damage the color and material. The results of the work will be 80% dry and will be usable 3-4 hours after cleaning is complete.
Address: Jl. Meditran 1 No 3, Pondok Ranji, Ciputat Timur, Tangerang Selatan, Banten
Whatsapp: 085693303938
Website: https://cleanwarrior.id/
Email: cleanwarrior.id@gmail.com
KliknClean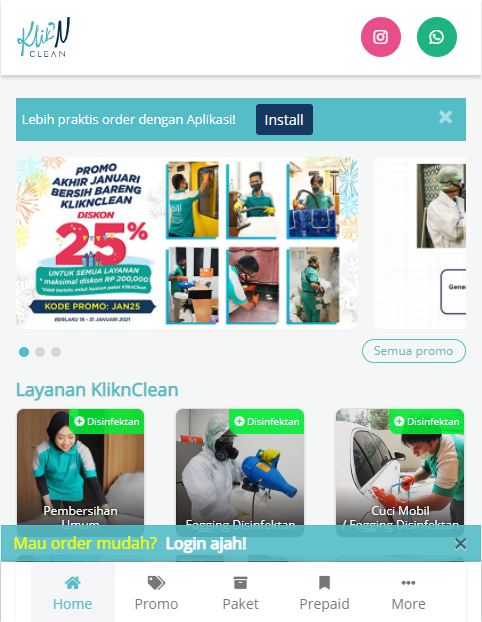 Spread across the Jabodetabek area, KliknClean provides general cleaning services, washing mattresses, sofas and carpets, cleaning mites, air conditioning services, extra cleaning and ironing. They also provide subscription packages with various choices at the best prices. Loyal customers can join a loyalty program for loyal KliknClean customers by earning points for every transaction with KliknClean. Points can later be exchanged for vouchers and merchandise from KliknClean. Available in Jabodetabek and Bandung areas, apart from providing sofa and mattress washing services, Maxi Clean also provides marble, granite to terrazzo polishing services and ceramics.
Address: Jl. Bendungan Hilir No.7, RW.3, Bend. Hilir, Kecamatan Tanah Abang, Kota Jakarta Pusat, Daerah Khusus Ibukota Jakarta 10210
Phone/Whatsapp: 0815 8524 8888
Website: https://www.kliknclean.com/mobile
Email: support@kliknclean.com
Dokter Cleaning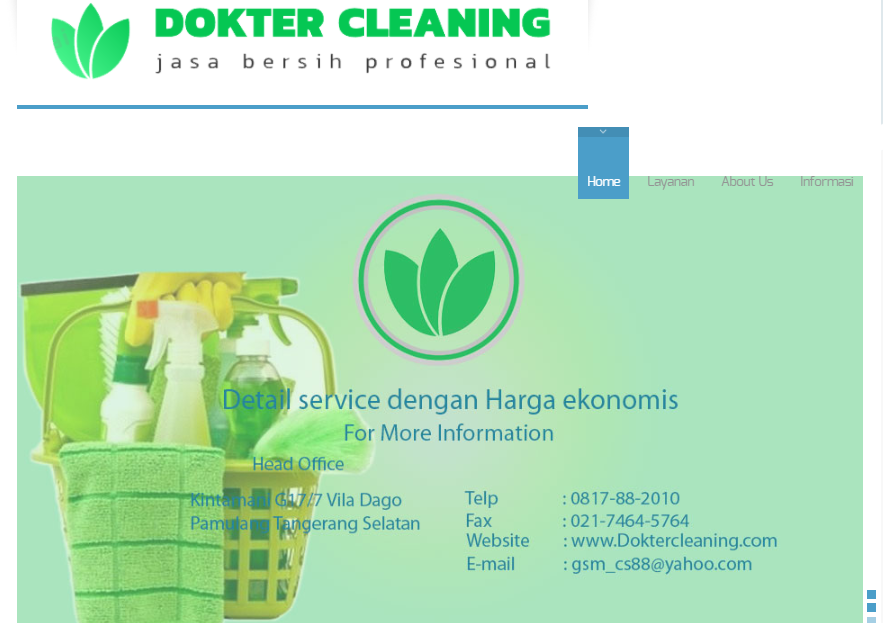 Docter Cleaning is a professional cleaning service with a detail cleaning concept that has more than 15 years of experience in the cleaning sector, which makes it one of the best cleaning service providers. Cleaning doctors provide services for homes, places of worship, offices to factories in the Jakarta area.
Address: Jl. Kintamani Jl. Vila Dago Raya No.7, Benda Baru, Kec. Pamulang, Kota Tangerang Selatan, Banten 15417
Phone/Whatsapp: 0817-88-2010/021-7464-5874
Website: https://doktercleaning.com/
Email: gsm_cs88@yahoo.com