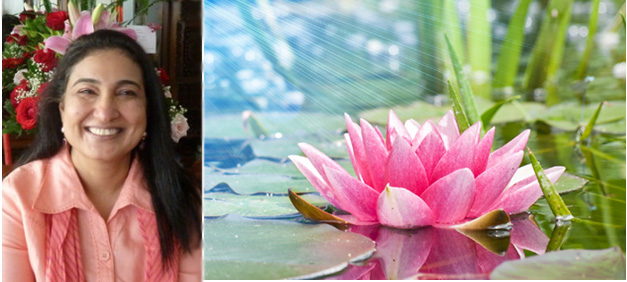 On meeting her for the first time, she comes across as a very intelligent but modest person whose very presence puts you at ease. When Indoindians asked her about her journey to Reiki, this is what she had to say : "I can state endless selfish reasons for why I started Reiki but as I became aware of the force all those reasons appeared so small and meaningless. Amidst lot of uncertainty and exhaustion leading to imbalance of equilibrium between mind and heart did I take my first initiation for Reiki.
Initially very much unaware of how the energy was guiding me I treaded on its path without questioning it. What the energy showed me guided me to connect with self-trust, self worth and inner wisdom. It has filled me with peace and joy. It has made me aware of the depths of living consciously and spiritually.
Reiki has helped me in various ways and above all it has helped me to help others.
It is the path of the heart sealed with truth and simplicity. Surrender to it unconditionally and the rest follows."
As told to Indoindians.com by Sangeeta Jaggia
For enquires on Reiki treatment and classes, write to the Reiki Master