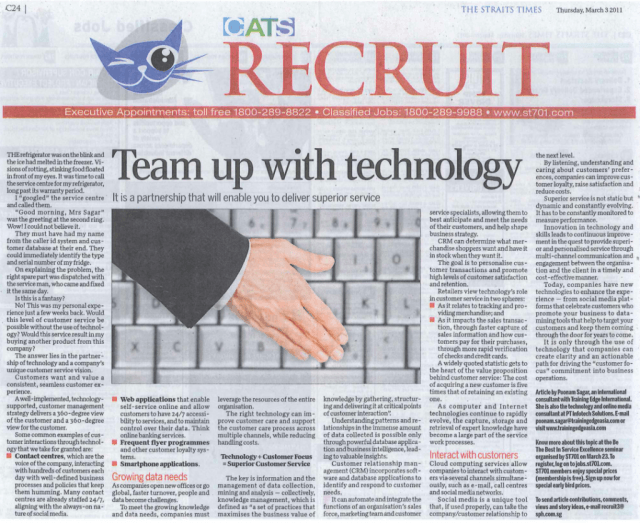 The refrigerator was on the blink and the ice had melted in the freezer. Visions of rotting, stinking food floated in front of my eyes. It was time to call the service center for my refrigerator, long past its warranty period. I 'googled' the service center and called them. "Good Morning Mrs. Sagar" was the greeting at the second ring. Wow! I could not believe it.
They must have had my name from the caller id system and customer database at their end. They could immediately identify the type and serial number of my fridge. On my explanation of the problem, the right spare part was dispatched with the service guy who came and fixed it the same day. Is this is a fantasy? No! This was my personal experience just a few weeks back. Would this level of customer service be possible without the use of technology? Would this service result in my buying another product from this company?
The answer lies in the partnership of technology and a company's unique customer service vision. Customers want and value a consistent, seamless customer experience. A well-implemented, technology-supported, customer management strategy delivers a 360 degree view of the customer and a 360 degree view for the customer. Some common examples of customer interactions through technology which we take for granted are:
Contact centers, which are the voice of the company, interacting with hundreds of customers each day with well-defined business processes and policies that keep them humming. Many contact centers are already staffed 24/7, aligning with the always-on nature of social media.
Web applications that enable self-service online and allow customers to maintain have 24/7 accessibility to service, and to maintain control over their data. Think online banking services.
Frequent flyer programs and other customer loyalty systems
Smartphone applications
As companies open new offices or go global, faster turnover people and data becomes a challenge. To meet the growing knowledge and data needs, companies must leverage the resources of the entire organization. The right technology can improve customer care and support the customer care process across multiple channels, while reducing handling costs.
Technology + Customer Focus= Superior Customer Service
The key is information and the management of data collection, mining and analysis: collectively knowledge management, which is defined as a set of practices that maximizes the business value of knowledge by gathering, structuring, and delivering it at critical points of customer interaction. Understanding patterns and relationships in the immense amount of data collected is possible only through powerful database application and business intelligence, leading to valuable insights.
Customer Relationship Management (CRM) incorporates software and database applications to identify and respond to customer needs. It can automate and integrate the functions of an organization's sales force, marketing team and customer service specialists, allowing them to best anticipate and meet the needs of their customers and, help shape business strategy. It can determine what merchandise shoppers want and have it in stock when they want it. The goal is to personalize customer transactions and promote high levels of customer satisfaction and retention. Retailers view technology's role in customer service in two spheres: as it relates to tracking and providing merchandise, and as it impacts the sales transaction, through faster capture of sales information and how customers pay for their purchases, through more rapid verification of checks and credit cards. A widely quoted statistic gets to the heart of the value proposition behind customer service: The cost of acquiring a new customer is five times that of retaining an existing one.
As computer and internet technologies continue to rapidly evolve, the capture, storage and retrieval of expert knowledge has become a large part of the service work processes. Cloud computing services allow companies to interact with customers via several channels simultaneously, such as email, call centers, and social media networks. Social media is a unique tool that, if used properly, can take the company/customer relationship to the next level. By listening, understanding, and caring about customers' preferences, companies can improve customer loyalty, raise satisfaction, and reduce costs.
Superior service is not static but dynamic and constantly evolving. It has to be constantly monitored to measure performance. Innovation in technology and skills leads to continuous improvement in the quest to provide superior and personalized service through multi-channel communication and engagement between the organization and the client in a timely and cost effective manner.
Today, companies have new technologies to enhance the experience, from social media platforms that celebrate customers who promote your business to data mining tools that help target your customers, and help keep them coming through the doors for years to come. It is only through the use of technology that companies create clarity and an actionable path for driving the customer focus commitment into business operations.
By,
Poonam Sagar
Certified PMP, Technology and Online Media Consultant at PT Infotech Solutions (www.infotech.co.id) an international IT firm empowering media broadcasters, content providers and distributors to optimize business processes with integrated, scalable and optimized IT solutions.