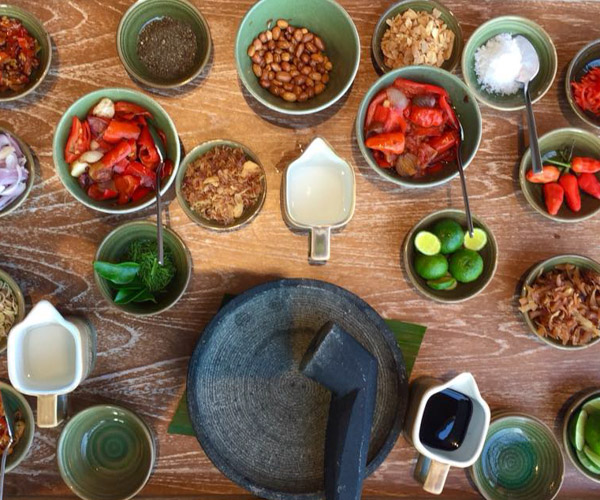 Sambal Kacang is the most common Sambal in Indonesia. Many Indonesian dishes use Sambal Kacang as condiment, from fried food from street side hawkers (gorengan), dumplings (siomay), and batagor (fried meatball and tofu). It is delicious mixed with your favorite vegetable!
Rather than buying ready-to-eat Sambal Kacang, you can make this Sambal at home. The ingredients are simple as well as the steps to make it.
Ingredients:
3 red chilies (boiled)
50grams of green cayenne pepper (boiled)
100grams of peanut (fried)
2 cloves of garlic
6 cloves of shallots
1 tablespoon of sugar
¾ teaspoon of salt
1 tablespoon of vegetable oil
100ml of water
Instructions:
Mix all the chilies, garlic, shallots, and fried peanut into a blender. Blend into paste.
Prepare a cooking pan, heat the vegetable oil on medium heat. Pour the chili and peanut paste until cooked.
Add salt and sugar, mix well
Add water (you may modify the amount of water used, just make sure the sauce is not too watery or too thick) and cook the sauce until the oil turns into red
Remove from the heat and Sambal Kacang is ready to serve.
Now your Sambal Kacang is ready to be the dipping sauce of your food. It goes right with fried, steamed, or even raw vegetable.
Do let us know if you did try this recipe?
Want to know more about the different varieties of delicious Indonesian Sambals? Here are 12 >>