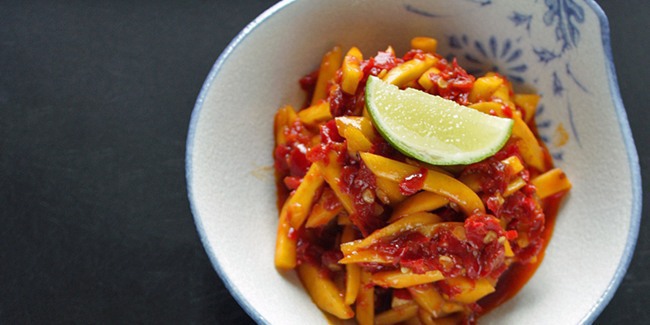 Did you ever imagine slices of sour mango combined with extra hot Sambal Terasi? It will create an amazing flavor for sure!
Sambal Pencit or Sambal Mangga is one of the all-time favorite Sambal in Indonesia. This Sambal is usually served with fried duck or fried chicken, along with lalapan or assorted raw vegetables. You will find yourself add for more hot steamed rice again and again!
To make Sambal Pencit, it is very easy. Let's make this delicious condiment at home!
Ingredients:
2 raw mangoes (around 400grams), roughly shredded
5 red chilies
2 (or more, it's up to your preference) cayenne peppers
½ teaspoon of salt
½ teaspoon of shrimp paste (terasi)
½ teaspoon of sugar
Instructions:
Crush chilies, shrimp paste, salt and sugar using stone mortar.
Add the shredded mangoes, mix well
Your Sambal Pencit is ready to serve!
Want to know more about the different varieties of delicious Indonesian Sambals? Here are 12 >>