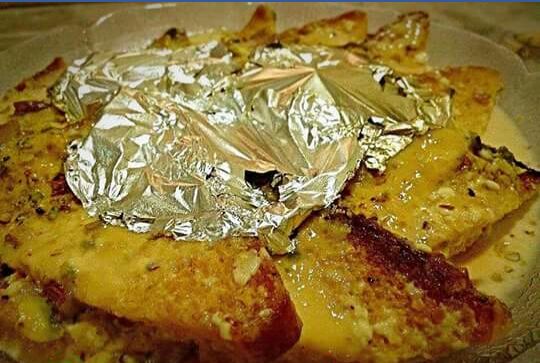 Ingredients:
10 pieces of small milk bread or 6-8 pieces of medium milk bread, cut in half vertically.
1 liter Full Fat milk.
1 small can of condensed milk.
2-3 pieces of green cardamom.
6-8 tbsp Sugar.
Ghee/butter for frying.
a handful of pistachio and almonds, grated or ground fine or any size you like.
1 cup Whipping cream.
1 tsp vanilla essence.
1/4 cup Khoya (optional)
Method:
1: Boil the milk with the condensed milk, cardamom and cinnamon. Leave it on a medium-low heat to evaporate till it is half its quantity, not more nor less.
2: In the mean time, take a large baking dish, preferably Pyrex or corning ware and Fry each bread in a tbsp or two of butter or Ghee, making it nice golden crisp on both sides and lay them on the dish base.
3: Now finish off the thickened milk with sugar, add according to your taste (I like mine just the perfect sweet, not too much) and take out and throw the cardamom and cinnamon.
4:Add the cream n mix well.
5: If using khoya, break it in small tit bits and place on the bread pieces. Pour the hot milk over the fried bread pieces and put it in the oven at 180 degrees for a good 20 minutes. Keep an eye, don't let it get too dry.
6: Take it out of the oven, let it cool down completely and then refrigerate for a good 4-6 hours.
7: sprinkle the dry fruits with chandi warq (edible silver foil). SERVE.
by Shabana Akbany