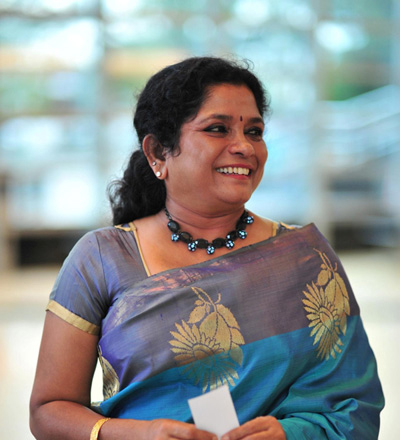 Shanthi Seshadri, a veteran resident, a social bee, an artist, a neighborhood necessity, the woman next door, moved to Jakarta 23 years ago not intending to build her talents and pursue her dreams. But that's what happened.
Shanthi always had an interest in drawing and painting, but never had the opportunity to try her hand. She began with Tanjore painting, which over a decade, she cultivated and perfected before venturing out into other styles: Oil, watercolor, Chinese, stain glass, feather, acrylic and textile. Her most recent ventures include Kalamkari and Zentangle forms of painting and she is now moving on to sculptures.
Alongside her artistic growth, her social and spiritual activities also escalated exponentially. She joined several committees such as India Club, Tamil Manram and Indian Women's Association, to name a few. She became notorious for her decorations at events at school and otherwise. She also spearheaded events at the temple and is still one of the key members in planning and executing the weekly prayers as well as annual week-long festival. She hosts a variety of events from Diwali parties and Balavihar to very elaborate Navaratri viewings.
Shanthi didn't have much guidance when she first moved to Jakarta and it took her a while to settle down. Because of this, she has a burning necessity and passion to help the newcomers. She shows them where to buy furniture and get Indian groceries, helps them find household staff, what classes to enroll their kids in, what sights to see in and around the city and so on. She recently put together a mini booklet for these items and now hosts welcome mixers for the old and new residents to meet.
Most recently, Shanthi and her husband launched JIFAS (Jakarta Indian Fine Arts Society) in order to bring the community together for cultural events in a bigger, more formal and organized way. Since they started, they have brought several classical musicians, singers and dancers to the city.
Last, but not least, Shanthi wants to do something with her exceptional cooking skills. While she loves giving informal cooking lessons, her latest project is to start a cooking blog and release a few recipes every week. The project is still a work in progress.