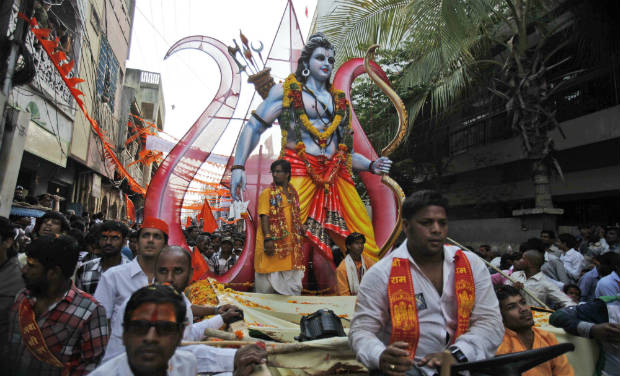 Ram Navami is celebrated to proclaim the birth of Lord Sriram, the seventh incarnation of Lord Vishnu. The 9th day (Navami) in the bright fortnight of the Hindu lunar month of Chaitra is referred to as Ram Navami. Several temples of Shriram celebrate this festival for nine days beginning from the first day (pratipada) of Chaitra. It is celebrated by periodic readings (parayans) of the Ramayan, organising spiritual discourses (kirtans) and beautifully embellishing Shriram's idol. On the ninth day, in the afternoon, a spiritual discourse on Shriram's birth is held. At noon, a coconut draped in a hooded cloak is placed in a cradle and the cradl
e is rocked. Devotees shower a red, fragrant powder (gulal) and flowers onto it.
Ram Navami Celebrations start on Gudi padwa, the first day of Chaitra; and continue for 9 days. During this period, devotees do parayans of Ramayan, recite the Ramaraksha stotra, sing bhajans-kirtans in His praise and chant His name.
The Lord Mahavishnu, one of the Hindu Trinity, representing the preservative aspect of the universe as in his previous incarnations (avatars), descended into the world to kill the ten-headed Asura named Ravana who was an epitome of the ten ahamkaras (egoism) of men. When one is under the sway of the ahamkaras, the power of discrimination between right and wrong is destroyed. Consequently the Lord's light has to descend on him to destroy these ahamkaras.
During Rama Navami Hanuman is worshipped for his unflinching devotion to Rama, and his worship forms an important part of the Rama Navami celebrations.
The festivities
Bhajans praising the exploits of Lord Rama, his loyal brother Lakshman and his devoted wife Sita are sung. The house is swept clean and pictures of Lord Rama, Lakshman, Sita and Hanuman are put on a dais in preparation for the puja. Flowers and incense are kept before the deities. There are two thaalis kept ready in the puja area. One contains the prasad and the other the items necessary for the puja like roli, aipun, rice, water, flowers, a bell and a conch.
First, the youngest female member of the family applies teeka to all the male members of the family. A red bindi is applied on the foreheads of all the female members. Everyone participates in the puja by first sprinkling the water, roli, and aipun on the gods and then showering handfuls of rice on the deities. Then everybody stands up to perform the arti at the end of which ganga jal or plain water is sprinkled over the gathering. The singing of bhajans goes on for the entire puja. Finally, the prasad is distributed among all the people who have gathered for worship.