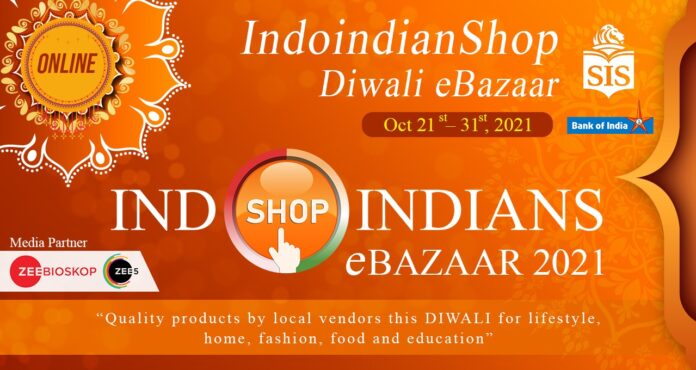 IndoindianShop Online Diwali eBazaar Thursday 21st Oct – Sunday 31st Oct
10 days of Indoindians Online Diwali ebazaar to showcase, promote and sell vendor products and services. Quality products by local and international vendors for lifestyle, home, fashion, food and education.
About Online IndoindianShop Diwali Bazaar  
An opportunity to bring together buyers and sellers for shopping, friendship and fun while connecting the Indian Diaspora with the other expat and local communities in Jakarta.
Featuring
Deepavali specific products
Food products
Fashion & jewelry
Household products
Handicrafts
And much more
Also an opportunity for service providers to promote themselves at the event.
We reach over 100,000 people through our online channels and expect many to join this online event, from the Indoindians community, various expat groups and local Indonesians
Venue: ONLINE at www.IndoindianShop.com
Seller Benefits:
www.indoindianshop.com is an online multi-vendor marketplace which provides easy vendor product listing and sales.
IndoindianShop.com
Signup as a seller to feature products at https://indoindianshop.com/customer/account/create?seller=register&page=account/
Powerful Seller Dashboard
Online Offline Status
Transaction History
Payment Gateway Integrated
Promotion via Indoindians
Easy checkout and payments
Seller manages all the shipping to buyers
10% transaction fee charged to the seller
Seller Promotions via www.indoindians.com
Promotional posts on all Indoindians channels – FB, Insta, WA
Instastory (1) on indoindians instagram
Advertorial page (1) on indoindians
Seller can share 1 min promo/product video
Inclusion in weekly Newsletter
Inclusion in IndoindiaShop newsletter
Participation Fee
Participation fee is only Rp 1 million for 25 products listed on IndoindianShop
Event Organizers
The event is organized by Indoindians.com and all promotions would be through its communication channels.
website
social media channels
newsletter mailing list
WA groups
Event marketing
For queries, more details contact via call/WA +62 82210008272 or email event@indoindians.com today
About Indoindians
To be the information bridge between India and Indonesia – connect, support and engage the Indian Diaspora in Indonesia as well as people of Indonesia with an interest in India – the Indoindians community.
It provides a versatile, interactive medium for marketing and advertising your products and at the same time making your services available to our target audience. This is a community initiative by PT Infotech Solutions based in Jakarta.
At a Glance:
100,000 unique visitors/month
20,000 newsletter subscribers
20,000 followers on Social Media
Online Marketplace for buyers and sellers
21 years online
Terms & Conditions:
Vendors have to sign up as sellers on www.indoindianshop.com to participate in the Indoindians Diwali eBazaar
Create a Vendor account first at http://bit.ly/signup-seller:
Required:
– Sign up details about you and your business
– Bank account details
– Registration fee of 1 million Rupiah
– An email will be sent to confirm payment and activate your Vendor account
Upload your products
Sell, get promoted, and get paid. Reach more than 100,000 potential customers per month.
Share your shop/product poster (1000px X 1000px) with 250 characters text + Hashtags to share across Indoindians channels
Cancellation: Vendors will not be eligible for any refunds, under any circumstances.
Advertising: Extensive advertising is done through Indoindians website and its communications channels to relevant audiences and communities. Further advertising is ensured through promotion campaign to over 100K reach.

Bazaar page with vendor listing on Indoindians website
Bazaar update mailer every week featuring all new vendors
Advertising channels:

Sponsorship packages available starting – IDR 2.5 million
Interested? Send an email to event@indoindians.com or WA +62 822 1000 8272 today.
Please join our facebook group at www.facebook.com/groups/indoindiansbazaar/ to help cross promote your brand.